I've always been a little leery of persimmons because I could never seem to find ones ripe enough to make something.  A friend of mine in California where they are very popular, told me once that there was nothing worse than an underripe persimmon.  That was enough for me to go find another fruit that was not so difficult.  The fall and early winter are the best times to use persimmons, so when I found a few lately at a local high-end grocery store I wanted to give them another chance.  They felt soft and squishy but I still couldn't tell if they were ready on the inside to use until I got home and cut one.  Turns out the ones I bought were perfect, with the insides like jelly as they are supposed to be for use.  Okay, now to find a good and reliable recipe.
I found this James Beard recipe adapted by chef and award-winning blogger, David Lebovitz.  Since I had an overabundance of raisins and nuts from Christmas, his persimmon bread was a good choice.  I also googled persimmons and found out that they are wildly nutritious too.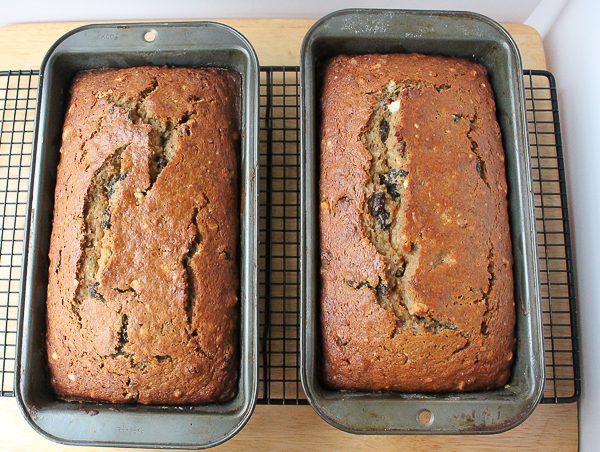 The recipe makes two large 9-inch loaves, one to enjoy and one to freeze.  It uses 2 cups each of persimmon puree, raisins, nuts, and 2/3 cup of cognac or whiskey, not to mention nutmeg (one of my favorite spices) and a cup of butter!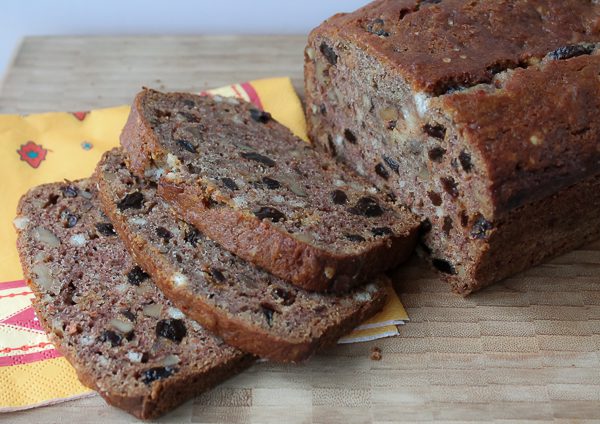 The loaves turned out beautiful and delicious.  I wrapped the loaves in plastic wrap and let them sit overnight before slicing.  They cut like a dream and became even more moist after waiting overnight. They will keep about a week at room temperature or can be frozen.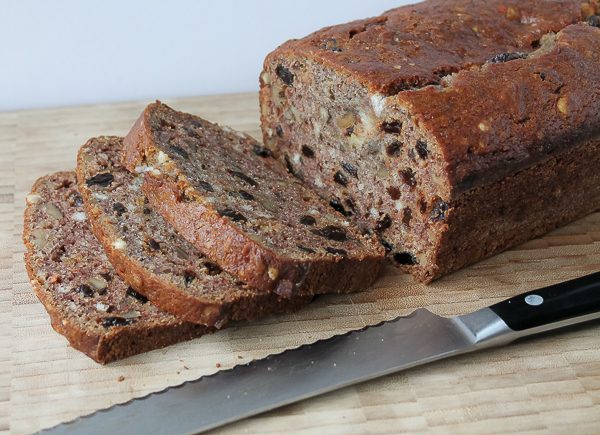 Persimmons are so bold with their bright orangey color, but it disappears into the bread.  A slice of the loaf is great with coffee in the morning or a pick-me-up snack for later.  Now I will be in search of other ideas using this lovely and healthy fruit.  Anyone have any tried-and-true recipes?

Persimmon Bread
Author:
James Beard, adapted by David Lebovitz
Ingredients
3-1/2 cups sifted all-purpose flour
1-1/2 teaspoons salt
2 teaspoons baking soda
1 teaspoon ground nutmeg
2-1/2 cups granulated white sugar
1 cup melted unsalted butter and cooled to room temperature
4 large eggs, at room temperature and and lightly beaten
⅔ cup cognac, bourbon, or whiskey
2 cups persimmon puree (wash fruit, remove stems, and cut into chunks; puree in food processor)
2 cups walnuts or pecans, toasted and chopped
2 cups raisins (or other dried fruit like apricots, cranberries, or dates)
Instructions
Heat oven to 350 degrees. Butter and lightly flour two 9-inch loaf pans; set aside.
Sift together flour, salt, soda, nutmeg, and sugar into a large mixing bowl.
Make a well in the center, then stir in melted butter, eggs, liquor, and persimmon puree. Stir until just blended then stir in nuts and raisins,
Spoon mixture evenly into prepared loaf pans. Bake for 55 to 60 minutes or until a tester inserted into the center comes out clean.,
Let bread set in pan about 5 minutes, then turn loaves out onto a wire rack to cool completely. When cool, wrap in plastic wrap. (I like to let them sit overnight before slicing). The loaves will keep about a week, wrapped at room temperature, or can be frozen.