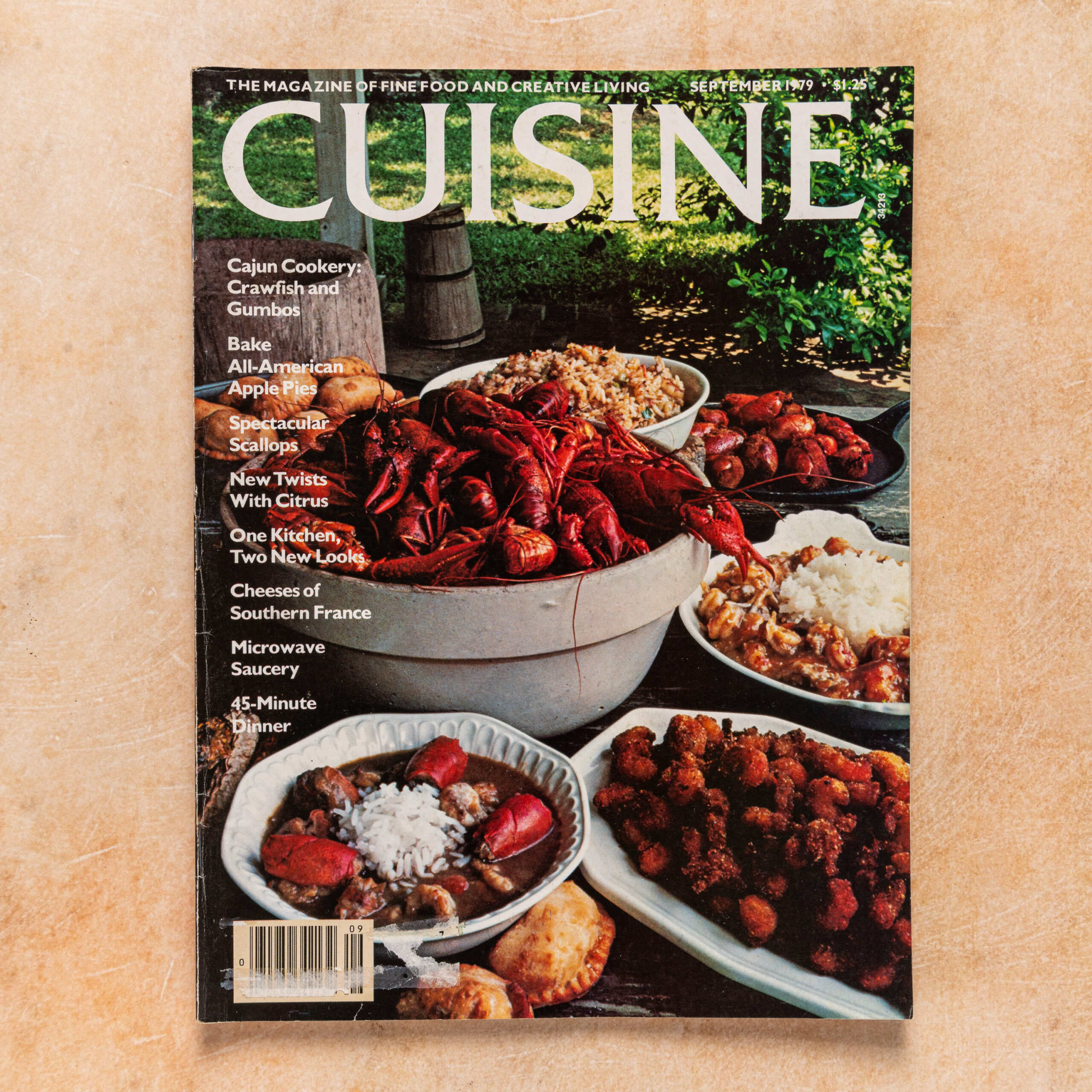 I love how my readers are on top of things.  The other day one of my followers noticed after I posted the monthly blog for Cuisine Magazine October 1979, wrote and asked me what happened to September of 1979?  She was so right – I forgot it!  I found the issue buried in a pile on my desk.  So here it is, late and such a great issue.
The article that appears first is about making sauces in the microwave.  I usually skip microwave recipes for the most part for two reasons- I don't usually cook in the microwave, just reheat.  Secondly, I am not very tall and have a hard time reaching high and above the stovetop to retrieve a dish.  One time I was reheating some lasagna and I carefully tried bringing it out and the entire pan flipped upside down onto the stovetop.  To say it was a mess is an understatement.  But… this article was about making sauces in a 2-cup glass measuring with a nice sturdy and large handle and easier to grab.  The recipes really did sound good like hot fudge sauce, rum custard sauce, cider-raisin sauce, an apricot dessert sauce, a Parma Provençale sauce for an omelet filling, and a tarragon sauce which I had to try since I had leftover fresh tarragon from my last blog for a warm potato salad.  It was yummy and easy to pick up with its large handle.  Okay, sauces can work.
The majority of the recipes this month are from the article titled "Cajun Country" by the great Bert Greene, who not only has the best recipes on every subject, but his stories behind the recipes, or a region, or a person, are second to none.  His Louisiana Bayou Dinner Menu consists of a Chicken and Oyster Gumbo; Crawfish Jambalaya; Boudin Blanc (homemade white sausage); Stuffed Mirliton; Maqueçhoux; Okra with Mustard Sauce; and Double-Crust Custard Tart.  Additional recipes include Crawfish Pies; Crawfish Bisque; Crawfish Étouffée; Fried Crawfish Tails; Red Beans and Sausage; Chicken Pudding; Cajun Beer-Basted Ham; Dirty Rice; Louisiana Bread Pudding with Whiskey Sauce; Syrup Cake; Louisiana Coffee Cake with Coffee Buttercream Frosting; and a recipe for the best Buttermilk Biscuits I have ever made (which will be a whole other blog.) I plan on making several of these Cajun recipes on some cold winter day.
Many varieties of apples are in abundance now. Here are some of the recipes in this issue:  Marlborough Pie is made with grated apples and reminiscent of coconut custard pie in texture.  It tastes best slightly warm or at room temperature.   A Lattice Apple Tart that includes cream sherry and rose water sounds interesting.  Fried Apple Pies are always a favorite as well as Apple Pandowdy.  "Exquisite Apple Pie" has a rich pectin-thickened syrup made from the peels and cores of the pie, and is described as "memorably delicious, with a fresh, light apple flavor and sweet delicate aroma."
For this week, all I wanted was an easy seafood dinner.  I found one in an article about scallops by Jane Salzfass Freiman.  Scallops are great because these tender seafood nuggets cook so fast when sautéed .  It takes longer to prepare the side dishes.  I decided to try the recipe for cold poached scallops served with an easy-to-make curried mayonnaise because both can be made hours ahead before dinner and chilled.  It's ready when you are.  This dish would make a great appetizer served in small portions, but we decided it was good for dinner too.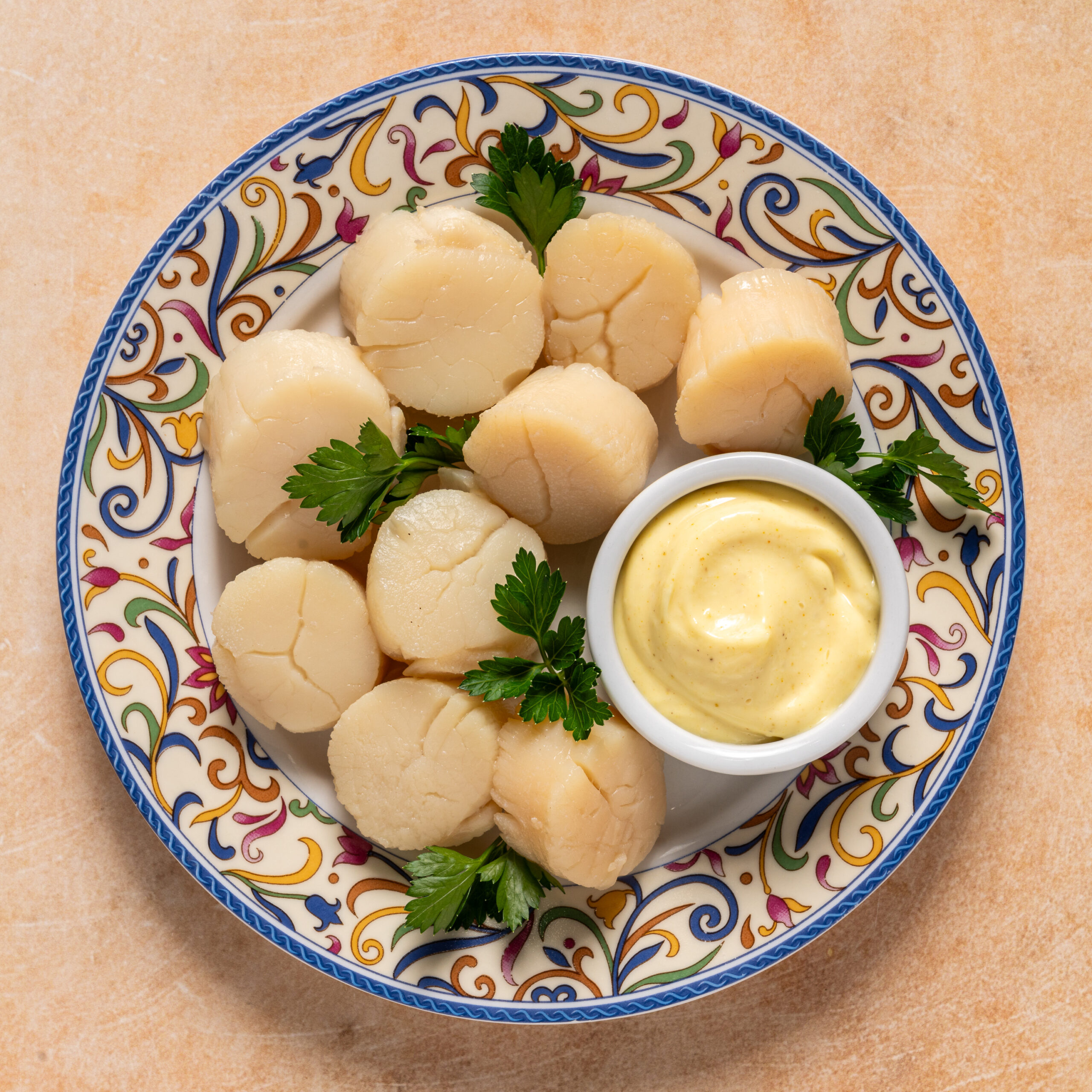 It was delicious!  Any leftover mayonnaise is so good as a sandwich spread or a dip for fresh veggies.  I loved it with baby carrots and sliced cucumbers.

Poached Scallops with Curried Mayonnaise
Author:
Cuisine Magazine September 1979
Ingredients
Curried Mayonnaise:
2 egg yolks, room temperature
1 egg, room temperature
1 teaspoon table salt
¼ teaspoon curry powder
pinch of cayenne pepper
pinch of white pepper
2 Tablespoons fresh lemon juice
1-1/4 cups safflower or canola oil
Poached Scallops:
3-1/2 cups water
½ cup dry white wine
½ small onion, cut in half
½ carrot, pared, cut into slices
½ rib celery
1 sprig parsley
1 sprig fresh thyme
1 bay leaf
3 white peppercorns
½ teaspoon table salt
1-1/4 pounds sea scallops
Parsley or dill sprigs for garnish
Instructions
For the Curried Mayonnaise: Combine egg yolks, egg, salt, curry powder, cayenne, and white pepper in a blender or food processor. Blend 15 seconds. While machine is running, slowly pour in lemon juice; blend 10 seconds. While machine is running, pour in oil in a thin steady stream until mixture thickens. Scrape into a small bowl, cover and refrigerate until cold. (Note: mayonnaise can be made a couple days ahead, if desired, and kept covered in refrigerator).
For Scallops: Combine water, wine, onion, carrot, celery, herbs, peppercorns, and salt in a large saucepan or skillet. Simmer over medium heat for 15 minutes. Strain into a large bowl and discard solids. Return poaching liquid to the large pan or skillet. Rinse the scallops with cold running water. Add to barely simmering poaching liquid and simmer scallops uncovered until opaque, 2 to 3 minutes. Remove scallops with a slotted spoon to medium size bowl. Cool the poaching liquid for 10 minutes, then pour over scallops. Refrigerate scallops, covered, until cold, at least 2-1/2 hours. To serve, drain scallops and serve with the curried mayonnaise alongside. Garnish with parsley or dill sprigs.