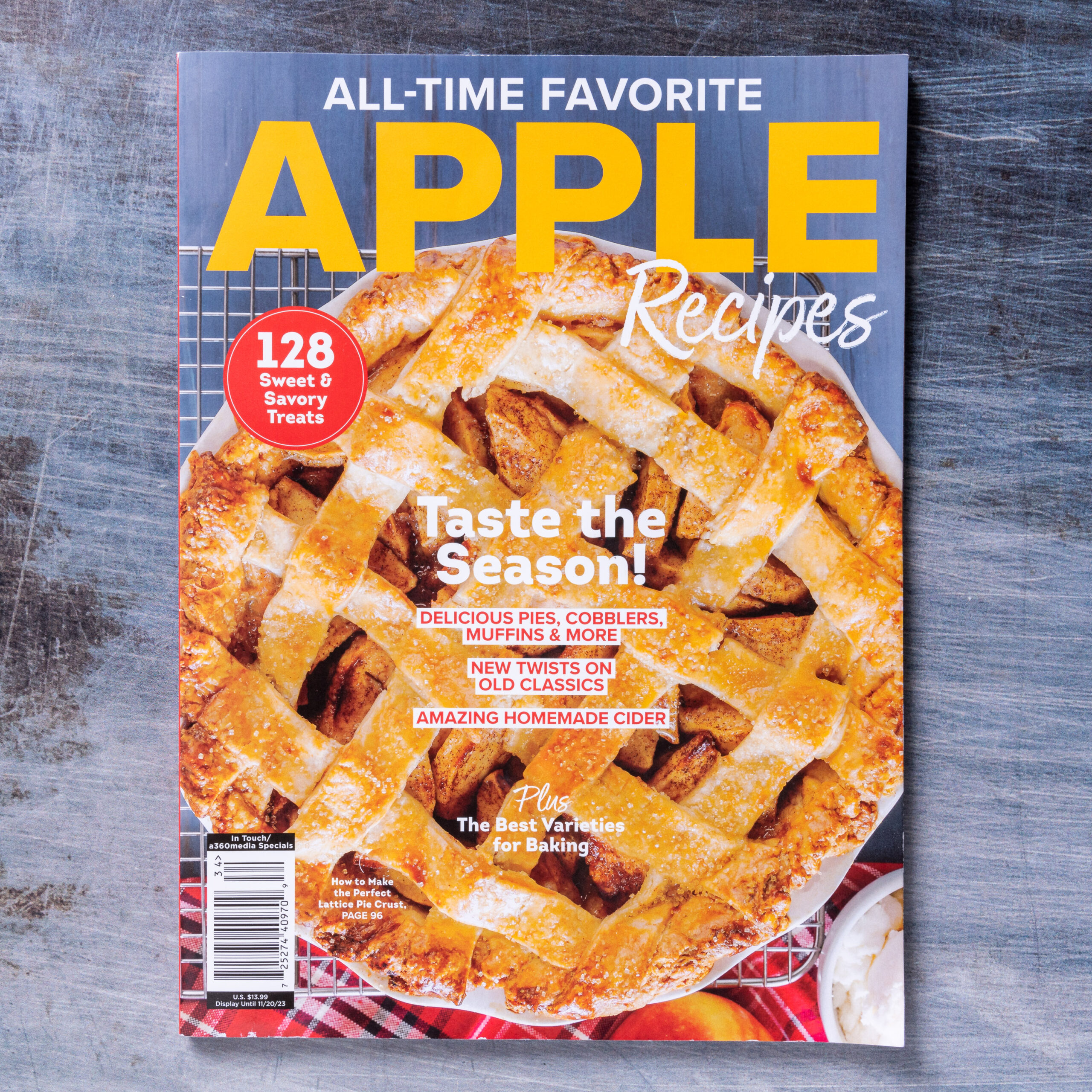 It's apple season!  Apparently my husband Bill thought so too, as he recently picked up this publication at the grocery store check-out.  Bill used to work at an apple orchard during high school and still loves anything with apples.  When he arrived home from the store he announced there was a surprise for me in one of the bags.  I found the magazine in the bag with eggs, butter, and brown sugar so I knew that was a huge hint to bake something.
If you see this at your grocery check-out, buy it if you love apples.  It's a good one.  For breakfast you'll find apple pancakes, doughnuts, granola, and more.  Cakes and cupcakes have everything from snacks to bundt and layer cakes; the muffins and breads pair apples with berries; pies, tarts, crisps, and crumbles are always favorites; and apples are also offered in recipes for savory dishes and beverages.  I have many pages marked with post-it notes.
I quickly found the recipe I wanted to make.  Not only has Bill been asking for some cookies, my daughter Kristina recently brought over a jar of her homemade apple butter from a recipe she found in the New York Times.  Under the "Pies, Tarts, and Other Treats" I found the perfect cookie to make:  "Oatmeal-Raisin Sandwich Cookies with Homemade Apple Butter."  The apple butter doesn't have to be homemade, store bought is just fine too.  I was just happy to use Kristina's jar as you can see in the photo.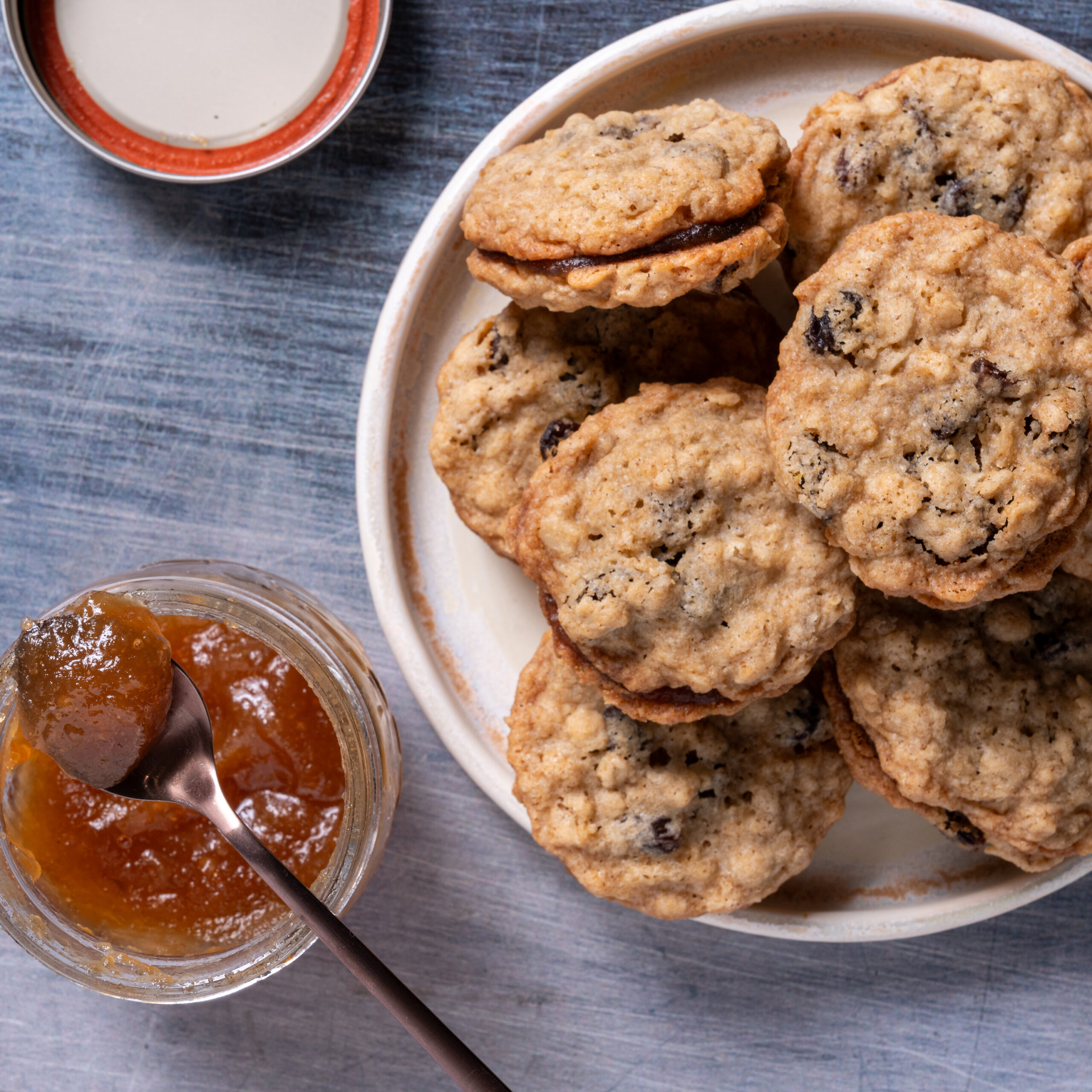 They were a huge hit.  The cookies are so flavorful and when sandwiched together with apple butter, they are taken to a whole new taste experience.  I used a 1-inch cookie scoop which I found made cookies of exact equal size for sandwiching together, but you could use a larger scoop if desired.
Enjoy a taste of autumn with these incredible cookies!

Oatmeal-Raisin Sandwich Cookies with Apple Butter
Author:
All-Time Favorite Apple Recipes
Ingredients
1-1/2 cups all-purpose flour
1 teaspoon baking soda
½ teaspoon ground cinnamon
½ teaspoon kosher salt
1 cup unsalted butter, room temperature
¾ cup granulated sugar
¾ cup firmly packed light brown sugar
1 large egg
1 teaspoon vanilla extract
2 cups old-fashioned rolled oats
1-1/2 cups dark raisins
1 jar homemade or store-bought apple butter, chilled
Instructions
Heat oven to 350 degrees F. Line baking sheets with parchment paper.
In a medium bowl, whisk together flour, baking soda, cinnamon, and salt; set aside.
In large bowl of electric mixer, beat butter and both sugars on medium-high speed until light and fluffy, about 2-3 minutes. Scrape down the sides of the bowl with a rubber spatula. Add egg and vanilla and beat until combined. Add reserved flour mixture and oatmeal, and beat on low speed until combined. Fold in raisins.
Using a 1-inch or 1-1/2-inch cookie scoop, drop dough two inches apart on baking sheets. You can also drop dough by rounded tablespoons but try to make them the same size.
Bake until set and golden brown around the edges, about 10-12 minutes. Remove cookie sheet and let cookies cool on the baking sheet for 1 to 2 minutes, then transfer to wire racks to cool completely.
To assemble, place about a tablespoon of the chilled apple butter on the flat side of one cookie and then top with another cookie, rounded side up. Repeat to fill remaining cooled cookies.