Just as I was about to file away the October 1979 issue of Cuisine from my last blog with the Spinach Salad, I saw that following the recipe was another salad, this time for a warm potato salad that sounded delicious.  Since our weather around the Chicago area is forecast to be much cooler for at least a week, that warm potato salad was going to be dinner paired with some leftover bratwurst links.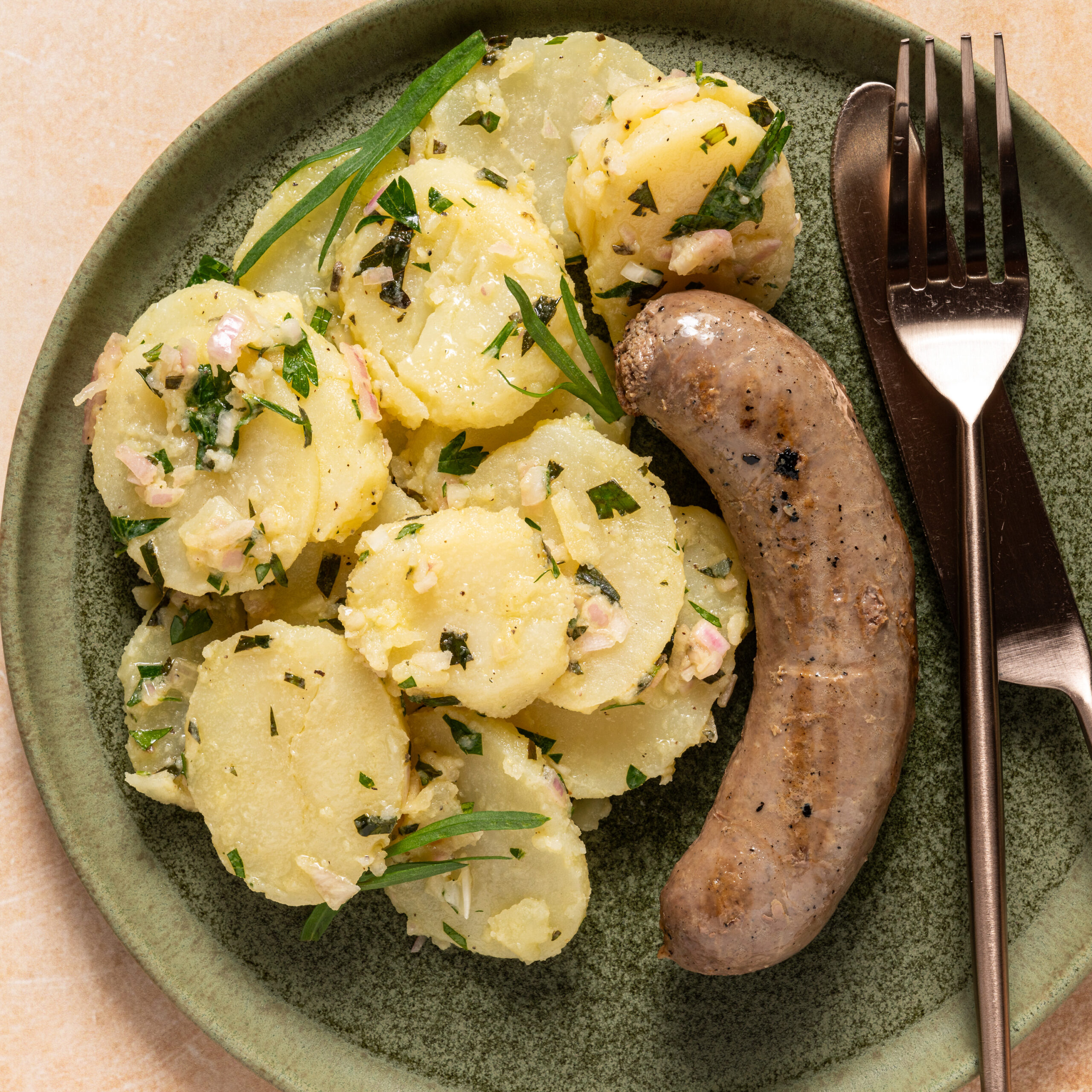 I love warm potato salad and this one included tarragon wine vinegar and also some fresh tarragon, one of my favorite herbs.  It was so delicious and perfect for a cool Fall night.  A warm potato salad is wonderful served with all kinds of sausages; smoked sausage, brats, venison sausages, knockwurst, or whatever your favorite.
New potatoes are cooked with the skins, then drained, pared, sliced, layered in a bowl, then gently tossed with a flavorful vinaigrette while still warm.  Tossing potatoes with the dressing while warm absorbs into the potatoes.  Be sure and have the sausages hot and ready to serve when the potatoes are ready.  Have a seat and enjoy a warm dinner on a cool night.

Warm Potato Salad
Author:
Cuisine Magazine October 1979
Ingredients
1-1/4 pounds new potatoes (about 8 potatoes)
Salt
Freshly ground black pepper
2 Tablespoons tarragon wine vinegar
1 teaspoon Dijon mustard
¼ cup French walnut oil or virgin olive oil
2 Tablespoons minced shallots
2 Tablespoons finely snipped fresh parsley
2 Tablespoons finely snipped fresh tarragon
small clove garlic, minced
Instructions
Heat potatoes in salted water to cover in a large saucepan to boiling. Reduce heat and simmer uncovered just until fork-tender, about 15-20 minutes. Drain; pare; cut crosswise into ⅛ to ¼ inch slices. Layer the warm potatoes in a medium serving bowl, sprinkling each layer with salt and pepper.
While potatoes are cooking, mix vinegar and mustard in a small bowl. Whisk in the oil in a thin stream until slightly thickened. Stir in remaining ingredients. Pour over warm potatoes and toss very gently to coat. Serve warm. Makes 6 servings.