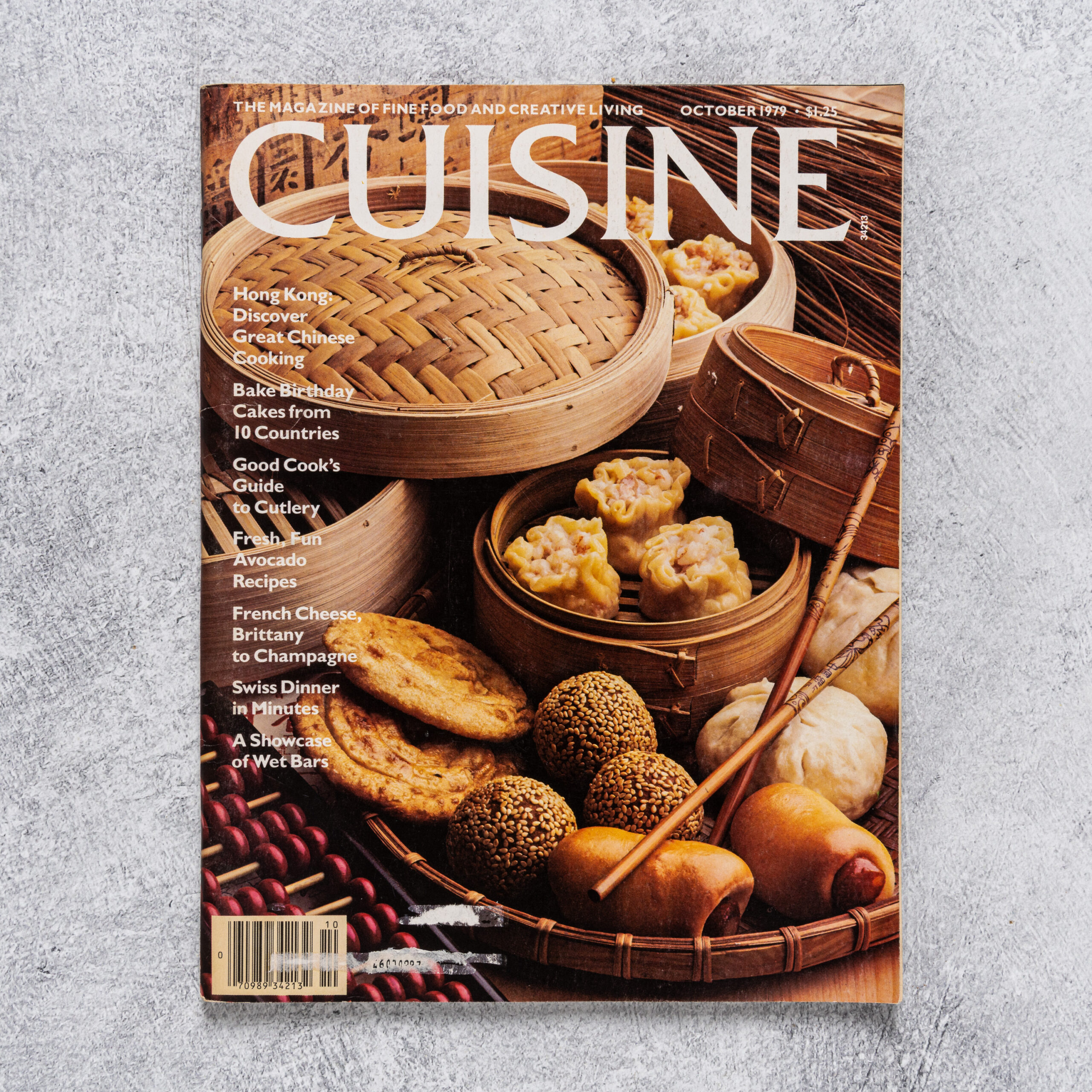 This month's issue of vintage Cuisine begins with avocados, which were once considered a luxury.  Food writer M. F. K. Fisher was dubbed a snob by her fellow classmates at an Eastern college when her father shipped her a crateful from his California ranch.  Avocado's buttery flavor comes from a high (16%) fat content, but it's polyunsaturated oil.  They are rich in vitamins A, B, C, and E,  high in iron and potassium, and low in sodium and cholesterol.  The recipes in this issue use the avocado at various stages of ripeness such as the avocado crêpes with shrimp, avocado-zucchini soup, avocado and alfalfa sprout sandwiches, avocado soufflé with lemon sauce, all using the avocado at a very soft stage; medium soft for pita pocket sandwiches with a vegetable-cheese filling, and a huge chef's salad filled with vegetables, ham, turkey, hard-boiled eggs, and cheese.
The next article is a 45-Minute Swiss Dinner Menu for Fall consisting of a marinated bean salad, bratwurst with an onion sauce and Swiss fried potatoes, and a dessert of maple apples.  Add some rye bread, cold beer, and you have a perfect meal for a crisp Autumn day.
For you bakers, recipes from Beatrice Ojakangas for "Great Day Cakes" will have you famous at any celebration.  There is a German Birthday Cake, Hungarian Torte for a name-day party, a Norwegian Ring Cake made for weddings, anniversaries, and birthdays; Dutch Letter Cake or Danish Pretzel Cake, both for birthdays.
The longest article with the most recipes is the cooking of Hong Kong with three great menus: a Chinese sampler menu, Szechuan Banquet menu, and a Man Wha Special Dinner menu from the famous Man Wha restaurant.  Too many recipes to list, but they all sound incredible, and so many photos of the spreads will make you hungry.  There is even a cooking lesson on how to make Dim Sum.
Even though I wanted to make all of the above recipes, I didn't have the time for the shopping or preparing.  The last article was about cooking with domestic and imported oils like French walnut, safflower, olive oil, almond oil, hazelnut, sesame, and peanut oils in a variety of recipes with pork, beef, chicken, bread, appetizers, and of course salads.
I love spinach and made the salad with additions of bacon, hard-boiled eggs, red onion, sliced hearts of palm, and mushrooms, all tossed with a delicious homemade dressing of safflower oil enhanced with grated orange peel, fresh dill, garlic, honey, and lemon juice.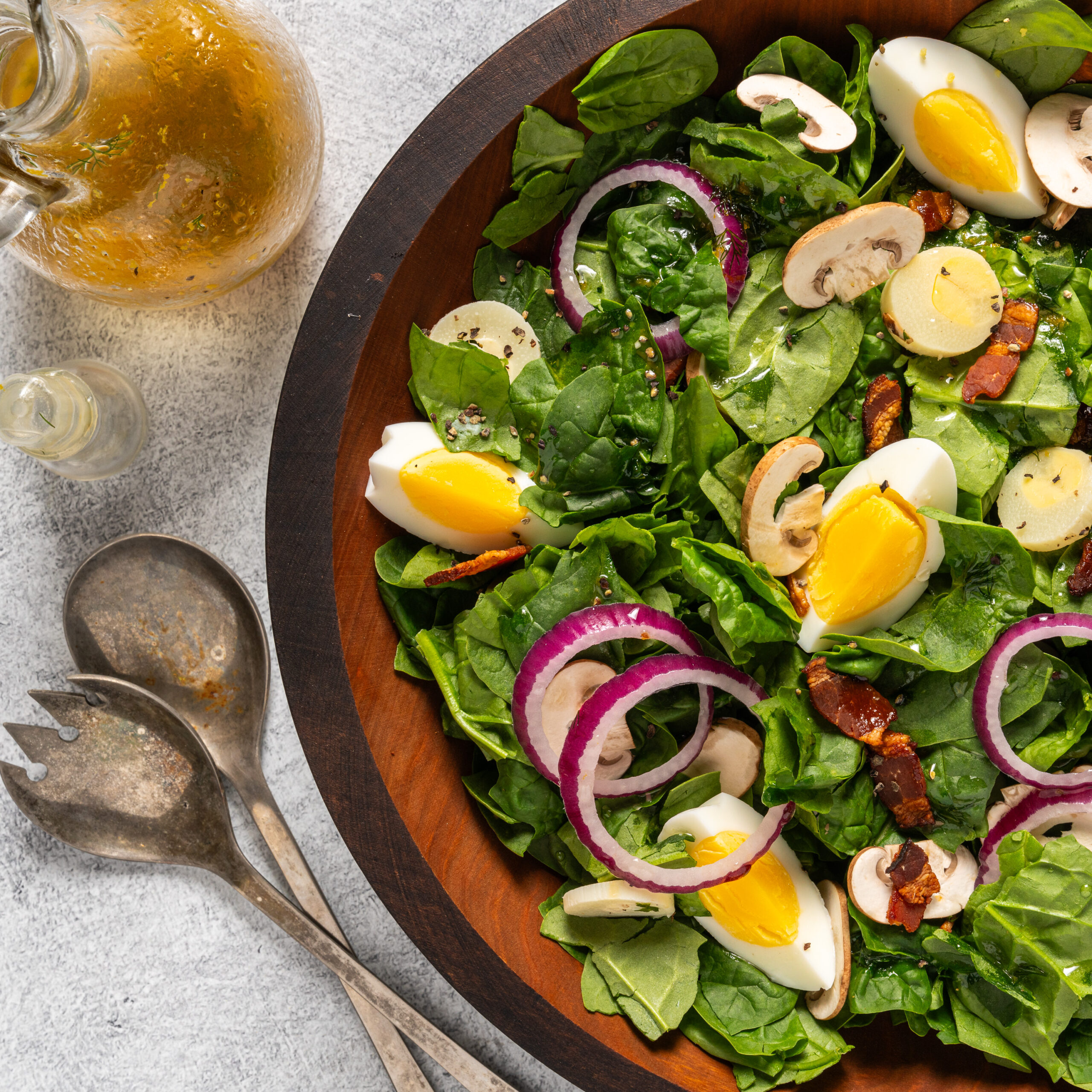 It tastes as good as it looks!  So colorful and easy to make.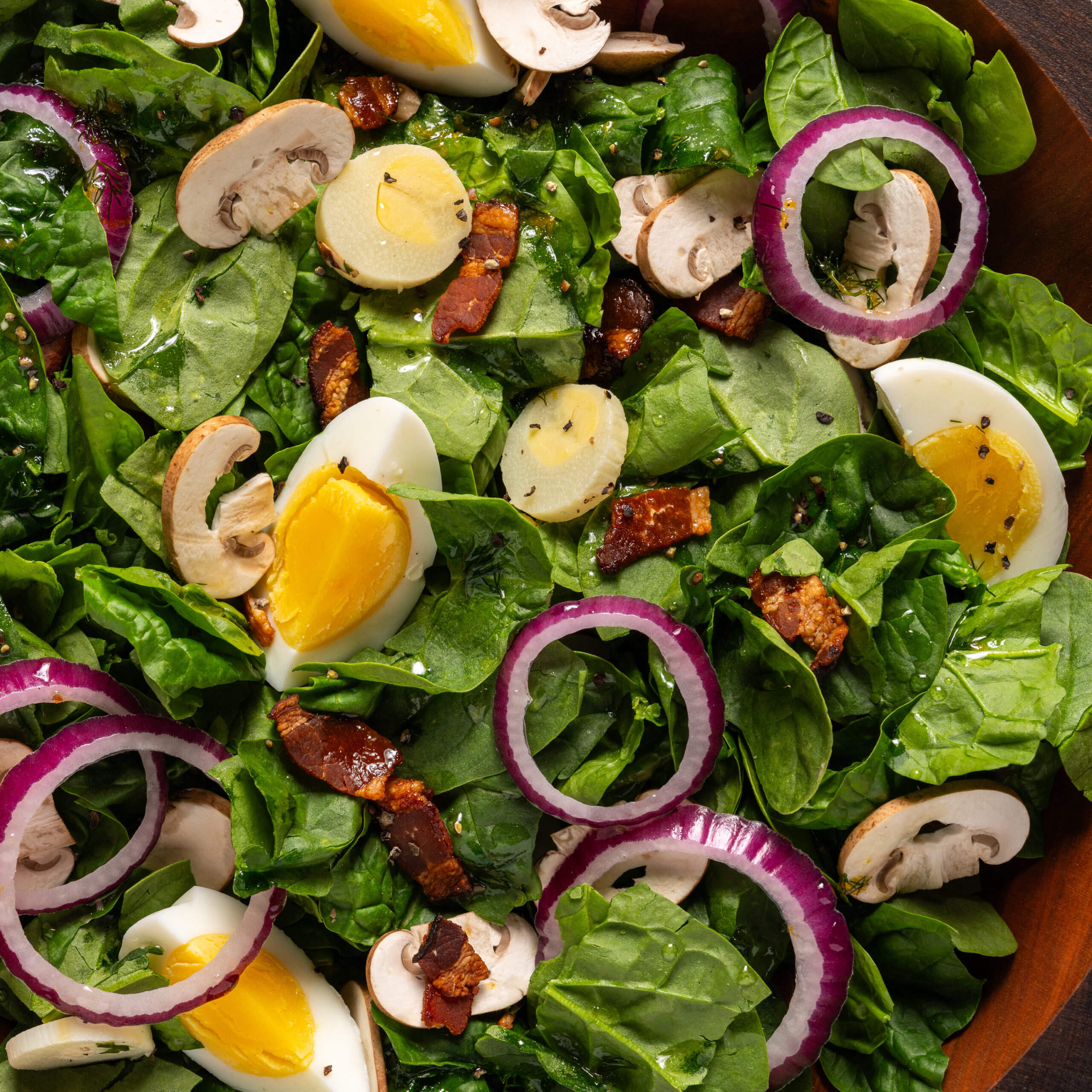 Spinach Salad
Author:
Cuisine Magazine October 1979
Ingredients
¼ cup plus 1 Tablespoon safflower oil
2 teaspoons finely grated orange peel
2 teaspoons snipped fresh dill (or ½ teaspoon dried dillweed)
small clove garlic, minced
1 pound fresh spinach, washed, trimmed, and torn into bite-size pieces
1 can (about 14 ounces) hearts of palm, drained and cut into ½-inch slices
6 strips bacon, cooked until crispy and broken into 1-inch pieces
2 hard-cooked eggs, cut into quarters
1 small red onion, sliced into rings
10 mushroom caps, sliced thin
3 Tablespoons fresh lemon juice
2 Tablespoons honey
½ teaspoon table salt
¼ teaspoon freshly ground pepper
Instructions
Combine oil, orange peel, dill, and garlic in a small bowl. Let stand covered for 2 hours.
Combine spinach, hearts of palm, bacon, eggs, onion, and mushrooms in a large bowl; toss lightly.
Mix lemon juice, honey, salt, and pepper in a small bowl. Whisk in the prepared oil mixture in a thin stream until slightly thickened. Pour over spinach mixture and toss. Serve immediately. Serves 4 to 6.