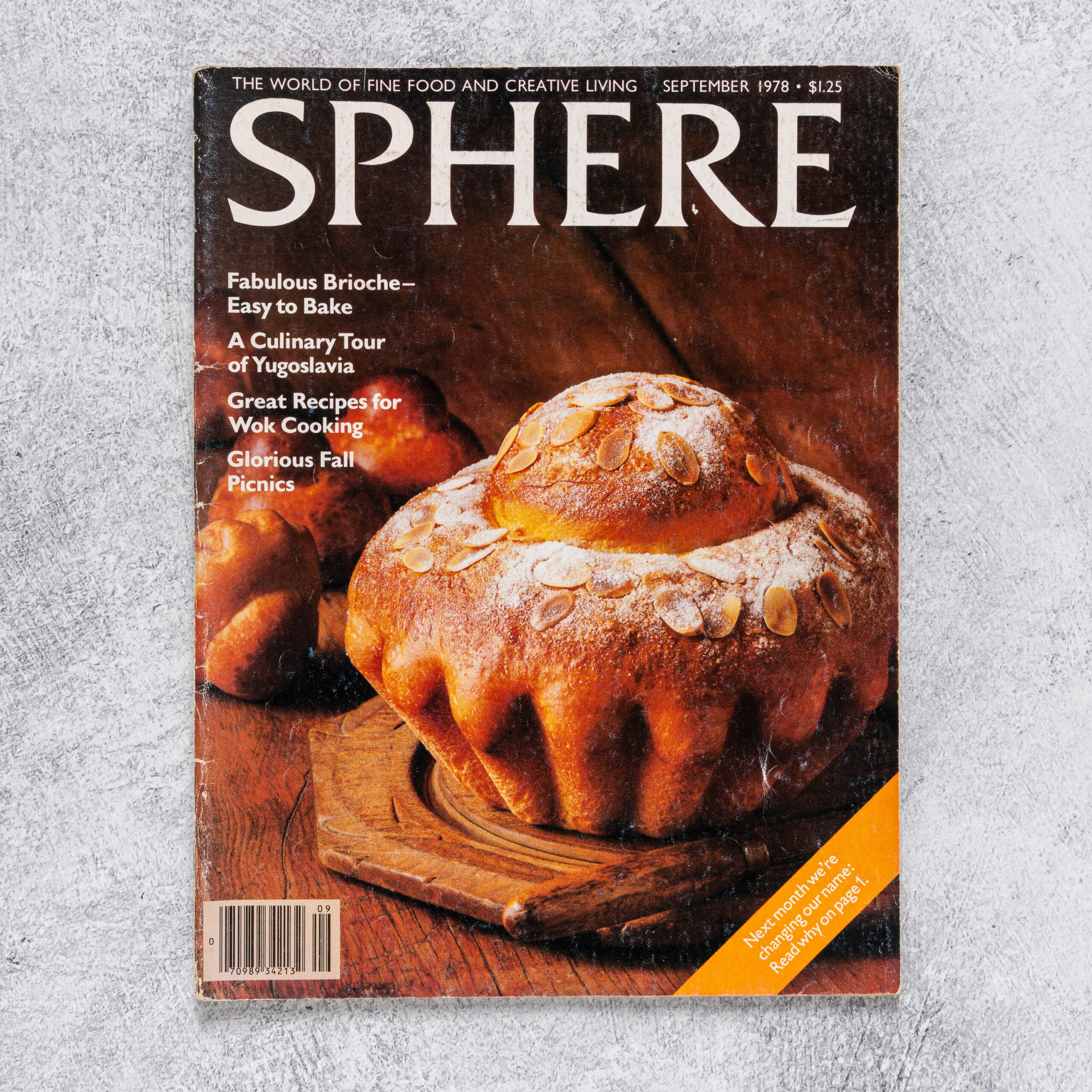 After completing this blog, I have finished writing about every single Sphere issue from the charter issue of January/February 1972 to the last issue in December 1978!  I'm working on a way to post all the links to every issue, so stay tuned.  Now I am moving onto every issue of vintage Cuisine magazine, which began in January of 1979 to December of 1984.  Cuisine has great recipes like Sphere.  I think you will enjoy them.
Look above at that gorgeous brioche on the cover!  I made it a long time ago and it's fabulous.  The article titled "Bake Brioche" features recipes using classic brioche dough, all-purpose dough, sweet all-purpose dough, and even no-knead brioche dough.  The French have called brioche the queen of breads.  Brioche has a gossamer texture and melt-in-the-mouth goodness that many pastries lack.  It has a springy golden interior with a buttery burst.  It responds beautifully to shaping and stuffing, as the recipes included prove this point such as a braided cheese brioche; a ring marzipan; crescent shaped; wrapped into a log encasing an Italian sausage; salmon encased in brioche; and more delicacies.
The brioche article is followed by 'The Flavors of Yugoslavia" with a party buffet menu that includes a pepper-eggplant relish, lamb with spinach, Dalmatian pot roast, a ricotta strudel, pears in red wine,  a cheesecake with ricotta and raisins, and a layered phyllo dessert with apples, walnuts, raisins, and poppy seeds.
Wok cooking is next with recipes for steaming trout, braised beef and mushrooms, almond-crusted fish rolls, chicken with vegetables, sweet-sour celery, and a lettuce omelet.  Did you know that wok in Cantonese means "cooking vessel?"  No wonder as so many meals can be made in a wok.
The article on a very gourmet picnic featured cold wild duck, cold salmon with a wild sorrel mayonnaise, and a paté made with ingredients like apple brandy and truffles!  I've never been on a picnic like that, but it also featured seasonal fruits in a peach-strawberry tart and a plum gateau, both which are easier (and less expensive!) to make.  I chose the plums which are in abundance now.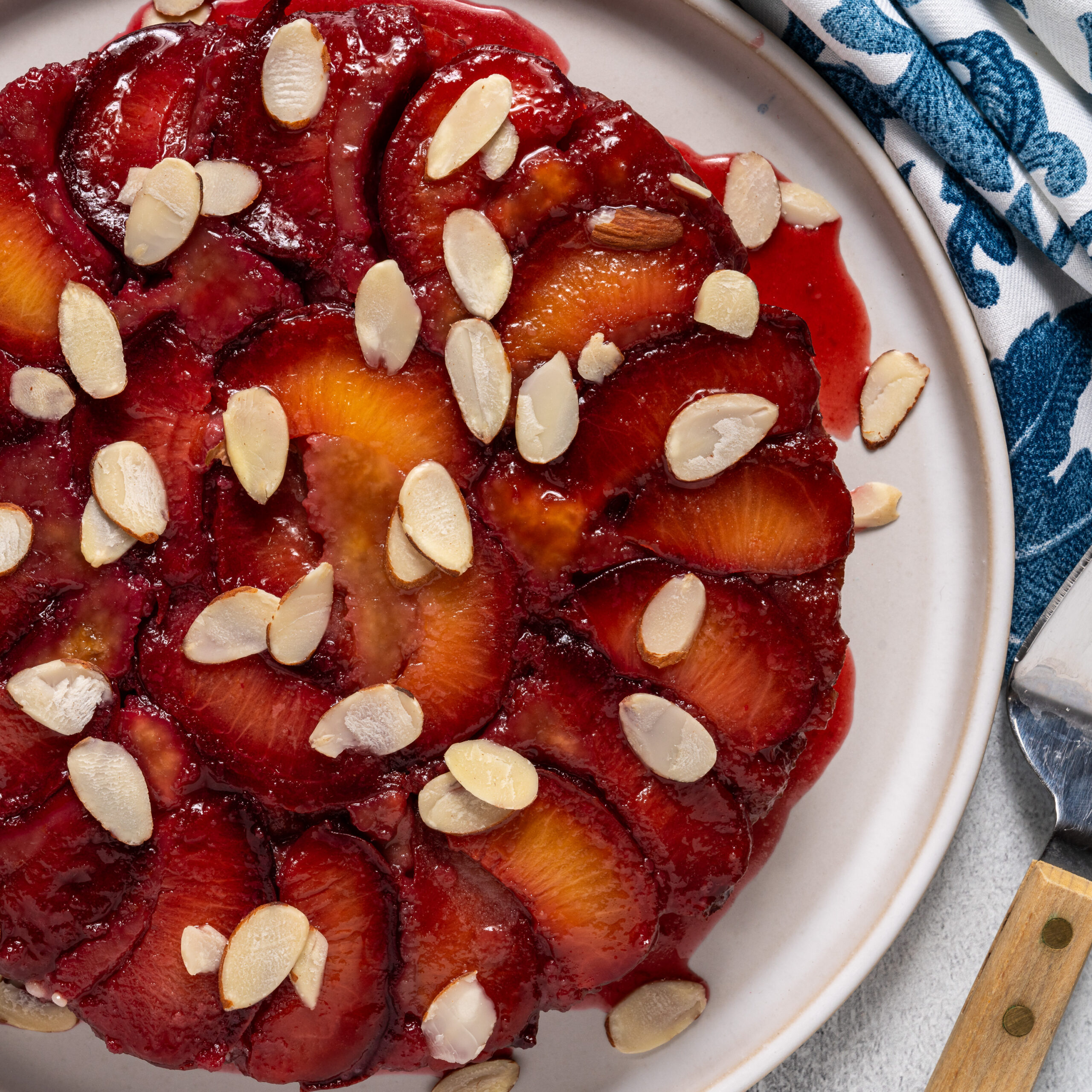 It was a beauty!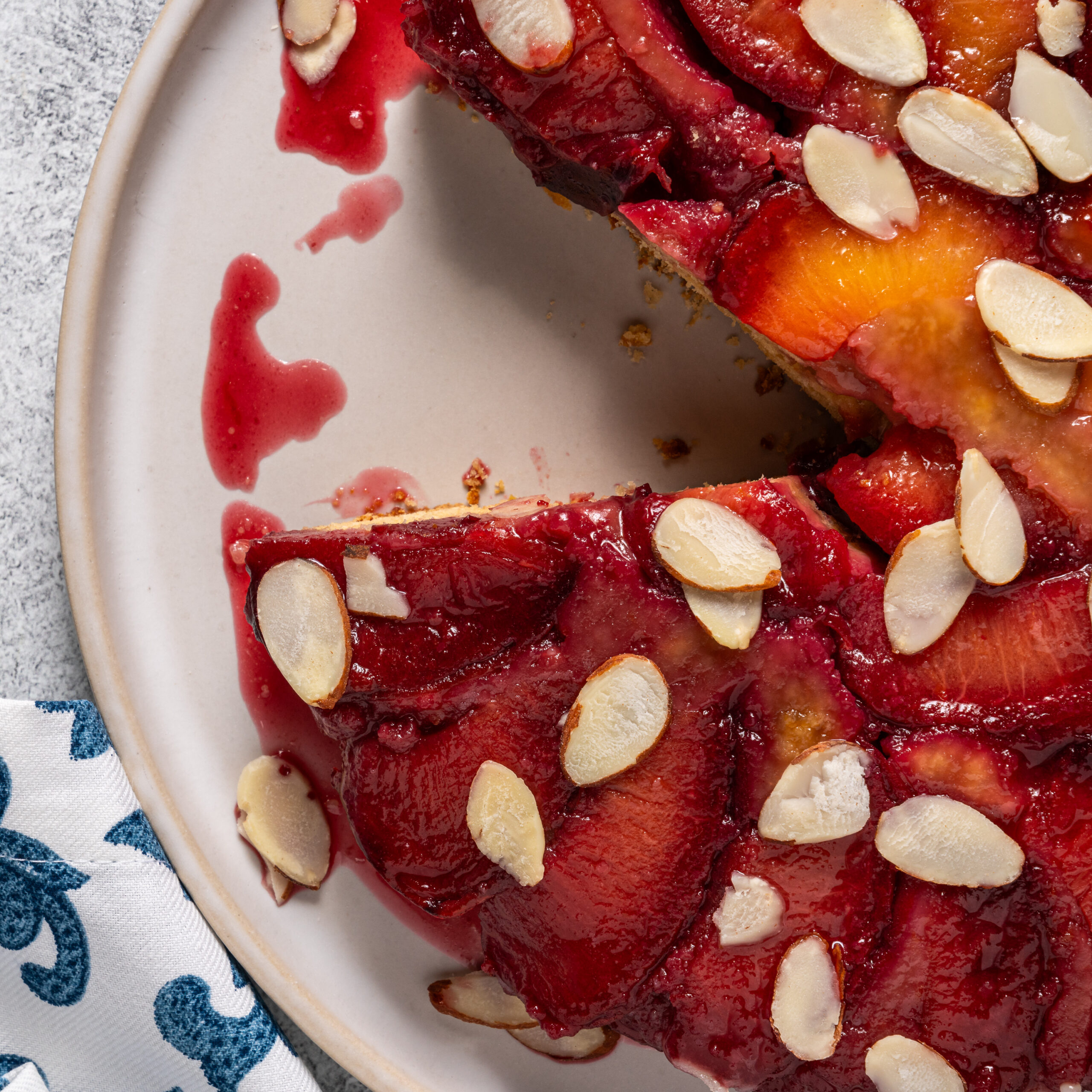 The gateau is baked upside down and cooled in the pan before flipping out, so it's an easy dessert to make hours ahead.  It flipped out with all the plums intact.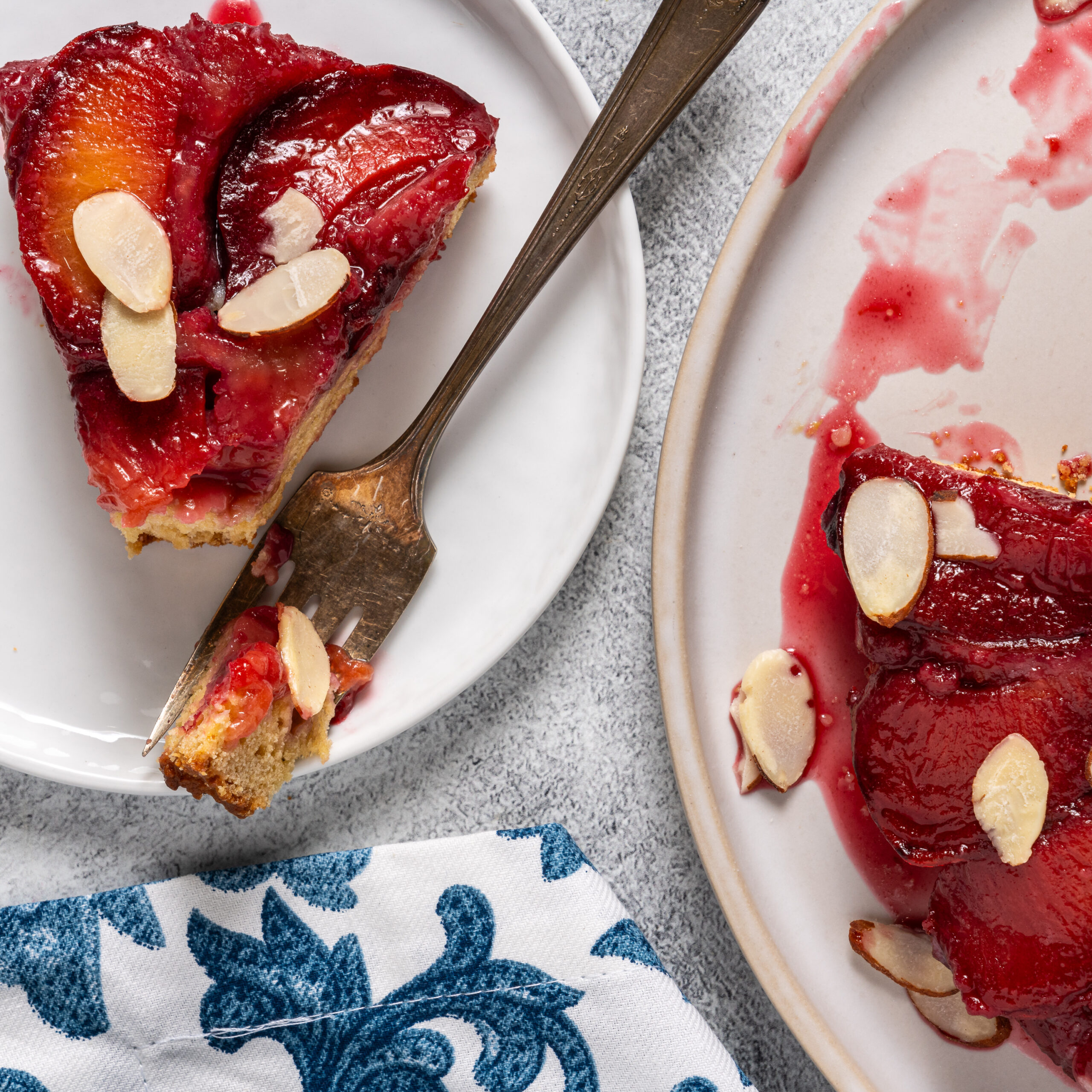 As you can see it has a cake-like crust that is on the top before baking, with the plums beneath it.  When it is flipped out the beautiful plums are on top.  It is not overly sweet and would have been great with a scoop of vanilla ice cream or sweetened whipped, neither which I didn't have at the time, but would definitely have next time.

Plum Gateau, Baked Upside Down
Author:
Sphere Magazine September 1978
Ingredients
1-1/4 cups all-purpose flour
⅓ cup packed brown sugar
1 teaspoon baking powder
½ teaspoon table salt
¼ cup milk
3 egg yolks, beaten
1 Tablespoon butter, melted
About 5 to 6 purple plums, cut into quarters and pitted
1 Tablespoon fresh lemon juice
1 teaspoon grated lemon zest
¼ cup red current jelly, melted over low heat and strained
¼ cup packed brown sugar
3 Tablespoons cold unsalted butter, cut into small pieces
3 Tablespoons sliced almonds, for garnish
Instructions
Heat oven to 400 degrees F. Lightly butter an 8-by-3-inch round cake pan. Set aside.
Mix flour, ⅓ cup brown sugar, baking powder, and salt in a medium bowl. Stir in the milk, beaten egg yolks, and melted butter. Set aside.
Place plums in a medium bowl and toss with the lemon juice and grated zest. Set aside.
Spread the melted and strained jelly evenly in the prepared cake pan. Sprinkle the ¼ cup brown sugar evenly over the jelly. Dot the brown sugar evenly with the cold butter pieces.
Arrange the plum wedges in circles, slightly overlapping, on top of the butter pieces covering the top. Spread the reserved flour and egg yolk batter evenly over the plums.
Bake for 30-35 minutes until golden on top. Cool completely in the pan on a wire rack.
To serve, unmold onto a serving plate. Let it sit for a couple minutes and tap the top gently to help release it. Serve with a scoop of vanilla ice cream or sweetened whipped cream.