Since tomorrow is Taco Tuesday here is a delicious and different twist on regular tacos to surprise your family.  A homemade yeast crust has the added crunch of crushed Fritos that add flavor and chewiness.  Don't be put off that it's a yeast dough!  Not only is it a no-knead crust, it only has to rise for 10 minutes if you use Rapid Rise Yeast, or 20 minutes for Dry Active Yeast.  I always use the Rapid Rise and dinner is ready in about an hour.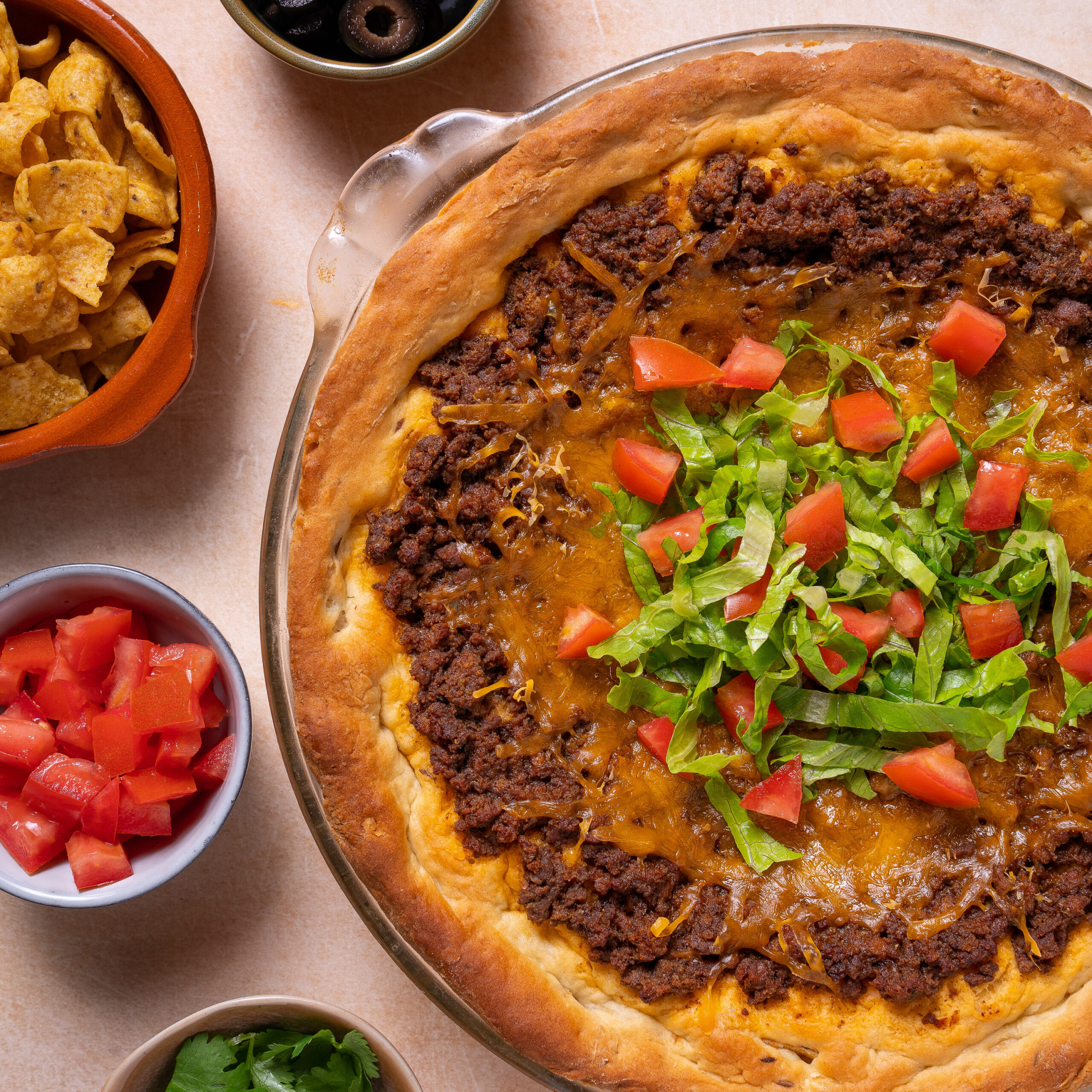 Doesn't this look fun?  Kids will love it!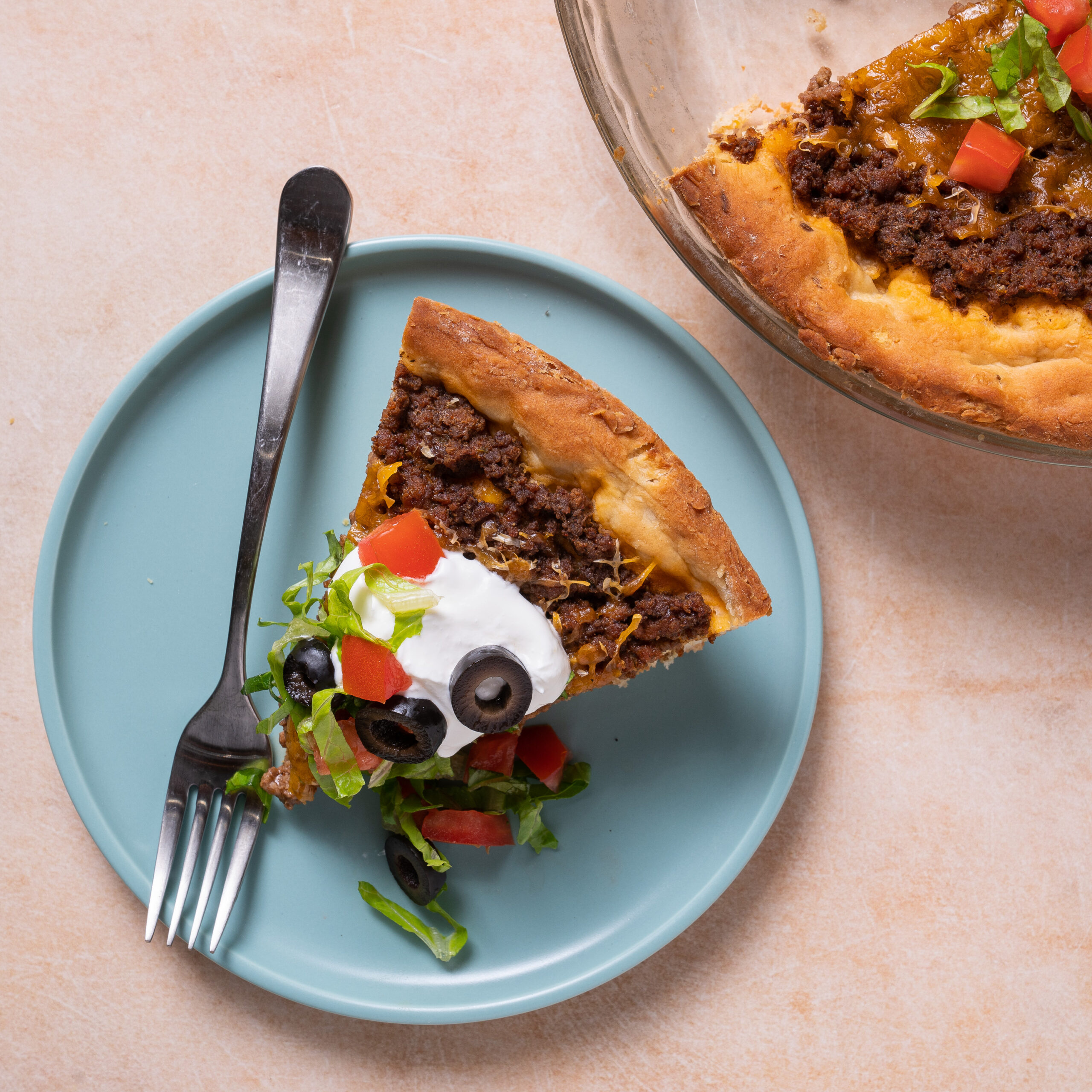 Offer a variety of toppings and everyone can add their favorite: Shredded lettuce, chopped tomatoes, sliced ripe olives, sour cream, chopped cilantro, chopped onions, and extra Fritos.

Easy Taco Pie
Ingredients
Taco Meat Filling:
1 pound lean ground beef
½ cup chopped onions
1 packet Taco Seasoning Mix (your favorite)
¾ cup water
½ teaspoon dried oregano
Taco Crust:
1-3/4 to 2 cups all-purpose flour; divided use
1 packet Rapid Rise or Quick Rise Yeast; or Active Dry Yeast
1 Tablespoon granulated sugar
2 teaspoons finely chopped onion
¾ teaspoon table salt
⅔ cup very warm water (120 to 130 degrees- very hot tap water works)
2 Tablespoons oil (canola, vegetable, or olive)
½ cup crushed Fritos Corn Chips
½ teaspoon cumin seeds (optional)
Topping:
1 cup shredded cheddar cheese
Additional Toppings to offer such as shredded lettuce, chopped tomatoes, sliced ripe olives, chopped cilantro, sour cream, extra cheese, extra Fritos, etc.
Instructions
Heat oven to 375 degrees F. Grease well a 10-inch pie pan; set aside.
For Taco Filling: In a skillet brown the ground beef and onions until meat is no longer pink. Add the taco seasoning, oregano, and ¾ cup of water. Simmer over low heat for 20 minutes while you prepare the crust and toppings.
For crust: In a medium mixing bowl combine 1 cup of the flour, yeast, sugar, 2 teaspoons chopped onion, and salt. Add the very warm water and oil to flour mixture. Mix with a wooden spoon or rubber spatula until almost smooth. Stir in crushed Fritos, cumin seeds, and another ¾ to 1 cup flour to make a stiff batter.
Spread the batter in the prepared pie pan, forming a rim around the edges. Cover with a clean tea towel and let rise in a warm place for 10 minutes (for Rapid Rise Yeast) or 20 minutes for Active Dry Yeast.)
Spread the simmered meat filling over dough. Bake at 375 degrees for 30 minutes until edge is crisp and light golden brown. Remove from oven and immediately top with cheddar cheese. To serve cut into wedges and offer the toppings.
For the other toppings, you can prepare those while pie is baking and place on the table for family to choose their favorites. Or you can even prepare the toppings earlier in the day and keep covered in refrigerator until ready to serve. Pie will serve from 4 to 6.