I will never forget writing my first blog ever on this date nine years ago.  It was so exciting to jump into the blogger world, although I never started with thoughts of making money from it and I still don't.  My blog is written simply because I love cookbooks, cooking, recipes, and everything that happens in the culinary world.
The blog began with almost 4,000 cookbooks and tens of thousands of recipes on cards and clippings, all collected over decades.  I eventually trademarked the Culinary Cellar name, made so many friends from all over the world, and even when a devastating flood took away my beloved Culinary Cellar and I almost gave up of rebuilding, you, my beloved readers, sent me cookbooks by the thousands to help The Culinary Cellar back on its feet.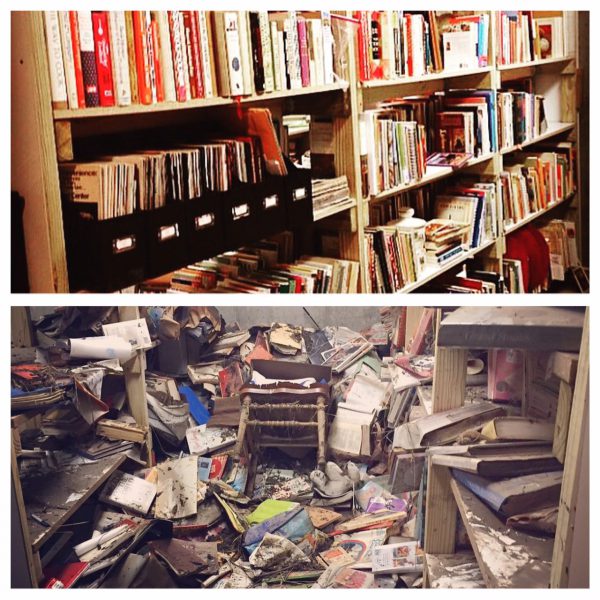 Before and after the flood.
But worse than the flood was when I lost my mom last fall.  Mom loved my collection and helped so much to build it.  She bought the nameplate one Christmas that is still on the door to the basement.  Mom added to my collection over the years and was just as devastated as I was when it was gone.  She encouraged me to keep going because it was what I loved.  She was so incredibly impressed, as was I, of the love and support from friends, family, and perfect strangers, all who wanted to help rebuild.  Even though the process is slow and I have a way to go, with blogs still to write for those who sent books, a need of updated photos and other links on the blog, and maybe even an entire new look.  I have some beautiful cabinets to show you too, that I bought at a kitchen store in town that went out of business.  They need some touch-up paint and then stacked with more books and other items.
Thank you all for a wonderful nine years.  I wouldn't be here without all of you still reading me. Thanks for helping me to show the world that cookbooks are vital and a way to carry on traditions and pass on family recipes.  And as always, I want to say thank you to all the cookbook-only stores, all independent book stores, and of course, libraries.  The world would not be same without all of them.
Love and miss you so much, mom.  I know you are always with me.