Welcome to my first ever blog entry! Even with the massive number of cookbooks in my collection, it was a no-brainer on which one to select for the first entry. Since today would have been my Grandmother's 113th birthday, I wanted to honor her. I have in my possession the classic Fannie Merritt Farmer cookbook, "The Boston Cooking School Cook Book," first published in 1896. My Grandmother's edition is from 1914, which means she bought it as a young college student. Inside on the second page she has written: Pauline Rose, 2205 College Street. Since she went to school in Cedar Falls, Iowa, I assume that was where she bought it. How I would love to know what she cooked from the book. Grandma attended a teacher's college, as they were known back then, but she did take Home Economic courses. One of her cooking teachers was aptly named Miss Pancake. No joke.
Those of us who love to cook owe much to Miss Fannie Merritt Farmer, who helped to standardize the system of cooking measurements as we know them today. In old cookbooks, measurements were written as "a piece of butter the size of a walnut," or "a teacup of milk." Farmer decided one should have accuracy in cooking, which is why she came to be known as "the mother of level measurements," such as the teaspoon and the cup. Miss Farmer also believed in pretty food presentations, such as cutting bread into heart shapes and placing it on a delicate flowered plate. She felt it just made people feel better about eating, and about healing them if they were ill. Miss Farmer also educated the world on food science, nutrition, sanitation, household management, convalescent cookery, and, of course, techniques of cooking and baking.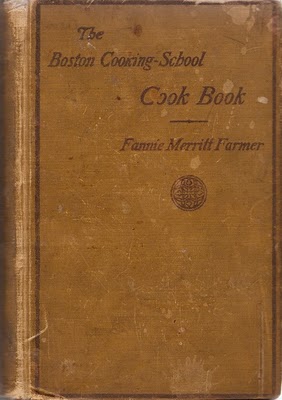 One of my favorite stories about Miss Farmer concerns the time when she inquired about getting her cookbook in print. Publishers were very leery of taking on a business venture designed by a woman, and insisted she pay all the initial printing costs out of her own pocket. Because of this chauvinistic attitude, she insisted upon retaining all the copyright and profits. Guess she had the last laugh!
The Boston Cooking School Cook Book has 38 Chapters including everything from soup garnishes and forcemeats to hot puddings, each chapter interesting in its own right. But what I found fascinating to read was the listing of her cooking classes. Her classes were one lesson weekly, for ten consecutive weeks, from 9am to 12:30 pm. Eight pupils constitute a class. Terms were $16.50, payable on the fourth lesson. At the very first lesson one would learn as follows:
How to use a gas range
Breakfast cereal
Dry toast
Milk toast
Baked apples
Creamed chicken
Boiled potatoes
Potato border
Boiled coffee
How cooking classes have changed! But they exist now in a large part to Miss Fannie Farmer, the feisty redhead from Massachusetts. She died at the age of 57, confined to a wheelchair, still lecturing 10 days before her death. I will end with her quote from the Preface of the cookbook:
"But for life the universe were nothing; and all that has life requires nourishment."
This first blog written with admiration for Fannie Farmer and with love for my grandmother, Pauline Rose Lamb, who taught me so much about the joys and rewards of cooking from the heart. A day rarely goes by where she doesn't enter my thoughts. Happy birthday, Grandma.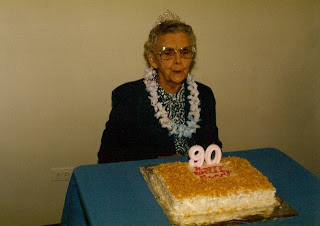 Pauline Rose Lamb
Born January 31, 1897 – Olin, Iowa
Died April 24, 1991 – Libertyville, Illinois