Cranberry and orange flavors are the perfect combination for a holiday quick bread, especially since today is National Cranberry Day!  The loaf is filled with the brightness of seasonal cranberries along with orange zest and juice, and chopped walnuts.  Your kitchen will smell so festive!  It would be a wonderful bread to have on hand for hostess gifts for parties, served with Thanksgiving or Christmas meals, or just to have with coffee on a cold winter's day.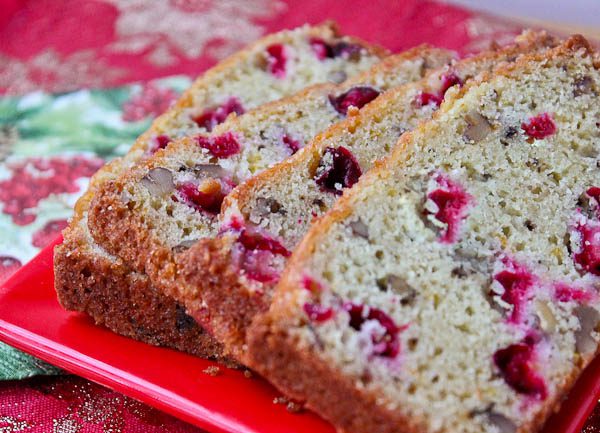 Holiday Cranberry Loaf
Ingredients
1-1/4 cups fresh cranberries
1 cup sugar, divided
2 cups sifted all-purpose flour
1-1/2 teaspoons baking powder
½ teaspoon baking soda
1 teaspoon salt
½ cup walnuts, coarsely chopped
1 egg
¾ cup freshly squeezed orange juice
2 teaspoons grated orange rind
2 Tablespoons unsalted butter, melted
Instructions
Heat oven to 350 degrees. Grease a 9-by-5-by-3-inch loaf pan.
Slice the cranberries in halves and place in a small mixing bowl. Toss well with ¼ cup of the sugar; set aside.
Into a large bowl, sift flour, the remaining ¾ cup sugar, baking powder, baking soda, and salt. Add the walnuts and sugared cranberries; mix well.
In another bowl, beat the egg lightly and stir in the orange juice, orange rind, and melted butter. Make a well in the center of the dry ingredients and add orange juice mixture. Mix only enough to moisten the dry ingredients.
Turn batter into prepared loaf pan. Bake for 40 to 45 minutes or until a tester inserted in the middle of loaf comes out clean. Remove from oven and place on wire rack. Gently run a knife around the edges of the pan. Turn out loaf and set upright on wire rack to cool completely. Wrap securely in plastic wrap when cooled.
Did you know:
Another name for cranberries is "bounceberries" because they bounce when ripe.

Some Native Americans called the cranberry ibimi which means "bitter berry"

Native Americans and Pilgrims used cranberries as a red dye.

Wild cranberries were probably part of the first Thanksgiving in 1621.

Today, cranberry sauce is an essential part of American and Canadian Thanksgiving celebrations.