One of the best things about our country is the small towns.  Every state has them along with a fascinating story about each one.  I grew up visiting my great-aunt in rural Iowa.  My husband and I have property up on Lake Superior in a Michigan town of about 250 residents.  So yes, I love small towns.  Most have charm and lovely people.  Small towns also can have unusual names.  How about Hot Coffee, Mississippi?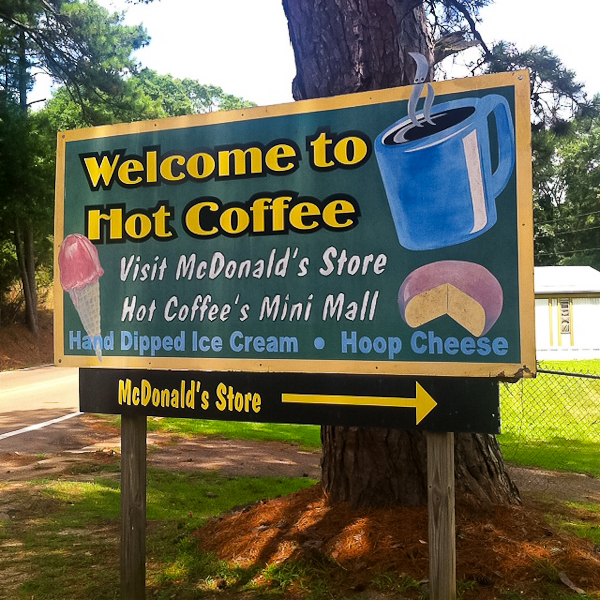 In 1870, a man named L.J. Davis built a small store and hung a coffee pot over the door, advertising that he sold "the best hot coffee around."  He made the coffee from pure spring water, beans from New Orleans, and molasses drippings for sweetener.  The popularity of Davis's coffee led to the name of the community, which is often noted on lists of unusual place names.  National Geographic even wrote about Hot Coffee in a 2005 article.
I might have never heard of Hot Coffee, except my daughter Kara happened to be driving somewhere for her job and stumbled upon the town.  She couldn't resist stopping and taking photos, knowing I would love it for a blog.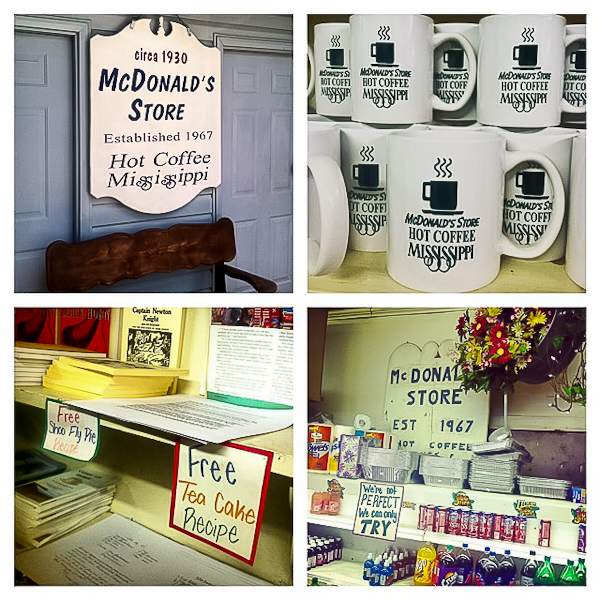 The original general store was built in the 1930's, and bought by the McDonald family in 1967.  Since then, four generations of McDonald's have continued with the store.  The trend toward malls and big discount stores hurt many small town businesses across the country, and McDonald's did not want to suffer and close as many had to do.  Instead, the family decided a push toward tourism was the best way to go.  Soon bus groups started coming in to see the charming little store and buying the souvenirs.  People who have signed the guest book have been from Brazil, Denmark, Scotland, Switzerland, Austria, England, Belgium, and Canada, not to mention states all over our own country.
There is even a family link to country music star LeAnn Rimes in Hot Coffee.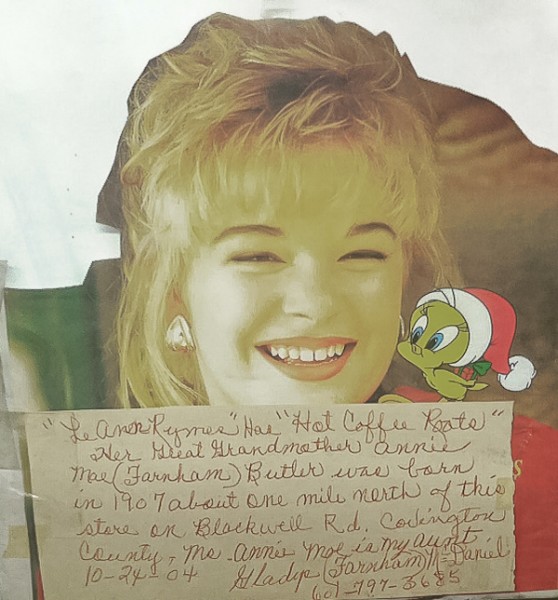 However,  maybe some music of others got a little out of hand, according to this sign.  Too much caffeine, maybe?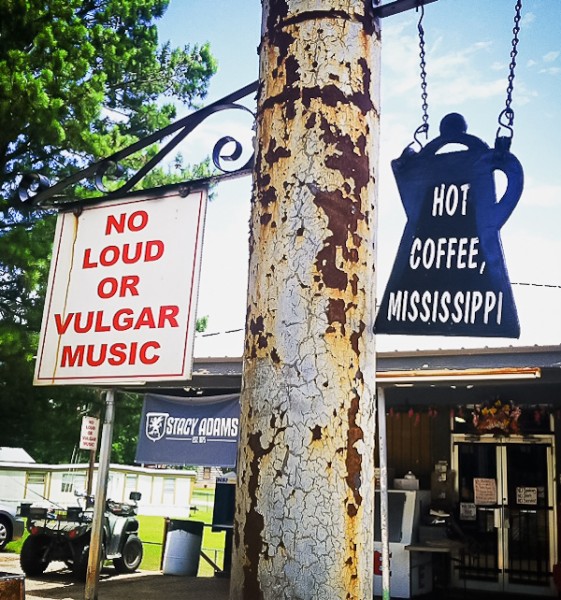 Apparently, Hot Coffee is not the only small town with references to the morning cup of joe.  I guess Americans really like their coffee.  Look at all the coffee-friendly towns across the country.  I bet there is a story behind each one of them.  I'm closest to Cream, Wisconsin, and Spooner, Wisconsin.  I should check them out!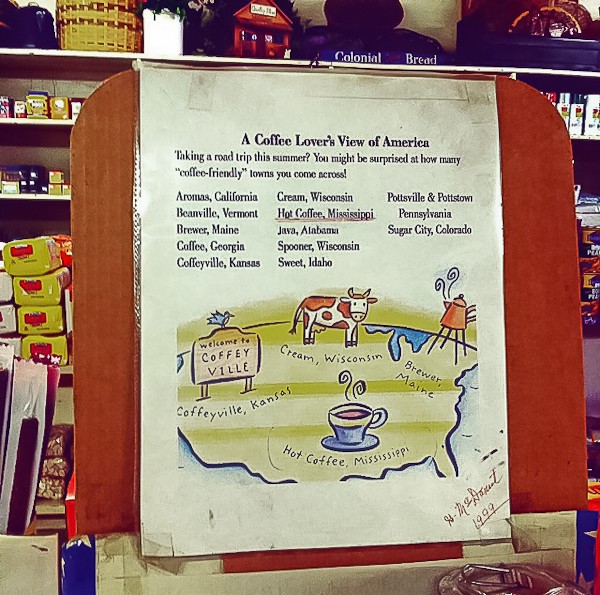 While browsing through the store, coffee in hand, Kara noticed a sign for free recipes.  Now you know she couldn't pass those up for her mom!  I didn't make these, but here they are: Shoo Fly Pie and Tea Cakes.  I love that they are hand-written.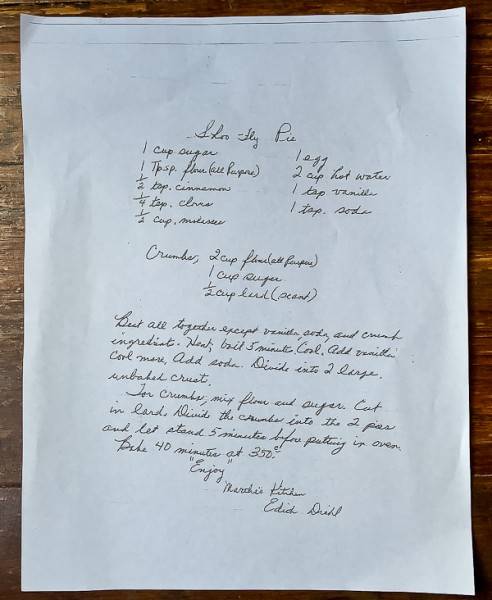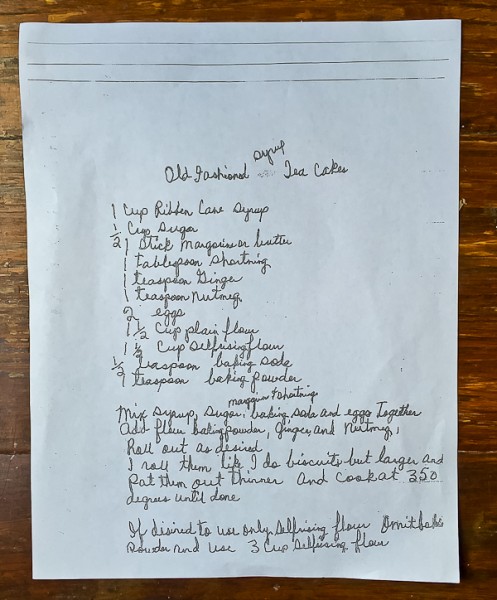 Next time I visit Kara in Mississippi, I'll have to make a detour to Hot Coffee.  But first I'll have to go to Cream and Spooner in Wisconsin so I can tell the people in Hot Coffee about the other coffee places.  Maybe I'll compare the coffees of the North and the South, but I have a feeling there is no coffee like Hot Coffee.