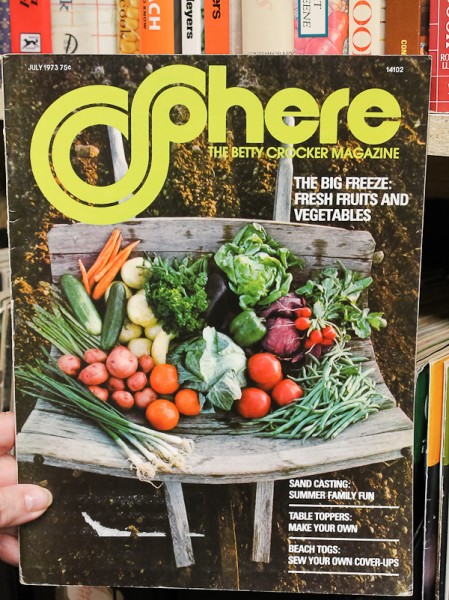 Sphere magazine from July of 1973 is all about summertime on land and sea.  Even though I used to live very near a beach in California (Stinson Beach, Marin County) I never actually had breakfast on the beach.  This Sphere issue has an entire breakfast menu to enjoy while making sand castles.  Or if you prefer a boat, there are recipes for items such as "Salty Dogs," which is mostly grapefruit juice with vodka; "Dinghy Dip and Oar d'oeuvres," and "Captain's Coffee," which is basically coffee with Irish whiskey.  Do people drink a lot on boats? There was one recipe that sounded like something I would like to have for lunch, cantaloupe halves filled with chicken salad.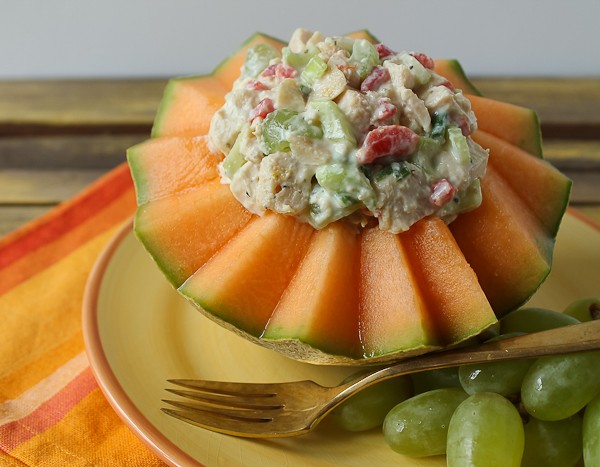 It was nice and refreshing, although I would add some toasted almonds next time.  It had celery, green onion, pimento, grapes, sour cream, lemon pepper, and a little ground ginger which was a nice subtle touch.  I love any food that involves a cantaloupe.  In the summer drinks that I mentioned, there is a "Frosty Cantaloupe" made with ice cream, sour cream, lemon juice, milk, and a little brown sugar that is blended and served in "short fat glasses with melon balls on skewers" that I must try.
"No-Trouble Summer Suppers" offers recipes using convenience products such as an easy paella recipe using frozen fried chicken pieces (yikes!), and a peach dessert using frozen pound cake and canned peach halves.  Now why would anyone use canned peaches in the summer?  I  think of summer cooking as everything fresh and lots of grilling outside.  Turns out there is a section on grilling, with a steak and a pork loin, and a couple fresh salads, along with a how-to on freezing summer produce to enjoy in the winter months.
Here is that easy chicken salad stuffed into a beautiful, ripe cantaloupe half.  And if you go on a boat, don't drink too many of those Salty Dogs or Captain's Coffees. Otherwise you can't get up the next day and enjoy making sand castles at breakfast.

Chicken Salad in Melon Halves
Author:
Sphere Magazine, July 1973
Ingredients
3 cups cut-up cooked chicken
¾ cup thinly sliced celery
¼ cup thinly sliced green onions and tops
¾ teaspoon salt
¾ teaspoon lemon pepper
½ teaspoon ground ginger
1 jar (2 ounces) sliced pimiento, drained
¾ cup seedless green grapes, halved
½ cup sour cream
2 small cantaloupes
4 small bunches green grapes
Instructions
Mix all ingredients together except cantaloupes and green grape bunches; cover and chill. At serving time, cut melons in half (can do it straight across or zig-zag like I did in the photo) and scoop out the seeds. Cut a thin slice off the bottom so the melon will not roll around on the plates. Spoon salad into melon halves. Serve each with bunches of green grapes.