First thing I make the day after Thanksgiving is the turkey broth, package most of it into containers and freeze it for soup to enjoy on our cold winter days ahead.  Over the weekend it's been turkey sandwiches, repeat of Thanksgiving dinner, soup, turkey hash, and then by Sunday it's down to small amounts of just about everything.  I opened the refrigerator and found the following:  1 cup stuffing, couple cups of turkey broth, couple cups of green beans with almonds, and some whipping cream used for the pumpkin pie.  Add some pasta and a little cheese, and it sounds like a casserole to me.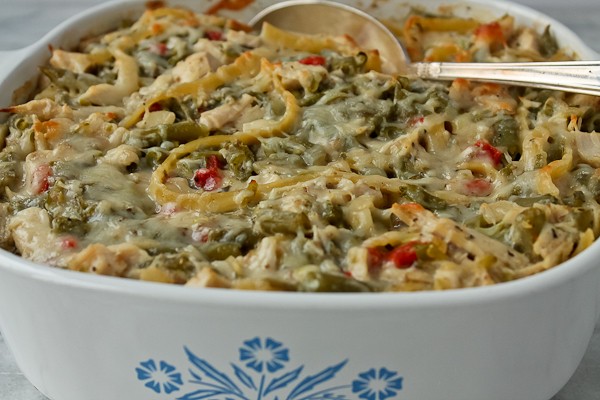 I decided to try something different with the stuffing.  I put the cup of it in the Vitamix along with some turkey broth and whipping cream and blended it for the sauce.  This mixture got tossed with cooked fettuccine, cubed turkey, chopped leftover green beans with almonds, and the addition of a little diced pimento and some Parmesan.  The stuffing actually didn't taste like stuffing at all, it just added a nice flavor and some thickening.  It was good and filling served along with a couple leftover rolls.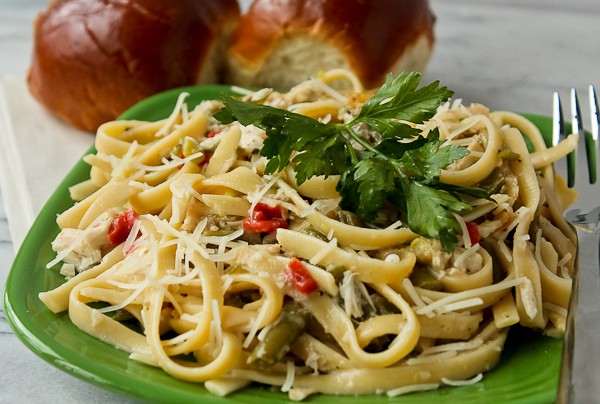 With only a little turkey left, I decided to try an easy and little bit different open-faced sandwich using cinnamon-raisin bread and Muenster cheese with the turkey.  I dipped the bread in a beaten egg and cooked on one side, flipped it, then topped with turkey slices, Muenster, and dusted with paprika.  It was also good and a nice change from a plain turkey sandwich.  The cinnamon-raisin bread made all the difference with the added spice and flavors.  The flavors also blend nicely with the Muenster.  I don't think white or wheat bread would be as good.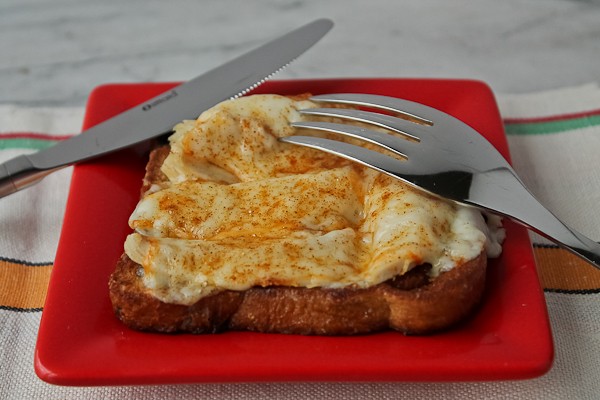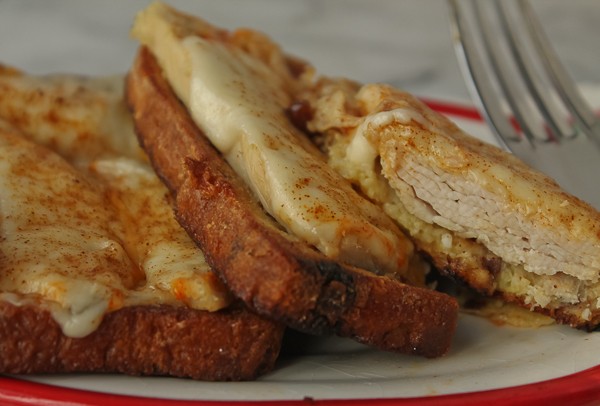 We are now officially turkeyed-out.  Time for a big juicy hamburger tonight.  But here are the recipes just in case you have some turkey left.

Thanksgiving Leftover Casserole
Ingredients
1 cup leftover stuffing
1 to 2 cups turkey broth, divided
½ cup whipping cream
8 ounces fettuccine or linguine, cooked and drained (about 4 cups cooked)
2 cups cubed cooked turkey
2 cups chopped leftover vegetables (whatever you had for Thanksgiving that you think will work!)
2 Tablespoons diced pimiento
½ cup grated Parmesan cheese, divided
Instructions
Heat oven to 450 degrees. Lightly butter a casserole dish, approximately12-by-8 inches.
Place stuffing, 1 cup of the turkey broth, and cream in blender; process until smooth.
Place the cooked fettuccine in a large bowl and add the blended mixture, turkey, vegetables, pimiento, and ¼ cup of the grated Parmesan. Toss to combine. If it looks too dry, add turkey broth and toss until of desired consistency. It will vary depending on your own stuffing and vegetables used. I used about 1-1/2 cups for mine. Spoon mixture into prepared baking dish and sprinkle with remaining ¼ cup of Parmesan.
Bake at 450 degrees for 15 to 20 minutes or until bubbly and golden. Remove from oven and let stand for 5 minutes before serving.
Note: Everyone's leftover casserole will taste different because we all make different stuffings and vegetables. Adjust liquid and seasonings as needed.
For each serving of Turkey Croque Madame Sandwich:
1 egg
2 slices cinnamon-raisin bread
1 Tablespoon butter
Turkey slices to fit bread
salt to taste
Muenster cheese slices to fit bread
Paprika
Beat egg in a pie plate and dip bread slices one at a time into egg, turning to coat both sides well. Melt butter in a skillet over medium heat until hot and place coated bread slices in one layer. Cook until browned on the underside, then flip over. Top each slice with turkey slices to fit bread; sprinkle each with salt.  Top with cheese slices to fit bread and sprinkle lightly with paprika.  Cover skillet and cook until cheese melts and underside of bread browns, about 2-3 minutes.  Serves 1.