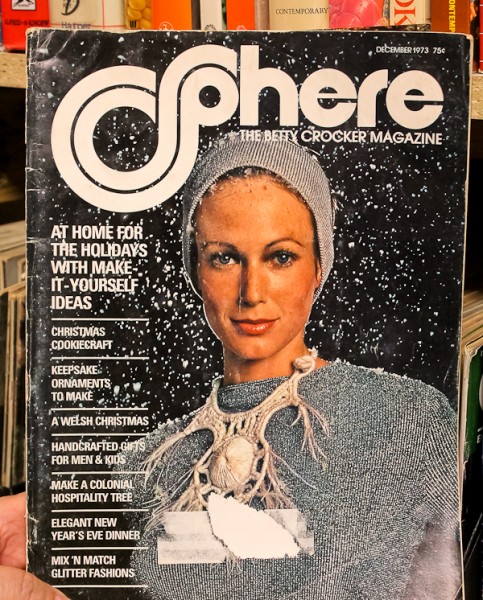 Except for the difference in clothing styles, all the basics of Christmas cooking, baking, and traditions have remained pretty much the same since this 1973 issue of Sphere magazine.  There is a Christmas menu featuring a roast beef, turkey and stuffing, sweet potatoes, peas, and an eggnog pie.  For a party of festive Hors d'oeuvres and punches you will find recipes for a traditional holiday cheese ball, a caviar dip, canapes, a rum punch, and Mexican hot chocolate.  Next is a Christmas brunch featuring fruit, omelets, Canadian bacon, and a sour cream coffee cake.  For a New Year's Eve Dinner Menu an oyster bisque, stuffed leg of lamb, rice, green beans with cashews, and cherries jubilee are suggested.  But my favorite item to find in December issues of any year is the Christmas cookies.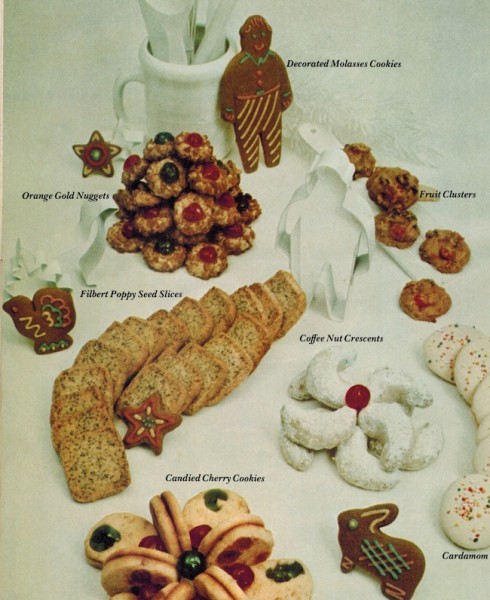 This is the page of Christmas cookies, and as you can see, many of the cookies use the green and red cherries which are still as popular now as back then in cookies as well as breads.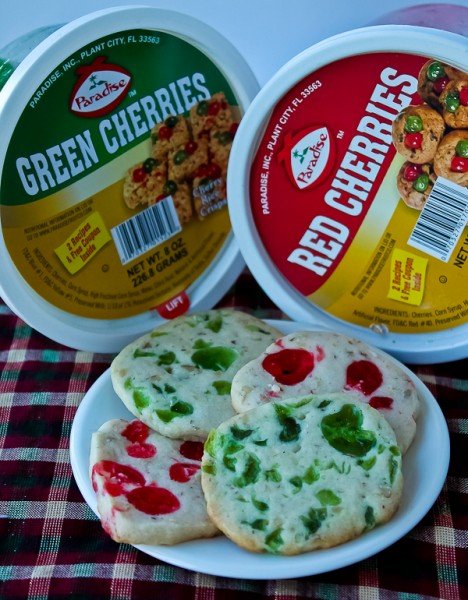 I decided to try the Candied Cherry Cookies.  They turned out very good and festive-looking for Christmas.  I plan on making the Cardamom Drops and Coffee Nut Crescents too.
There were all kinds of Christmas crafts in this issue including this darling gingham tree skirt that is a machine-appliqued patchwork of gingham triangles backed with felt for body and dotted satin bows for fun.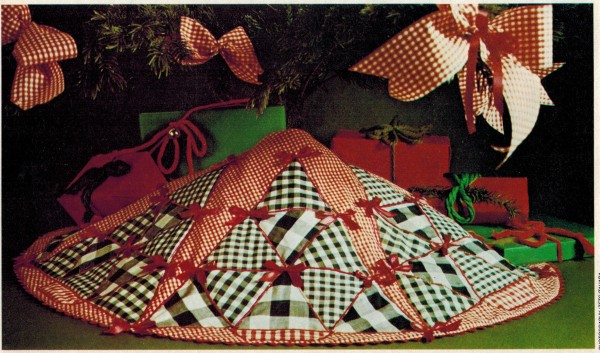 Here are some adorable little felt children that I couldn't believe when I saw these because I actually made one of these back in 1973 and we still hang it on our tree.  I had forgotten that I got the pattern from Sphere!  I wanted to show it to you, but I haven't pulled out my Christmas ornaments yet.  I made the little boy on the left with scarf.  The patterns are included in the magazine, and on some cold winter day when I am feeling lazy, this issue will be coming out and I would love to make the remainder of these ornaments, especially the little girls carrying the cookie trays!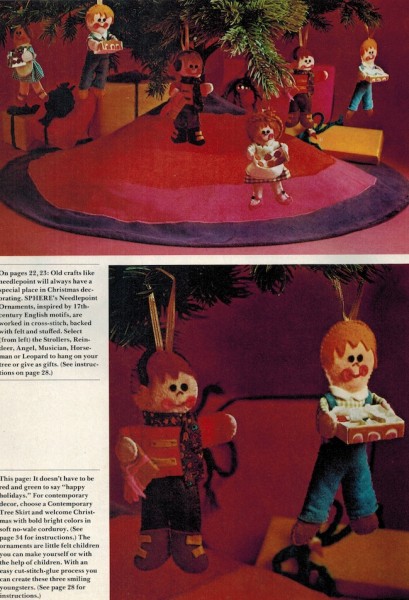 Here is the recipe for the Candied Cherry Cookies.  They are nice and buttery with the bright and festive cherries and a little finely chopped walnuts.  Make the dough at least 4 hours ahead then just slice and bake.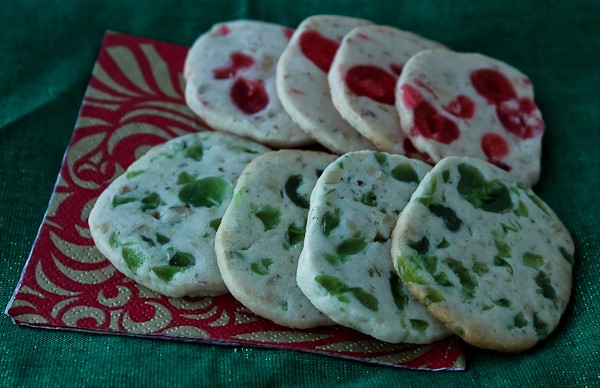 Candied Cherry Cookies
Author:
Sphere Magazine, December 1973
Ingredients
1 cup salted butter, room temperature
1 cup powdered sugar
1 egg
2-1/4 cups all-purpose flour
¼ teaspoon cream of tartar
½ cup finely chopped walnuts
¾ cup red candied whole cherries
¾ cup green candied whole cherries
Instructions
Mix butter, sugar, and egg. Stir in flour, cream of tartar, and walnuts until blended.
Divide dough in half. Stir red cherries into one half and green cherries into the other half. Shape each half into a roll, 1-1/2 inches in diameter. Wrap each in plastic wrap and refrigerate at least 4 hours.
Heat oven to 375 degrees F. Using a sharp knife, cut rolls into ¼-inch slices. Place slices 1-inch apart on parchment-lined or ungreased cookie sheets.
Bake until set but not brown, about 8 to 10 minutes. Remove from baking sheet to wire racks and cool.
Store cookies in airtight containers or freeze up to 6 weeks. Makes about 3 dozen cookies.
And now for our winner of the Dorie Greenspan cookbook, Around my French Table.  The lucky winner, randomly chosen is…. drum roll please….
Marie Valdes!
Congratulations, Marie.  I will be contacting you for your address to mail the book.  You are going to love it!
Thank you to all who entered and watch future posts for more cookbook drawings in 2016!