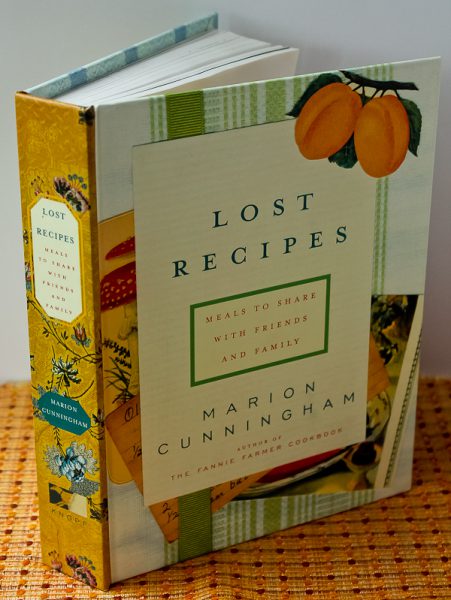 "There is nothing like the satisfaction of sharing with others something you have cooked yourself."
Marion Cunningham, known as America's most famous and enthusiastic advocate of home cooking, lived and shared these words until she died at age ninety from complications of Alzheimer's disease in 2012.  Cunningham won numerous awards over the years but nothing was more dear to her heart than promoting home cooking.  Her goal was to lure family, friends, and neighbors back to the table to sit down and eat together.  She also believed in sharing recipes and passing them down.  Lost Recipes was born.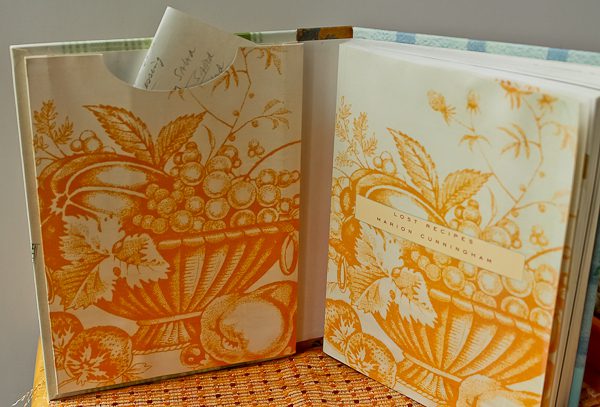 Inside the front cover of the cookbook is even a little envelope where you can store that recipe from your neighbor, or a favorite from a family member.  No recipe should be lost or forgotten.  The book is filled with comfort foods like soup, homemade breads, vegetables, one-dish meals, salads, and the best American comfort desserts such as Hoosier Cake, Strawberry Shortcake, Rhubarb Betty, Icebox Cookies, Pineapple Upside-Down Cake, Chocolate Chip Cookies, and the famous Schrafft's Butterscotch Cookies.
I chose to make the vegetable barley because I was looking for a side dish to pair with our grilled flank steak planned for dinner last night.  We love barley because it's great with meat, poultry, or fish.  This one is cooked slowly on the stove top with onions, carrots, and celery in chicken broth, then zucchini and spinach are added the last ten minutes after it has thickened.  It was delicious, but I think next time I would add some fresh thyme as it one of my favorite herbs.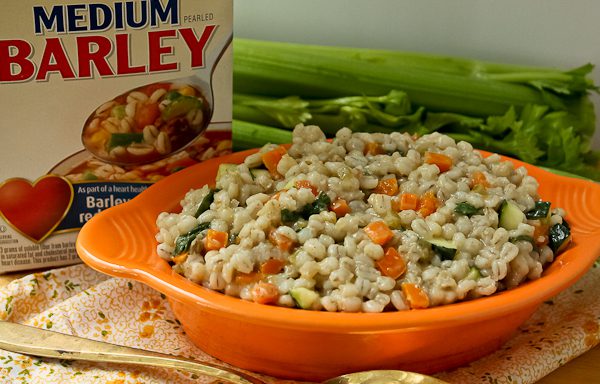 If you love comfort food and home cooking at its best, then you will love Marion Cunningham cookbooks.  She has a wonderful breakfast book, supper book, one for cooking with children, one for beginners called Learning to Cook, and of course Cunningham is the person behind the rewrite of the famous Fanny Farmer Cookbook.  It is hard to believe that this energetic woman once struggled with agoraphobia, the fear of open and public places.  It was so intense, that she could barely cross the Bay Bridge near her home to go into San Francisco.  But in 1972 when she was about 50 years old, a friend offered her an invitation to attend a James Beard cooking class in Oregon and she left California for the first time.  Mr. Beard took a liking to her and suddenly she found herself as his assistant for the next eleven years, helping him to establish cooking classes in the Bay Area.  Cunningham's big break came when offered the job of rewriting the Fanny Farmer book, which led to more cookbooks and even a cooking show for a time.  After she wrote The Breakfast Book, Cunningham bought a Jaguar and she would log as many as 2,500 miles a month going from restaurant to restaurant, and even discovering young Alice Waters of Chez Panisse fame.  Isn't that a great story? I loved that she bought a Jaguar and bopped around San Francisco!  And I bet anything she enjoyed crossing the Golden Gate Bridge in that car.
Autumn is here and winter is right around the corner.  Time for comfort food.  Time for some Marion Cunningham books.

Vegetable Barley
Author:
Lost Recipes from Marion Cunningham
Ingredients
2 Tablespoons butter
1 large yellow onion, chopped
3 carrots, peeled, halved, and sliced
3 ribs celery, sliced
8 cups chicken broth
1-1/2 cups pearl barley
Salt and black pepper, to taste (I used probably ½ teaspoon salt and ¼ teaspoon pepper)
2 zucchini, sliced ¼-inch thick
1 cup firmly packed fresh spinach leaves, washed
Instructions
Melt the butter in a large soup pot over medium heat and add the onions, carrots, and celery. Cook, stirring often, for 5 minutes. Add the chicken broth, barley, salt, and pepper to taste.
Simmer, uncovered, for 1-1/2 hours, or until the barley is tender and the mixture is thickened. Check and stir often especially near the end of cooking time.
Add the zucchini and spinach and cook about another 10 minutes, until zucchini is just tender and spinach is wilted. Taste and see if it needs salt and pepper. Serve hot.
Note: When I make this again, I think I will add some fresh thyme, as I love how it tastes with vegetables and I love it with barley. Or add your favorite herb, if desired.