Slow cooker recipes are always welcome on busy days.  Place ingredients together in one pot and let them simmer for hours with the aroma filling the kitchen throughout the day while tending to other jobs.  This cookbook will deliver all that but with a bonus of being low-carb.
The cookbook explains the basics of low-carb cooking and its health benefits along with ideas for everyone to enjoy.  Appetizers, beverages, snacks, soups, beef, pork, and poultry recipes are all included in the book.  My husband Bill loves pork chops with mushrooms and I found a recipe we both would like.  If you have family members like Bill who are not serious carb counters, just add a side of cooked brown or white rice for  them and everyone is happy.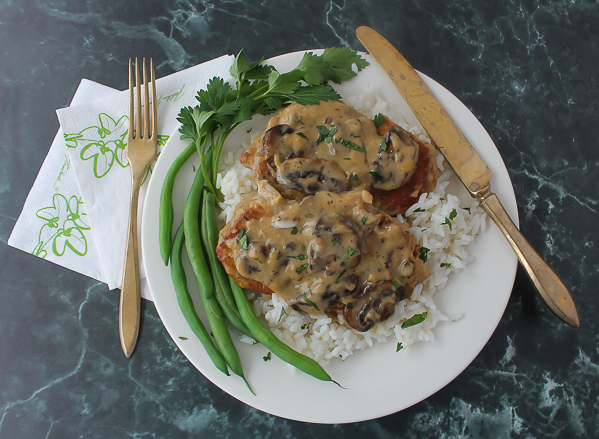 The pork chops are browned and placed in the slow cooker.  The other ingredients to make a sauce are stirred together, poured over the chops, and cooked on low for 8 hours or 4 hours on high.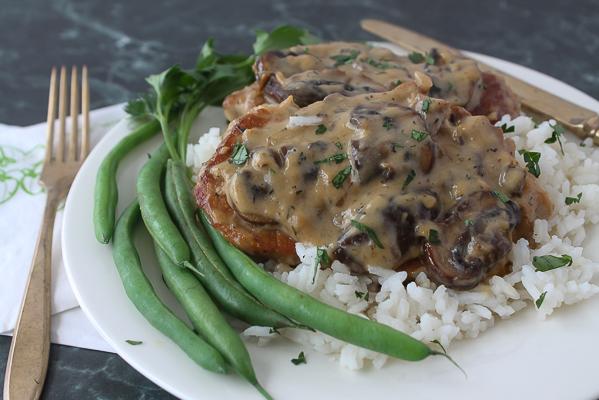 The only thing I changed was the mushrooms.  The recipe calls for a can of sliced mushrooms but I am not a fan.  Instead I sliced an 8-ounce package of fresh mushrooms and added it to the sauce after briefly stirring them into the pan that browned the pork chops.  The canned are obviously more convenient but I felt that fresh mushrooms are better visually and add more flavor.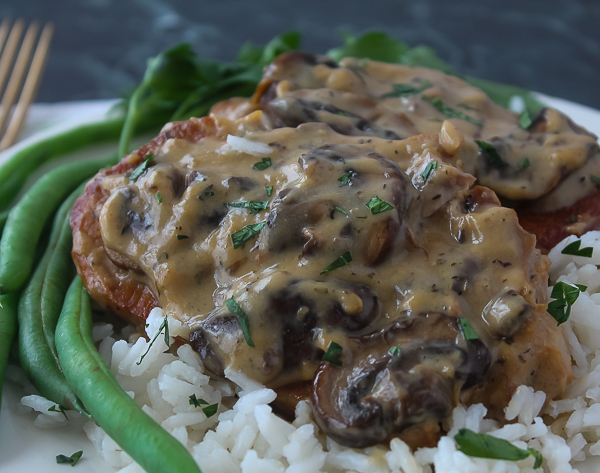 The pork chops were delicious, with or without rice.  I sprinkled them with some chopped parsley for added color and served with green beans.  An easy weeknight meal we both enjoyed.

Slow Cooker Pork Chops and Mushrooms
Author:
Low Carb Slow Cooker Recipes from Better Homes and Gardens
Ingredients
4 pork loin chops, cut ¾-inch thick
1 Tablespoon cooking oil
1 small onion, thinly sliced
2 Tablespoons quick-cooking tapioca
1 can (10-3/4 ounces) condensed cream of mushroom soup
½ cup apple juice
1 can (4 ounces) sliced mushrooms, drained*
2 teaspoons Worcestershire sauce
¾ teaspoon dried thyme
¼ teaspoon garlic powder
Hot cooked brown or white rice, optional
Chopped parsley, for garnish, optional
*Note: I do not care for canned mushrooms, so I sliced an 8-ounce package of fresh mushrooms and stirred briefly into the pan that browned the pork chops before adding to the other sauce ingredients,
Instructions
Trim an excess fat from the pork chops. In a skillet, brown chops on both sides in hot oil. Transfer chops and sliced onion to the slow cooker. (At this point, if you decide to use fresh mushrooms instead of the canned as I did, briefly stir the mushrooms in the pan that is still hot from browning the pork chops and add to the sauce that is prepared before pouring into the slow cooker).
Grind the tapioca with a mortar and pestle. In a bowl, stir together the tapioca, soup, apple juice, either canned or fresh mushrooms, Worcestershire sauce, thyme, and garlic powder. Pour over pork chops and onions.
Cover and cook on low heat setting for 8 hours or on high heat setting for 4 hours. If desired, serve with rice and sprinkle with chopped parsley. Makes 4 servings.