I have never met Lynne Laino in person but know of her through the competitive cooking world.  I have heard she is a lovely person with a big heart.  Lynne certainly proved that to be true when she sent me a wonderful box of cookbooks to help rebuild my cookbook library that was destroyed in a flood.  Every book would have been something I had picked out myself.  Two of these books, the Hershey Chocolate and a vintage Pillsbury Bake-Off book were ones I lost in the flood and now I have copies back on the shelf.  Thank you, Lynne!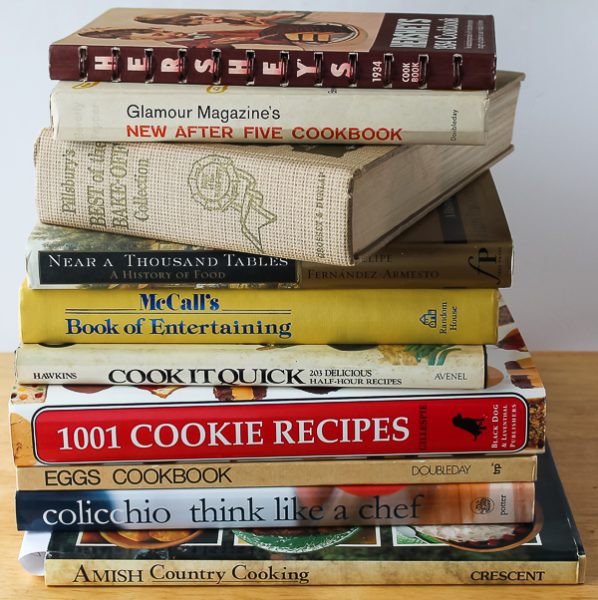 I looked through all of them to find a recipe to make for the blog.  It was the last one, an Amish cookbook that got my attention.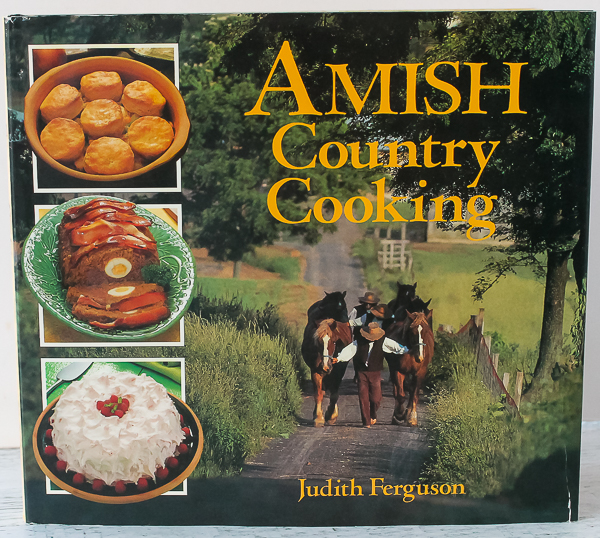 When I first opened the book there was a note from Lynne: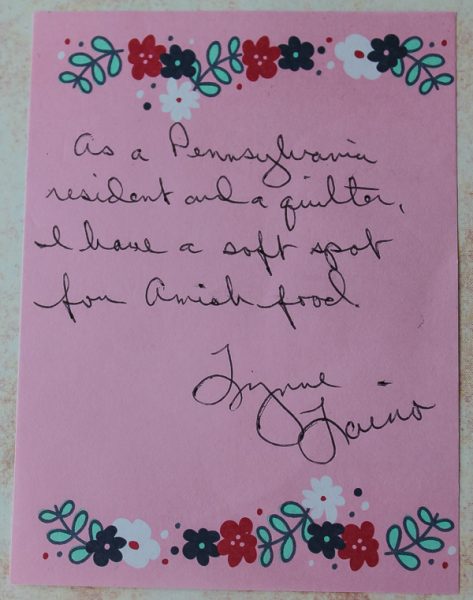 The decision was made.  If Lynne had a soft spot for Amish food, then that was what I was going to make.  As it turns out, I also have a soft spot for Amish food.  I have fond memories of eating at an Amish restaurant with my mom and grandmother many years ago.  The simple and delicious food was served family style with a variety of breads, vegetables, fruits, soups, salads, casseroles, and desserts.  I still remember my favorite items were the soft dinner rolls, bread-and-butter pickles, and the cucumbers in sour cream and dill.  When I saw the recipe for "Cucumber Cream Salad" I knew that was it.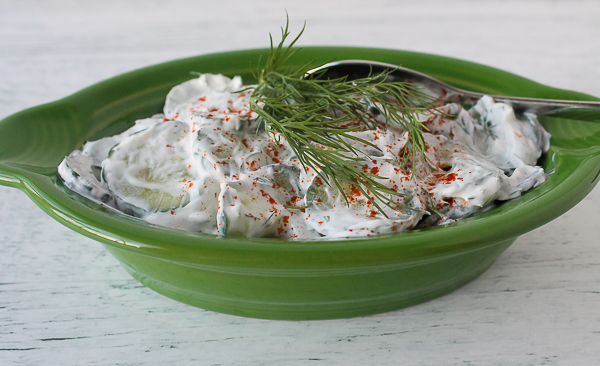 The salad is simple, as all Amish food is, but so good and comforting.  The cucumbers are served with a sour cream dressing with nothing else but salt, pepper, vinegar, and fresh dill.  It's sprinkled with some paprika for color.  The Amish are modest people who live self-sufficiently with almost all ingredients home grown.  Their cooking style reflects those qualities to make meals that are wholesome, satisfying, and plentiful without being indulgent. All that describes this wonderful cucumber dish.  The only thing I did differently was add more of the chopped fresh dill because I can never get enough dill.  I wonder if that would be thought of as indulgent?  Maybe so, but dill is so good..
The cookbook is full of beautiful photos of farmland, kitchens, children playing, animals, and everyone working hard to sustain their way of life.  Some of the recipes include soups with many having beans; stuffed vegetables using tomato shells, cabbage, or zucchini; egg dishes, fried chicken, pork dishes with sauerkraut, lamb, sausages, potatoes, fruit pies, custards, breakfast breads, and many preserves made from the trees and gardens of the farm.
Thank you again, Lynne, for all the lovely cookbooks and bringing back fond memories of enjoying an Amish meal long ago with my mom and grandmother.  I will treasure your books. They have a happy home on my shelves.

Cucumber Cream Salad
Author:
Amish Country Cooking
Ingredients
1 large cucumber, thinly sliced
Salt
½ cup sour cream
1 Tablespoon white vinegar
Pepper, to taste
1 teaspoon chopped fresh dill (although I used lots more because I love dill!)
Paprika
Fresh dill sprigs
Instructions
Place cucumber slices in a colander and sprinkle with salt. Leave it to drain for a few hours.
Rinse drained cucumbers in cold water and pat dry. Place in a bowl.
Mix together sour cream, vinegar, pepper, and chopped dill. Stir into the cucumbers in bowl. Sprinkle with paprika and garnish with fresh dill sprigs. Serves 4.