My husband Bill requested chili for today's Super Bowl game, but also wanted something just to snack on during the course of the game.  This spicy mix of popcorn, fritos, cheese crackers, sesame sticks, and mini pretzels was the perfect idea.  It has something in it for everyone.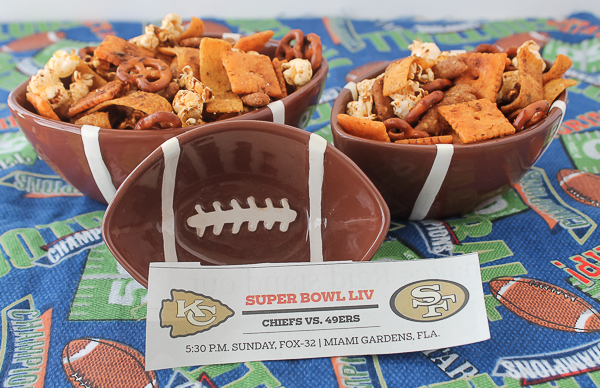 First make the popcorn, but not a microwave kind.  It's too salty and oily.  Make fresh popcorn with no added salt as there is enough salt in the fritos, crackers, and the Worcestershire sauce in the herb and spicy drizzle.  Once the popcorn is ready toss it with the other ingredients, then prepare the sauce that has melted butter with lots of spices.  Spread the mixture evenly onto a large baking pan and bake for 30 minutes, stirring every ten minutes.  Let it cool, then it's ready for the game!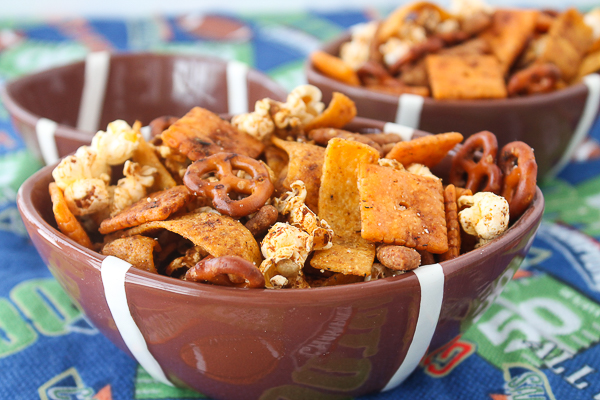 Enjoy the game!
Super Bowl Snack Mix
Ingredients
½ cup butter
2 Tablespoons Worcestershire sauce
2 teaspoons smoked paprika
2 teaspoons chili powder
1 teaspoon onion powder
½ teaspoon garlic powder
½ teaspoon ground cumin
½ teaspoon dried thyme
Few dashes Tabasco sauce, or more it you like it spicier!
8 cups unsalted freshly popped popcorn (Not Microwave!)
1-1/2 cups Fritos
1-1/2 cups bite-size cheese crackers
1 cup sesame sticks
1 cup mini pretzels
Instructions
Preheat oven to 275 degrees. Have a large baking pan or roasting pan ready.
In a small saucepan, melt butter over medium heat. Stir in Worcestershire sauce, chili powder, onion powder, garlic powder, cumin, thyme, and Tabasco. Stir well and remove from heat,
In a very large bowl place the popcorn and remaining ingredients; toss well. Drizzle on the butter mixture and toss again, coating evenly. Spread mixture evenly on baking pan.
Bake for 30 minutes, stirring well every 10 minutes. Remove from oven and let cool completely, stirring occasionally. Store in an airtight container.