My fellow cooking friend, cookbook and recipe collector, Norita Solt is a generous, kind soul who has some difficult life challenges taking care of her husband Ron, who had a debilitating stroke.  They lived in their dream home, but now have to leave it for a smaller home with wheelchair accessible needs.  Norita had to sell or give away her many treasures in her home.  It's one of those heart-breaking necessities that come with life and illness.
Through all the work and tears, this past weekend was the last for Norita and Ron in their home.  A new week begins with a new place.  Months ago, while Norita was sorting out items to keep, sell, or give away, she came across all her food magazines from many decades.  Treasures to those of us who love that sort of thing.  Norita knew all about the flood I had last summer that destroyed most of my cookbooks, and definitely all my magazines.  Nothing could have saved those.  But Norita didn't just toss all the magazines.  She took the time to email me and ask if I would like them.  Not only that, her son lives not too far from me and volunteered to bring them from Iowa to my home.
Since there is still so much work to do to bring back the new Culinary Cellar, it wasn't until this past weekend that I decided to full-on tackle Norita's magazines.  Boxes and boxes of them.  Since the flood, I have learned that I cannot keep every issue in its entirety; there is just not enough space.  Instead, I need to go through each magazine and clip out recipes I want to keep.  It's a huge job, but one I love.  Like I said, all those recipes are treasures.  The magazines are mostly from the '80's and '90's and I have been elated that I have found many recipes I loved that were lost in the flood are back again.  It turns out many of those recipes are from the old Gourmet issues.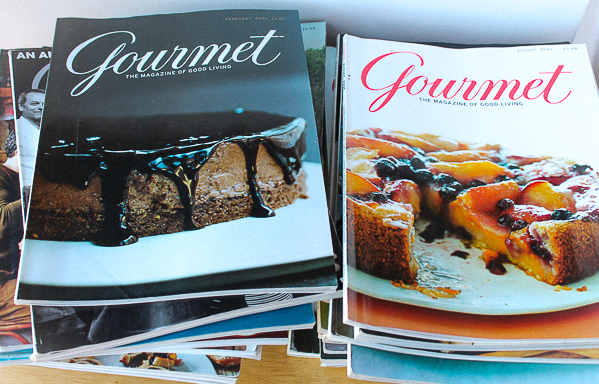 Does anyone else miss the old Gourmet?  As I was looking through them over the weekend, not only was I grateful to find many recipes I remembered and can replace with what was lost in the flood, but it made me sad to see how much magazines have changed.  First of all, the old magazines are huge with enough recipes to cook for months!  Many now are so skimpy, with barely any recipes.  And don't get me started on the paper quality.  Nowadays, so many magazines have paper-thin pages which are annoyingly hard to turn and rip if you look at them wrong.  Look at the photography on these Gourmet covers.  Compare those to what some food magazines put on their covers.  A food magazine should showcase gorgeous dishes that are so beautiful, you want to bite it.  Finally, what I really noticed in the old magazines was the advertising.  Raise your hand if you are sick of pharmaceutical ads.  I am exceedingly tired of every fifth page advertising medications with warnings of a million bad side effects.  In comparison, here is a sample of the ads I found in the old magazines:  cookware, kitchen appliances, a new food item, even cars and jewelry, but not one for medications.  Here are some examples:  This was a three page pull-out ad with chef Mark Miller.  He has 5,000 cookbooks!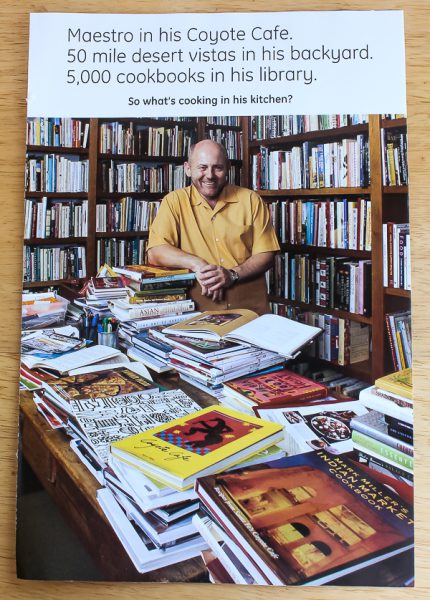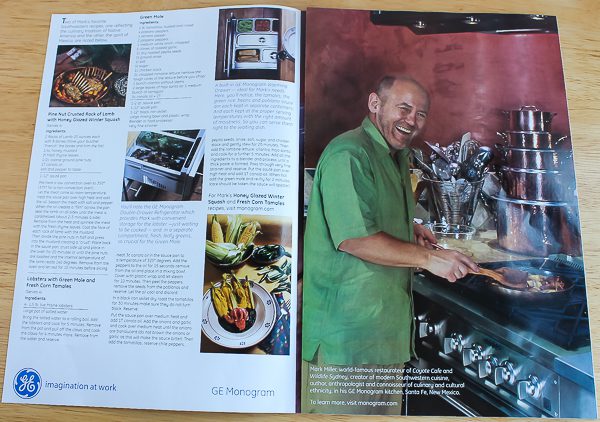 Here is the chef not only cooking, but has recipes as well!  The ad was for the appliances.
Or this one from Viking.  Yes, I would love to imagine myself in a Viking kitchen!  Now aren't these ads more fun to see than medications that scare us just reading their two pages of warnings.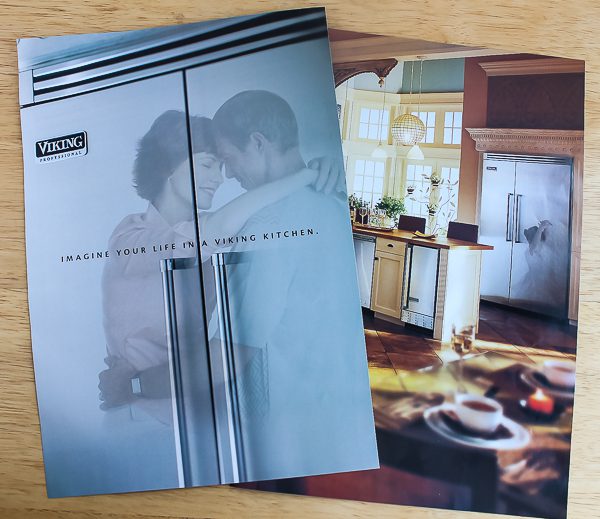 It is going to take me weeks to go through all the Gourmet issues and many others, my other favorite being some old Cuisines from the early 1980's.  I found one recipe to make on Sunday morning.  My husband Bill loves biscotti with his coffee while reading the Chicago Tribune, and I came across a dried cherry biscotti recipe.  However, I didn't have any dried cherries but had dried lingonberries, and since I used lingonberries, I added a little cardamom to give them a Nordic twist.  They were excellent!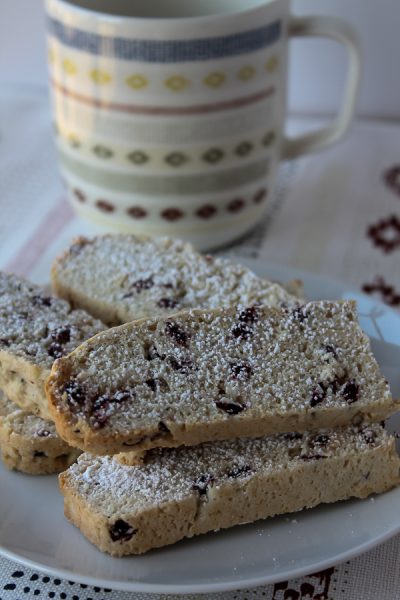 Thank you, Norita, for all the magazines and to your son for delivering them.  I am having the best time looking through them.  I could never have found all these magazines in one spot, ever.  You are a generous soul, and I wish you and Ron happiness in your new home.

Almond-Cardamom Biscotti with Dried Lingonberries
Ingredients
2 Tablespoons butter, softened
½ cup granulated sugar
4 egg whites
2 teaspoons almond extract
2 cups all-purpose flour
2 teaspoons baking powder
½ teaspoon ground cardamom
¼ teaspoon salt
½ cup dried lingonberries (or cherries or cranberries)
¼ cup chopped almonds, toasted
Confectioner's sugar for sprinkling
Instructions
Heat oven to 375 degrees F. Lightly grease an 8-inch square pan. Have a large cookie sheet ready lined with parchment or lightly grease it. Set both aside.
In bowl of electric mixer beat butter and sugar until crumbly. Beat in egg whites and almond extract.
Combine flour, baking powder, cardamom, and salt; gradually add to sugar mixture. Stir in dried lingonberries and almonds. Dough will be stiff.
Press dough into prepared 8-inch pan and pat down evenly. Bake for 20 minutes or until edges start to brown. Remove from oven and let cool for 5 minutes.
After cooling for 5 minutes, carefully turn out of pan onto a cutting board. Cut the square in half with a serrated knife, then cut each half into ½-inch slices, making about 2-1/2 dozen pieces.
Place slices, cut side down, on lined cookie sheet. Bake for 10 minutes or until light golden brown, turning them once. Remove to wire rack to cool completely. When cooled, dust with confectioner's sugar.