It's a tough year for large gatherings.  Oktoberfest celebrations are popular in many places but had to be canceled this year because of the ongoing global health crisis.  But that doesn't mean you can't have a bit of Oktoberfest in your own kitchen.
Find some German beer and get cooking!  Sausages, mustard, pumpernickel bread, sauerkraut, cabbage, stews, soups, and so much more can include beer in an ingredient list.  I came across this recipe probably twenty years ago but never tried to make it.  It's a good time to make them now, don't you think?
These beer and bacon buns sounded interesting with quite a bit of the beer and bacon, and a little dry onion soup mix.  I also loved that they were dusted with cornmeal.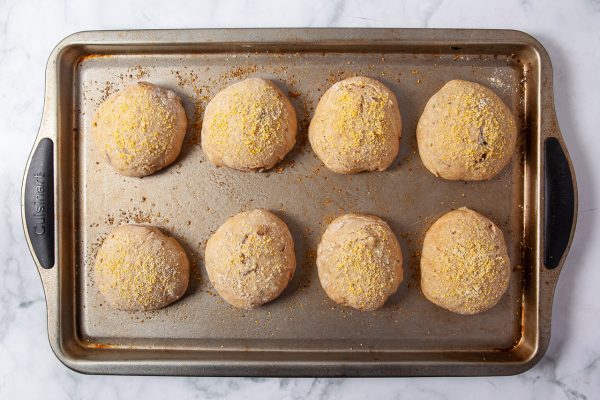 The result is a batch of 16 buns, perfect to have as a piping hot roll (and lots of butter!) with a German-themed meal, or to serve with soup, potato salad, or make into sandwiches.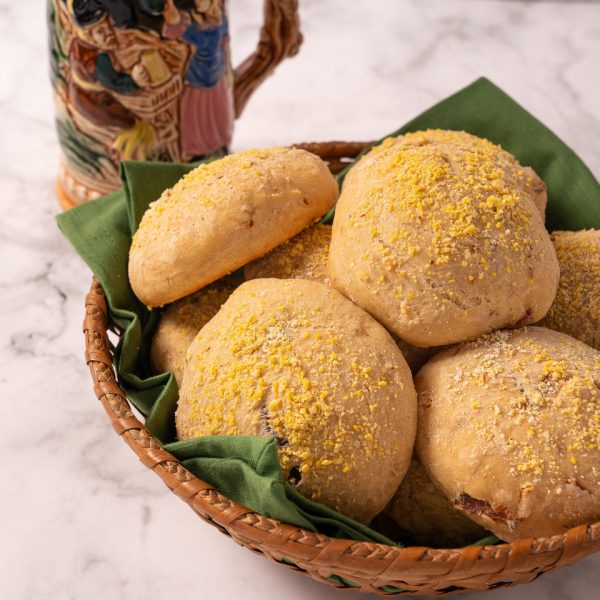 The buns are brushed lightly on top with the bacon drippings and sprinkled with cornmeal.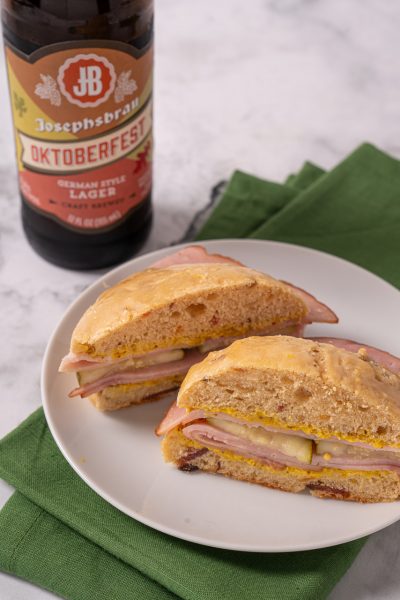 You can see the pieces of bacon throughout in this hot sandwich with smoked ham, spicy mustard, and Muenster cheese.  Serve with big pickles alongside.  I just didn't happen to have any, so I put in bread-and-butter slices.
I found that these buns are best served right out of the oven with a generous spread of butter.  The flavor of the beer and bacon comes out best when they are hot.  What I would serve them with next time would be a beer-cheese soup and dip in pieces of the hot rolls.

Oktoberfest Beer and Bacon Buns
Ingredients
8 slices bacon
2 packages active dry yeast
3-1/2 to 4 cups all-purpose flour
¼ cup dry onion soup mix (shake package to distribute pieces)
1-3/4 cups German beer
¼ cup milk
1 Tablespoon granulated white sugar
2 Tablespoons yellow cornmeal
Instructions
Fry bacon until crisp. Remove to paper towels but reserve drippings in pan. Coarsely chop bacon and set aside.
In a large bowl, mix together yeast, 1-3/4 cups of the flour, and ¼ cup of dry soup mix; set aside.
In a saucepan, heat the beer, milk, sugar, and 2 Tablespoons of the bacon drippings until just warmed. The mixture will look curdled. Remove from heat.
Add the liquid mixture to the dry mixture, stirring constantly. Add the chopped crispy bacon and enough of the flour (about 2 to 21/2 cups) to make a soft dough. Place on a floured board and knead until smooth, adding flour as needed, but keep the dough on the softer side, not too stiff.
Place the dough in an oiled bowl, then turn over to coat both sides. Cover and let rise in a warm place until doubled in bulk, about 1 hour.
Generously butter 2 rimmed baking sheets. Punch dough down, then divide into 16 equal-sized balls. (I weigh them to make even. They should be around 3 ounces each.)
Place 2-inches apart on prepared baking sheet. Brush the tops lightly with about a tablespoon of the rest of the reserved bacon drippings. If you don't have quite a tablespoon left, add some melted butter to it. Sprinkle immediately with the cornmeal.
Cover the rolls and let rise again for another 30 minutes until they get puffy.
Meanwhile, heat oven to 375 degrees and bake rolls for about 15 to 20 minutes until golden. Serve piping hot from the oven with lots of butter, as the flavor is best when rolls are warm. Makes 16 rolls.