When my husband Bill is out of town and I'm just cooking for me, I always like to make something that he does not care for.   A couple items that are not on his list of favorites include bell peppers and feta cheese.  This salad is one of the recipes I love to make and never tire of it.  It's a Greek salad that includes farro, garlic, red bell peppers, chickpeas, cherry tomatoes, cucumber, and arugula.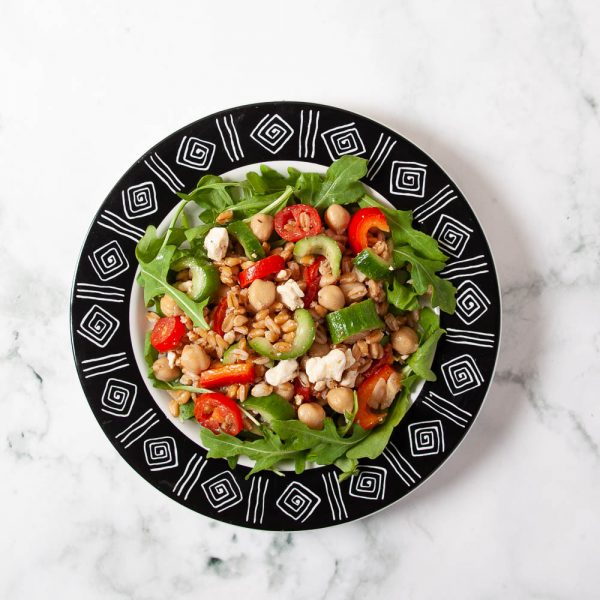 As you can see it is colorful, healthy, and very satisfying.  I make the salad, put it in a pretty bowl, and plop in front of the TV and find a show I can binge watch or a movie Bill is not into which usually means "Big Little Lies" on HBO (I'm almost caught up) or the sappy Hallmark Christmas movies, which start next week.

Greek Farro Salad for One
Ingredients
2 teaspoons extra virgin olive oil
2 teaspoons red wine vinegar
1 small garlic clove, finely minced
⅛ teaspoon dried oregano
1 cup baby arugula
½ cup cooked unpearled farro
⅓ cup rinsed and drained canned chickpeas
¼ cup diced red bell pepper
¼ cup diced cucumber
¼ cup halved cherry tomatoes
2 Tablespoons crumbled feta cheese (plain or Mediterranean flavored)
Instructions
Combine oil, vinegar, garlic, and oregano in a bowl.
Add all remaining ingredients and toss to coat. Serve immediately. Serves 1.