We all want to help support restaurants during the health crisis, and when one of the best restaurants on the planet, Alinea, with one of the best chefs on the planet, Grant Achatz, offer a special take-out dinner just for election night, I'm there.
The Alinea Group owners, Chef Achatz and Nick Kokonas, are doing a great job with take-out offerings during these difficult times. An "All-American Election Night Dinner" was a genius idea, and of course, fabulous.  One new and welcome pick-up idea was to add a suburban location instead of having to drive into the restaurant in Chicago.  This was great for us to have an easy 20-mile drive right off the tollway instead of the 38-mile drive into the city with traffic.  Thanks, Alinea!  I hope you keep this as an option for us suburbanites.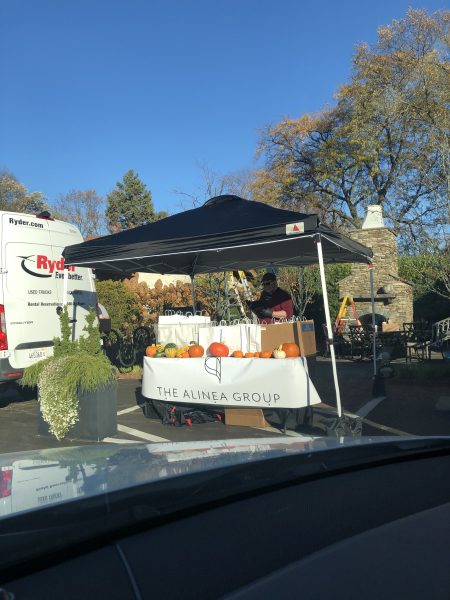 The food could be picked up at Chalet, a nursery in the lovely town of Wilmette where a tent was set up.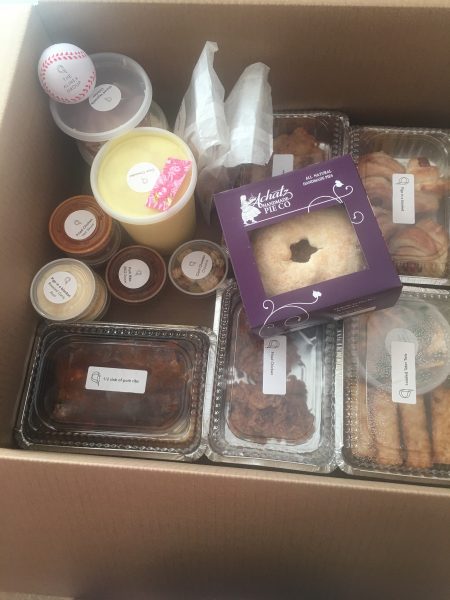 The box was like opening a Christmas gift filled with carefully packaged goods and detailed instructions on how to heat everything to perfection, from the snacks and appetizers to dessert.
The first words were "Thank you for voting! The All-American Election Night Dinner is to enjoy while watching the returns come in, with snacks in the afternoon or early evening with giant soft pretzels and Pigs-in-a-Blanket.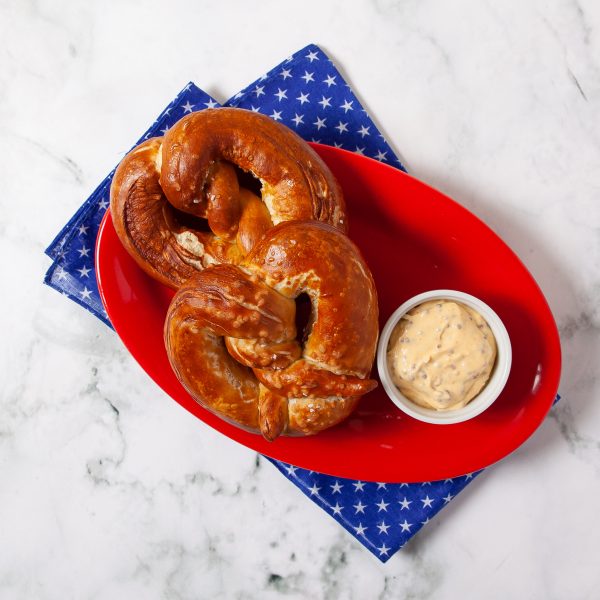 The pretzels were heated for five minutes in the oven and served with a delicious cheddar and mustard sauce that was warmed in the microwave.  Both were a great way to begin the food adventure.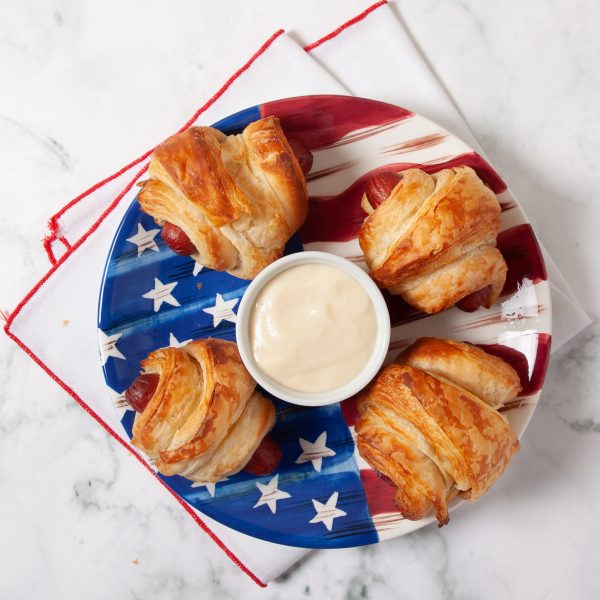 Next came the Pigs-in-a-Blanket (puff pastry) with a roasted garlic aioli.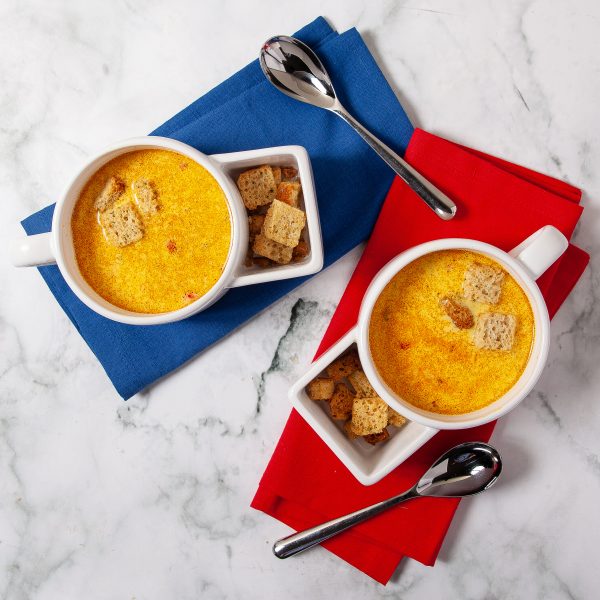 We knew we had to pace ourselves with all the food, so we waited to have this incredible Corn Chowder appetizer later.  There was a beautiful and rich-colored base that was heated, then a spicy succotash stirred in until hot and served with croutons.  Warm and comforting!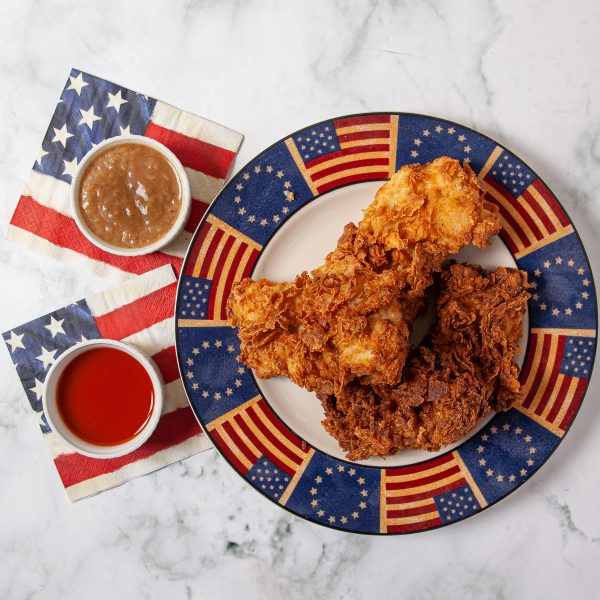 The main dishes started with a super-crunchy fried chicken served with your choice of a hot sauce or a creamy gravy.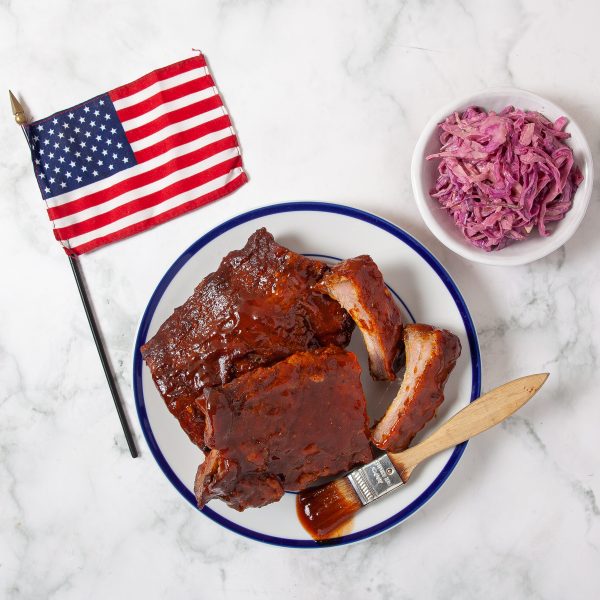 The next All-American meal was perfectly cooked barbecued ribs with extra sauce and a shaved vegetable slaw.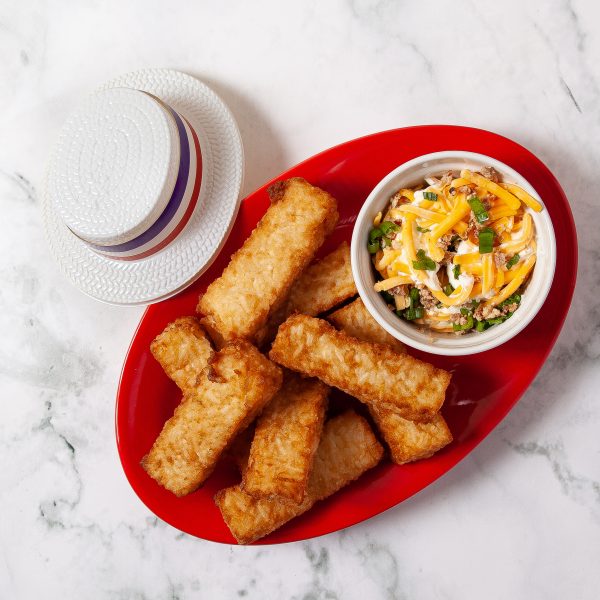 Alongside the ribs and slaw were "Loaded Tater Tots" with a dip of sour cream, bacon, cheddar cheese, and scallions.  Not your normal frozen tater tots for sure!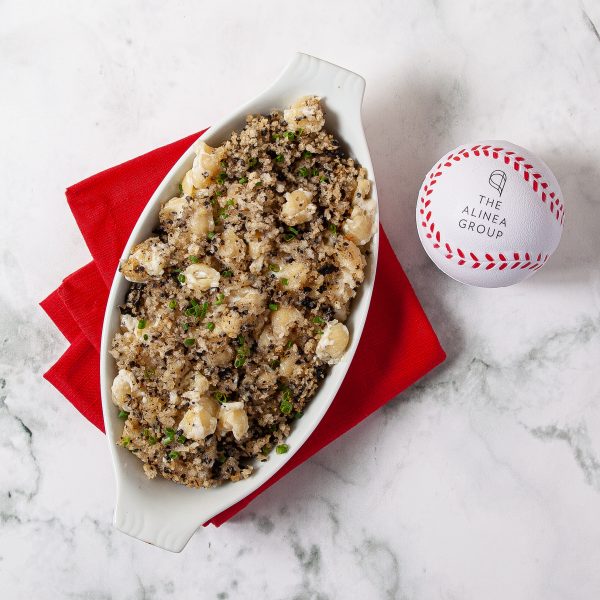 Take a look at this other side dish which was so good it could be a main dish by itself.  It's "Black Truffle-Gruyere Mac and Cheese," with Perigord black truffles, aged Gruyere, and topped with Cheddar bread crumbs and minced chives.  Oh.My.Goodness. Too good for words.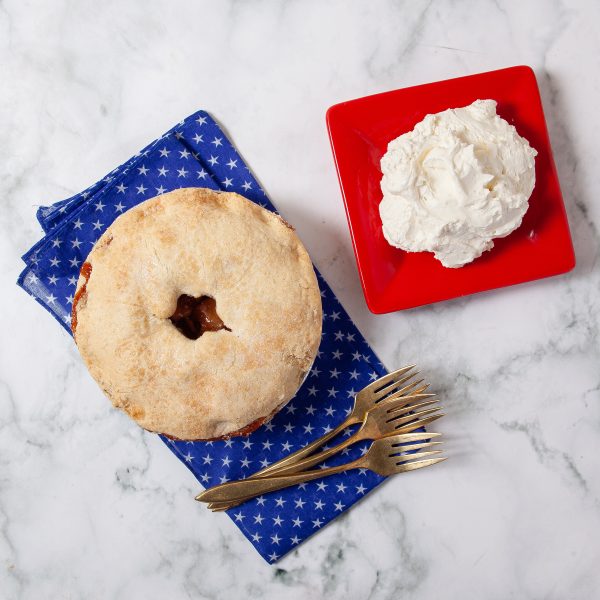 Hours later came the Apple Pie with an incredible vanilla whipped cream that was so creamy, it went beyond whipped cream.  We loved the apples drenched in lots of cinnamon.  The box said it was from the "Achatz Pie Company" which we assumed was a product of Chef Achatz, but turns out it was a company started by the chef's second cousins almost twenty years ago when he was still a teenager!  Read all about the company and see what other flavors they offer.
What a night.  It's past midnight as I write this and of course all the votes are not counted yet.  I have been writing this most of the night and hearing CNN in the background.  My husband Bill never stays up this late but he can't stop watching the returns.  If you look at the photo of truffle mac and cheese, there is a little squishy baseball that has "The Alinea Group" printed on it, with the purpose of squeezing to relieve stress while watching the results of our next president.  In the box was also a packet of Pepto-Bismol tablets to chew on if your choice is losing, or maybe it was for a possible food coma after that great feast.  Now it's time to put my feet up and watch returns for awhile.  I might end up chewing on that Pepto-Bismol as I thank Alinea for a delicious and fun evening, but not for too long or I might also be squeezing that baseball..