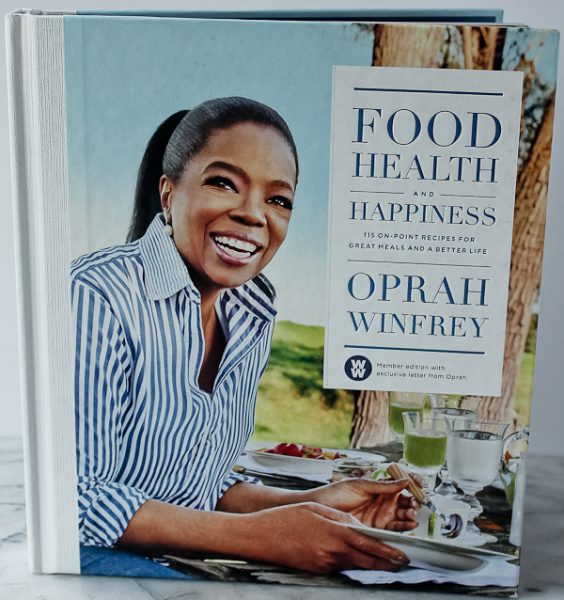 It would be safe to say that most people probably know of Oprah and her struggles with food and weight over the years.  It was the subject of many of her past television shows, where she lost, gained, lost, gained, and declared that she had tried every diet known to man.  As one of the best known dieters on the planet, Oprah asked herself, why can't she lose weight and keep it off.  The million dollar question for anyone desperately searching for a way to lose those excess pounds for good.  As Oprah says in her book, if her beloved friend Maya Angelou were here to ask, she would respond to Oprah, "Well, my dear, when you're truly ready to know, you will."
The reality is, this is true.  Every dieter has good intentions every New Year's Day, every Monday morning, every zip of tight pants, every class reunion, every wedding, and a million more excuses.  What it all comes down to in the end is to stop making excuses, make better choices, move more, and stop punishing yourself after every misstep along the way.  There is a way to stop declaring war on food and yourself, but every person has to dig deep inside and find it within themselves to be brave and get started, not find the answer in a fad diet, but find some kind of balance that you can live with, even if it takes a long time.  In our society we expect instant results.  Losing a lot of weight is not instant or shouldn't be.  It should go at your own pace and slow, steady and healthy. Food is about joy, not pain.  It is not the enemy.  Food, cooking, and eating is so much fun!  Why do you think there are so many food blogs, cooking shows, and celebrity chefs?  It's just a matter of a little control which can be learned and done with a way that is best for each individual.  For Oprah, it happened to be the Weight Watcher program because she liked that she could eat anything, just controlling how much and taking it meal by meal, day by day.
Even if you have no intention of following the Weight Watcher program, or don't even need to lose weight at all, there are still really good healthy recipes in this cookbook.  In the soup chapter there are delicious ones like mushroom soups, sausage and fennel, corn chowder, Tuscan white bean, tomato, broccoli, and lentil.  Try chef Art Smith's unfried chicken and serve it with mashed cauliflower-potatoes or skinny cornbread.  Turkey lasagne uses zucchini as the noodles; cauliflower is made into a couscous.  For dessert there is a fresh cherry crostada, applesauce mini-cakes, or lavender shortbread.  Delectable entrees are a brined and roasted chicken, halibut, tea-smoked salmon, miso cod, Chilean sea bass with a lemon fennel chutney, a whole chapter on Indian cooking, salads, vegetables, and some of my favorite, the breakfasts.  A potato hash has included chicken andouille sausage, peppers, red onion, fresh rosemary, and blackening seasoning.  There is a beautiful frittata with goat cheese, Greek yogurt, asparagus, and smoked salmon.  Oprah's special "sexy breakfast" consists of a spicy breakfast salsa served over an egg scramble.  Another one she calls her "usual," is a breakfast sandwich with avocado, tomato, smoked turkey, fresh basil, and an egg on whole wheat bread.  But the one that really caught my attention was the "Breakfast Cookie."  I had just made and blogged about some oatmeal-raisin cookies I made for my husband last week and he declared he could eat them for breakfast "because they have oatmeal, and oatmeal is breakfast food, right?"  Well, and also butter, and sugar..  Not Oprah's breakfast cookies!  There is no added sugar and no butter or oil and only 1/2 cup of oat flour.  All the sweetening comes from apples (fresh and dried), bananas, raisins, and a little apple juice.  Lots of spices too – cinnamon, ginger, cloves, mace, and nutmeg. Rolled oats are toasted in the oven giving the cookies an added level of flavor.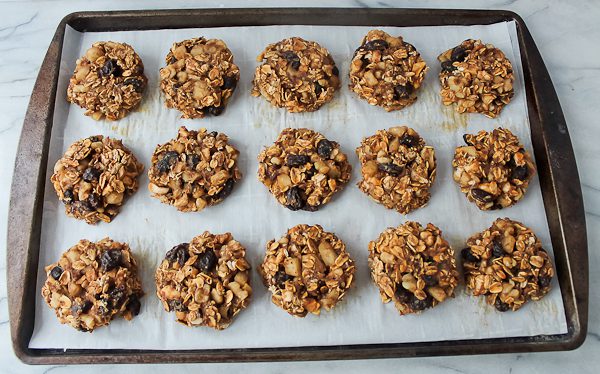 The cookies turned out wonderful and are like eating a bowl of oatmeal with a lot of fruit!  I would say the dominant flavor is the apple, but the flavor of all the spices comes through too.  On the Weight Watcher program these are 3 points per cookie or if you count calories, 85 calories each.  They are great if you are running out the door and didn't have time to make breakfast, and would also make a really good snack around midday or after school for the kids.  They are a little fussy to make, lots of chopping, roasting the oats, sautéing the apples,and letting things cool in between, but I would definitely make them again.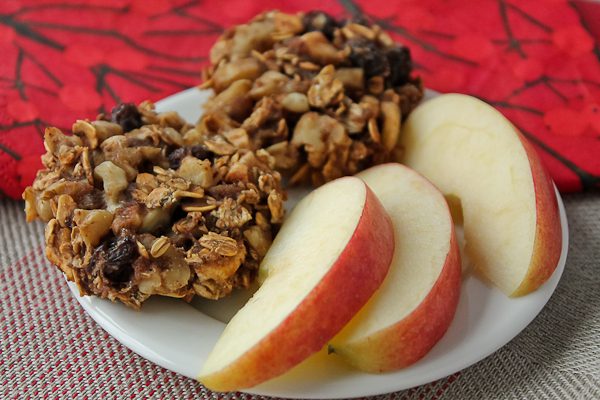 As I said, if you love good healthy recipes, this book is great.  If you are an Oprah fan you will really love it because there are many inspirational Oprah photos and stories.  And now you know that it's okay to eat cookies for breakfast and not feel guilty.  Oprah says so.

Breakfast Cookies
Author:
Oprah Winfrey from Food, Health, and Happiness
Ingredients
1-1/2 cups rolled oats
Cooking spray
2 small Gala apples, peeled, cored, and roughly chopped
4 medium ripe bananas, mashed
⅓ cup apple juice
1-1/4 cups walnuts, roughly chopped
¾ cup dried apples, minced
½ cup raisins
½ cup plus 1 Tablespoon oat flour
1-1/2 teaspoons ground ginger
1 teaspoon ground cinnamon
½ teaspoon ground cloves
½ teaspoon ground mace
½ teaspoon ground nutmeg
½ teaspoon baking powder
½ teaspoon salt
Instructions
Preheat oven to 350 degrees F and line baking sheets with parchment paper; set aside.
Spread the rolled oats on a jelly roll pan and bake for 15-20 minutes or until lightly colored and fragrant. Remove from oven, transfer to a plate, and let cool to room temperature.
While the oats are cooling, coat a nonstick skillet with cooking spray. Heat the pan over medium-high heat and add the chopped apples. Cook for 3 minutes, stirring frequently, until they are tender. Scrape the apples into a large bowl set aside for about 10 minutes to cool. Add the mashed bananas and apple juice to the cooked apples and stir.
In another large bowl, combine the cooled toasted oats, walnuts, dried apples, raisins, oat flour, ginger, cinnamon, cloves, mace, nutmeg, baking powder, and salt. Pour the wet apple-banana mixture into the dry oat mixture and mix dough together well. Cover the bowl with plastic wrap and let rest at room temperature for 10 minutes.
Using a ¾ ounce ice cream scoop, portion out 30 scoops of dough on prepared baking sheets. (Note: instead of the ice cream scoop, I used a ¼ cup measuring cup using a scant ¼ cup for each cookie. It came out exactly 30 cookies and they kept their shape perfectly.) Cover the scooped portions with plastic wrap, and using the flat bottom of a glass, press down on each cookie lightly to make them ½-inch thick. (cookies do not spread much). Bake cookies for 12-15 minutes or until they are golden brown. Remove from oven and let sit on cookie sheet for a minute or so before removing to wire racks to cool. Cookies will keep, stored in a plastic container for up to a week. Makes 30 breakfast cookies.