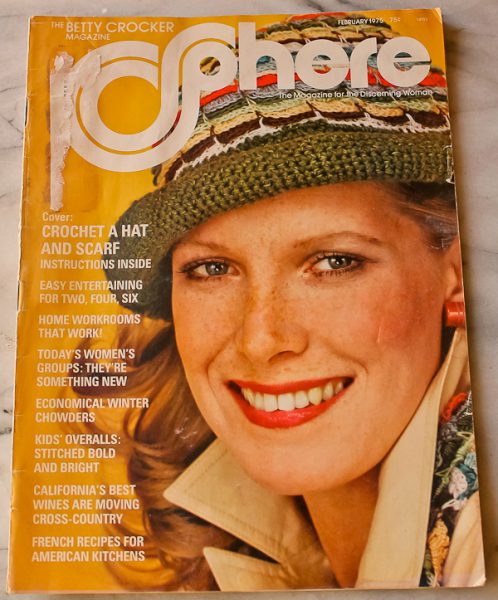 If you love hearty chowders on cold February days, you only need to turn to the "Choose a Chowder" article in this issue of vintage Sphere from 1975.  There are three seafood chowders, a chunky sausage and cheese chowder, two vegetable chowders, bean chowder, and chicken chowder.  If you feel like throwing a party on the weekends, there is a plan for two, four, or six people, or even a Sunday luncheon.
But if you really feel adventurous, take some lessons from a couple of French chefs.  In the kitchen of Montreal's Ritz-Carlton, Alexandre Monnier and Pierre Demers, a French chef and a French-Canadian chef met to cook the classic dishes of Old France and the techniques of New France.  Needless to say, the results were pure poetry.
Monnier is of the old school with the dishes rich and opulent such as sole with a mousse of lobster, or a Halibut aux Herbs, inch-thick halibut steaks with an herb-seasoned butter.  The recipes of Demers were classic yet stream-lined and easy for a home cook to follow such as sole fillets with shallots, white  wine, cream, butter, and mushrooms.  Sole Balmoral is similar but is topped with thin slices of smoked salmon and a little cognac in the cream sauce.  There are others with veal, beef, and chicken, but the one I decided to try was the Scampi a l'Absinthe, shrimp in a cream sauce flavored with anise liqueur and served over rice.  Very simple but so wonderful.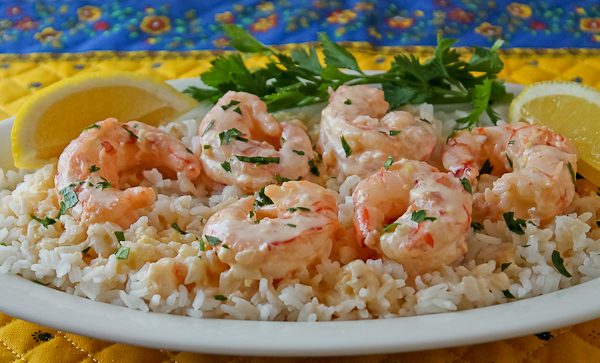 See how simple it looks?  But it's full of enticing flavors and so aromatic!  The greatest thing is it only takes minutes to make and everyone will think you are a French chef.

Scampi a l'Absinthe
Author:
Chef Pierre Demers for Sphere Magazine, February 1975
Ingredients
1 Tablespoon finely chopped shallot
1 Tablespoon butter
1 pound scampi or jumbo shrimp, peeled, deveined
2 Tablespoons dry white wine
1 Tablespoon anise-flavored liqueur (Pernod)
1 cup whipping cream
1 egg yolk
salt and pepper, to taste
Hot cooked rice
Lemon wedges
Parsley, chopped and sprigs, for garnish
Instructions
Cook and stir shallot in butter in large skillet until tender. Stir in shrimp. Cook over medium heat, stirring constantly, about 2 minutes. Stir in wine and liqueur. Heat to boiling; reduce heat. Simmer for 2 minutes.
Stir in cream. Heat to boiling; reduce heat. Simmer until shrimp are tender, about 4 minutes. Remove shrimp from sauce and keep warm.
Heat sauce to boiling; boiling until sauce is reduced by one-third. Remove from heat. Stir small amount of sauce into egg yolk; stir into sauce in skillet. Season with salt and pepper.
Arrange shrimp on hot rice. Pour sauce over and garnish with lemon wedges and parsley. Serves 2.