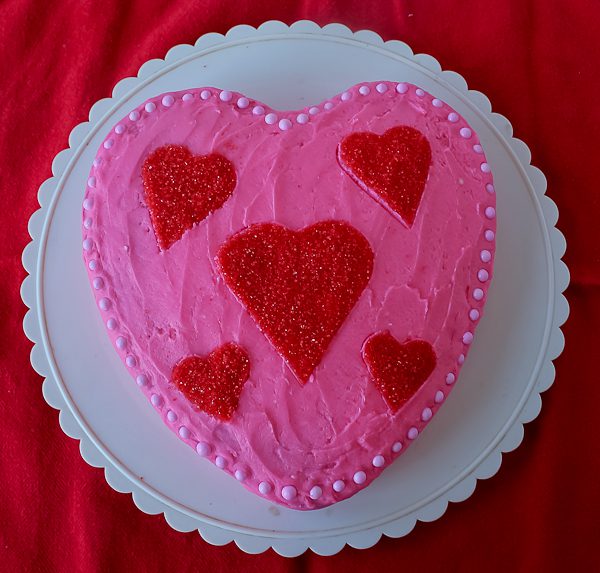 Love is in the air on Valentine's Day, but in my kitchen the air will also include the aroma of chocolate, specifically the baking of a heart-shaped chocolate cake.  I've had the same pan for at least thirty years, so it has seen many a Valentine's Day.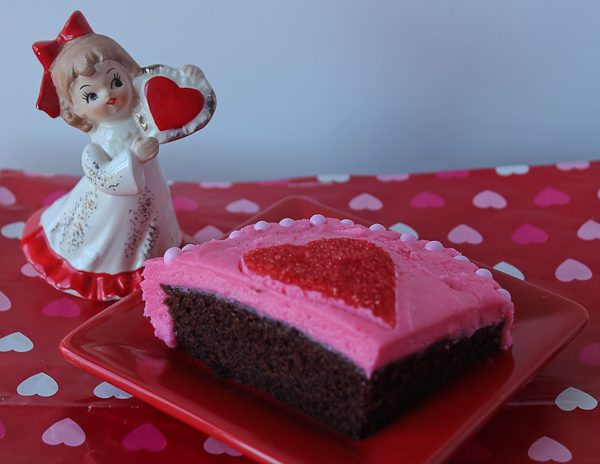 I think I have had the little ceramic Valentine girl just as long or maybe even longer.  But neither is older than the chocolate cake recipe.  The dark, rich, moist, and wonderful cake recipe is from my great-aunt Margery.  Our family grew up with this cake and I'm sure generations to come will enjoy it as well.  The recipe makes either two 8 or 9-inch round or square cake pans, or one 9-by-13-inch pan, or in my case for today, one heart-shape and one 8-inch square.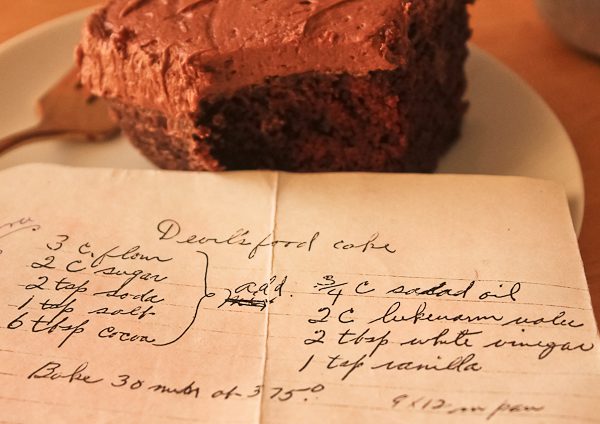 This is Aunt Margery's recipe she gave me decades ago.  I'll translate it better below.  There are no eggs, it uses warm water instead of milk or buttermilk, oil instead of butter, and includes vinegar.  Sounds like a rather strange cake, but it's so good.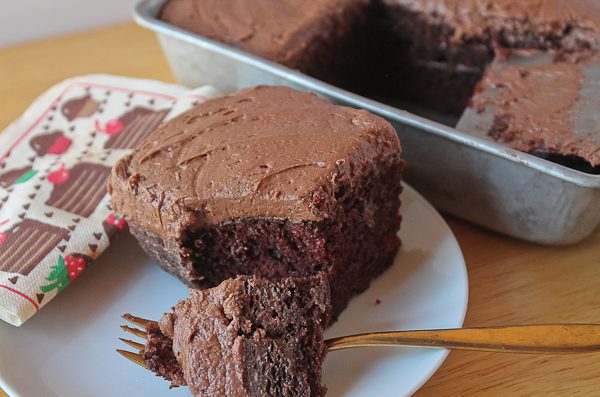 So if you make a heart cake for Valentine's Day, make the other 8-inch cake and freeze it for later!  Of course, the heart shape must have a pink or red-tinted icing and the other a chocolate icing.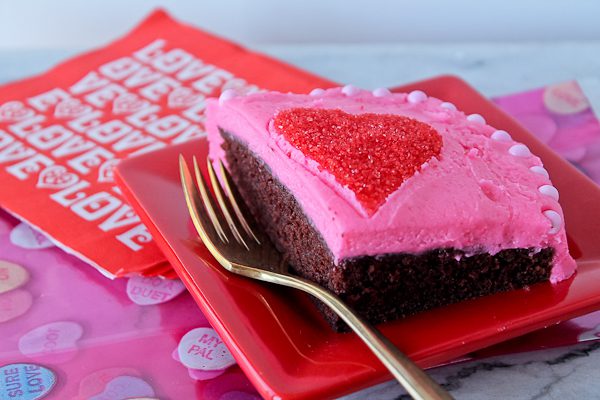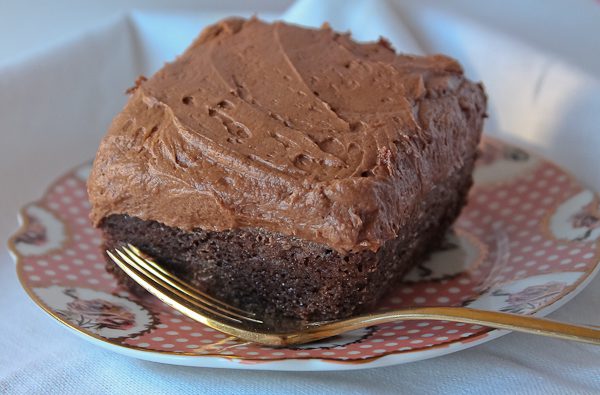 Since the recipe makes two layers, you might as well make and freeze the square pan cake for another time.  Your special someone will love you for it.  Again.

Chocolate Cake (for Valentine's Day or anytime!)
Author:
My great-aunt Margery
Ingredients
Cake:
3 cups all-purpose flour
2 cups granulated sugar
6 Tablespoons unsweetened cocoa powder
2 teaspoons baking soda
1 teaspoon salt
2 cups lukewarm water
¾ cup canola or vegetable oil
2 Tablespoons white vinegar
1 teaspoon vanilla
Icing:
½ cup butter, room temperature
2 cups sifted confectioner's sugar
¼ cup unsweetened cocoa powder (if making a chocolate frosting)
1 teaspoon vanilla extract
2 to 2-1/2 Tablespoons water
Red or pink food coloring if making a vanilla icing for heart-shaped cake
Instructions
Heat oven to 375 degrees F. Grease and flour two 8 or 9-inch round or square cake pans (or in this case, one heart-shaped pan and one 8-inch square pan), or one 9-by-13-inch pan. Set aside.
For Cake: Sift together into bowl of electric mixer the flour, sugar, cocoa powder, baking soda, and salt.
Add warm water, oil, vinegar, and vanilla to dry ingredients. Mix until blended. Batter will be rather thin. Pour batter into prepared pans or pan.
Bake for about 30 minutes or until a tester inserted in the center comes out clean. Let cake cool on wire rack for 15 minutes, then turn out of pan if you are making a layer cake or a heart-shaped cake. If making a square cake, leave to cool in pan, if desired.
When cake is cooled, cover with desired icing and serve. Cake can be made a day ahead. Keep covered at room temperature.
For Icing: Place butter in bowl of electric mixer and cream slightly. Add remaining ingredients (leave out cocoa powder if making a white icing for a heart cake and add food coloring instead) and beat until smooth and spreadable.
Note: for this recipe, I made the icing twice, once chocolate and once vanilla and tinted pink. If you make a layer cake, one recipe will make enough for 2 layers, or enough to spread on a 9-by-13-inch cake.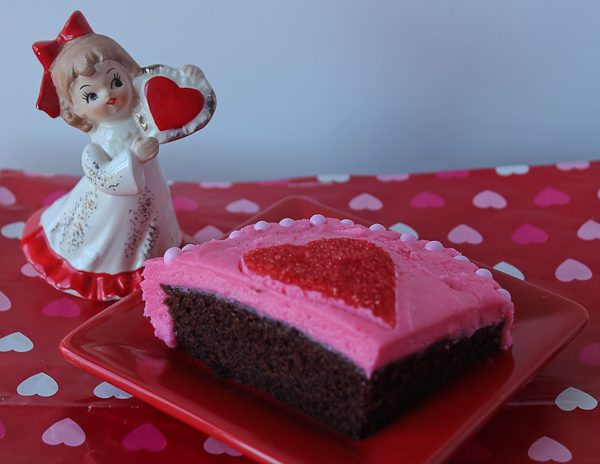 Happy Valentine's Day!!!