This beautiful book is all about cooking and connecting, hence "Peace Meals."  It's about making room for small moments that later loom into large memories.  It's about using our minds and hands to nourish ourselves and those we love, and finding peace in the doing of it.  What is more comforting and peaceful than time spent with family and friends around a dinner table, a wonderful place to experience human connection.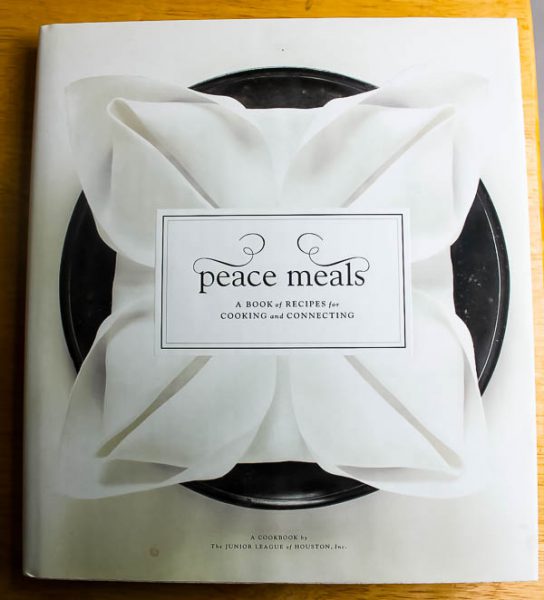 The very best recipes of the Junior League of Houston are offered here.  Each one "is well-tested and guaranteed to bring ooh's and ahh's, while closing your eyes to pure bliss." How can you not try these recipes with that vision in your head,  and after reading the dedication:
To those who pause for timeless moments
in the rush of here and now;
To those who've had their breath taken away
by the ecstasy of a chocolate mousse or a tart crisp apple;
To those who recall the best moments of their existence
and purposely set out to create more;
To those who do and those who try.
To those who appreciate the changing seasons
and yet keep loving the same people year in, year out;
To our children and our parents,
our friends and our true sweethearts;
To the people, places, and pieces of our lives,
We lovingly dedicate this book.
It certainly sounds like an abundance of love went into the writing of this cookbook.  First of all, the book is gorgeous with spectacular photos and layout.  The chapters include Breakfast and Brunch; Appetizers and Cocktails; Soups, Sandwiches, and More; From the Garden; Pizza and Pastas; From the Sea; Main Courses; Vegetables and Grains; and Desserts and Treats.  I don't even know where to begin with all the incredible recipes, so I selected some I would like to try myself like Blackberry Shortbread Bars, Blackberry-Raspberry Crisp (have you guessed I love blackberries?); Lavender Lemonade; Cilantro-Lime Summer Corn Salad; Broiled Halibut with Meyer Lemon Sauce; Orecchiette with Caramelized Onions, Chicken Sausage, and Ricotta Salata; Southwestern Shrimp Fritters with Chili-Ginger Sauce; Cinnamon Custard Tart, and of course, "Big as Texas" Apple Brandy Pie.  That is just a fraction of all the great recipes I wish to make.  This cookbook is also as "Big as Texas" and you will love every page.  A must-buy for cookbook lovers!