When Elaine Wallace gave me her cookbook collection I was pleased to see all the Junior League cookbooks.  She has post-its scattered throughout the book, I assume because she wanted to try the recipes or they were favorites.  Either way, I am keeping the little page reminders!  I have found that the recipes in Junior League cookbooks are always good since members contribute their best; some of their own creations and some handed down from generation to generation.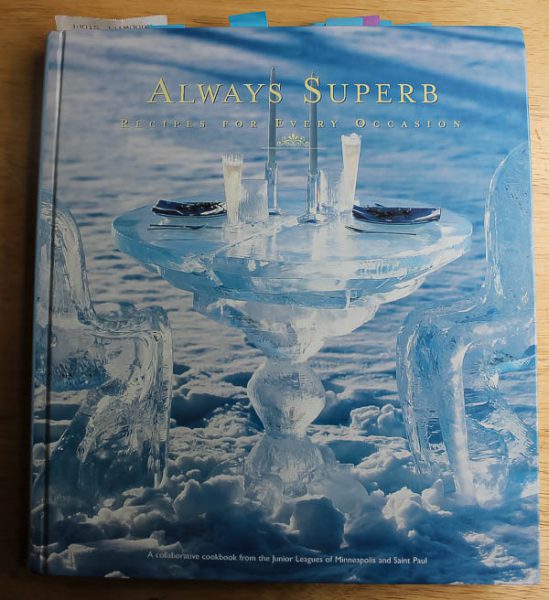 This book is a collaboration between the Junior Leagues of Minneapolis and Saint Paul, both dedicated to community service and fund-worthy programs.  Each recipe has been tested and ready for every occasion and celebrates the four seasons.
Beginning with Spring menus, you will find appetizers like a pea and shallot bruschetta, or a salmon spread.  Enjoy a refreshing Vichyssoise, gingered sea bass, and a rhubarb meringue tart.  Summer menus include a buffalo rib eye with grilled polenta, or a Hawaiian chicken barbecue; French tarragon potato salad; fresh strawberry pie, and upside-down plum cake.
Autumn menus find warm and comforting food such as Portobello risotto, Minnesota Wild Rice soup, pumpkin soup, corn pudding, pasta salad with sausage and artichokes, and warm rice pudding, chocolate bread pudding, or sauteed bananas for dessert ideas.  Winter specialties for this very cold part of the country include pecan and cheese stuffed mushrooms, rosemary walnuts, or a martini dip to start out a holiday party.  A main dish could be a seafood stew, vegetarian chili, lamb shanks with white beans, or an elegant Salmon Wellington with a dill sauce.   Some heavenly Winter desserts are a cranberry caramel cake, Black Russian Bundt cake, Scandinavian tea cakes, a tempting rum cake, or fun indoor S'mores.
You will find all these recipes and many, many more in this fabulous cookbook, and they absolutely sound, "Always Superb."