In the early 1970's, I lived a couple years in California, right across the Golden Gate Bridge in beautiful Marin County.  My mom wanted to do everything "California" including subscribing to the popular West coast magazine, Sunset, and all the Sunset cookbooks we could find.  We both became huge fans of Sunset recipes with its trendy, sometimes exotic, California fresh cooking style. I am still a subscriber.
It doesn't matter if a Sunset cookbook is vintage or brand new, I'm a fan.  This one is from 1949 and the recipes can all be used today.  Sunset recipes are classic and timeless.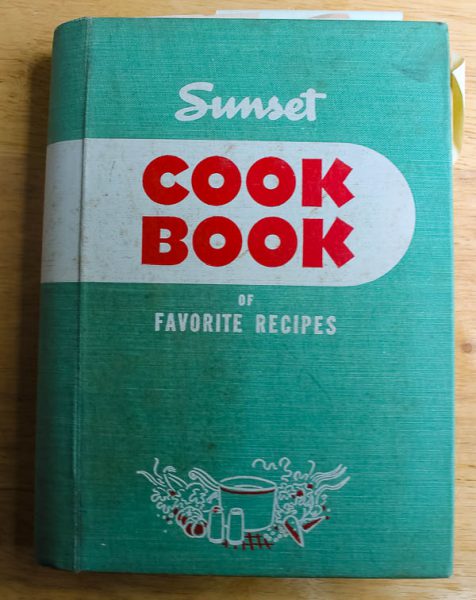 I lived right down the road from Sausalito, which back in the early '70's was quaint and adorable with boutiques, an amazing bakery, and a small square with a fountain right in the middle of town frequented by hippies with flowers in their hair.  (not kidding, just like the song). It was the era of Haight-Ashbury, Vietnam protests, and lots of boutiques with handmade leather and suede clothing, purses, and macrame belts.  I still have an aqua suede cape, a belt, and also dozens of items I bought at the best kitchen store in the "Village Fair," that had an indoor "Little Lombard Street," a tiny version of the famous street in San Francisco.  But one of my favorite things to do in town was to walk up a little less frequented side street to a used book store.  I would search for old Sunset magazines and cookbooks.  I had files and files of Sunset recipes in my Culinary Cellar.  They were all destroyed in the flood, and I miss them as much as I miss the old Sausalito.  I was so excited to see this great old cookbook from my reader Elaine in Kansas.
The recipes in the book are the finest that appeared in monthly issues of the magazine over a period of twenty years.  The introduction states that "the recipes are truly Western and come only from Western homes," and "being a blend of foreign and native dishes prepared with and modified by the many Western foods."
Look at all the chapters included in the book: Appetizers, Soups, Salads, Sandwiches, Breads, Egg and Cheese, Rice, Pasta, Cornmeal, Vegetables, Meats, Poultry, Game, Fish and Shellfish, Sauces, Stuffings and Relishes, Cakes and Cookies, Pastry and Pie, Desserts, Jellies, Jams, Preserves, and Pickles, and Candies and Nuts.
Since peach season is almost here, I wanted to check out a pie or cobbler.  I found peach sour cream pie, and a "Modernized Peach Cobbler" that included crushed up graham crackers in the topping mixture.  Further searching found a "Queen of Jams" with peaches and figs, and a Peach and Orange Marmalade. I love homemade mayonnaise and there is a basic recipe to follow, but six ways to make each batch different, like avocado, caper, cottage, mustard, watercress, and a Trader Vic version.
This is one of those cookbooks that is easy to look through for an hour or so and find dozens of recipes that sound tempting.  Thank you, Elaine, for this classic book, and to Sunset that never disappoints.