This is the second recipe from my Recipe Rescue card catalog files from the flood, and now I found another that I wanted to try.  Not only did the recipe sound good and perfect for grilling season but it so happens that it was from a friend of my daughter Kristina's when she lived in Los Angeles years ago.  Dorothy Reinhold writes a blog called Shockingly Delicious that you can check out for more of her great recipes.
Dorothy called the recipe Hawaiian Pork Burgers and it was printed in Sunset magazine but I don't know what year.  I had most but not all of the ingredients so I had to change the recipe a little, but it was an inspiration to try something new.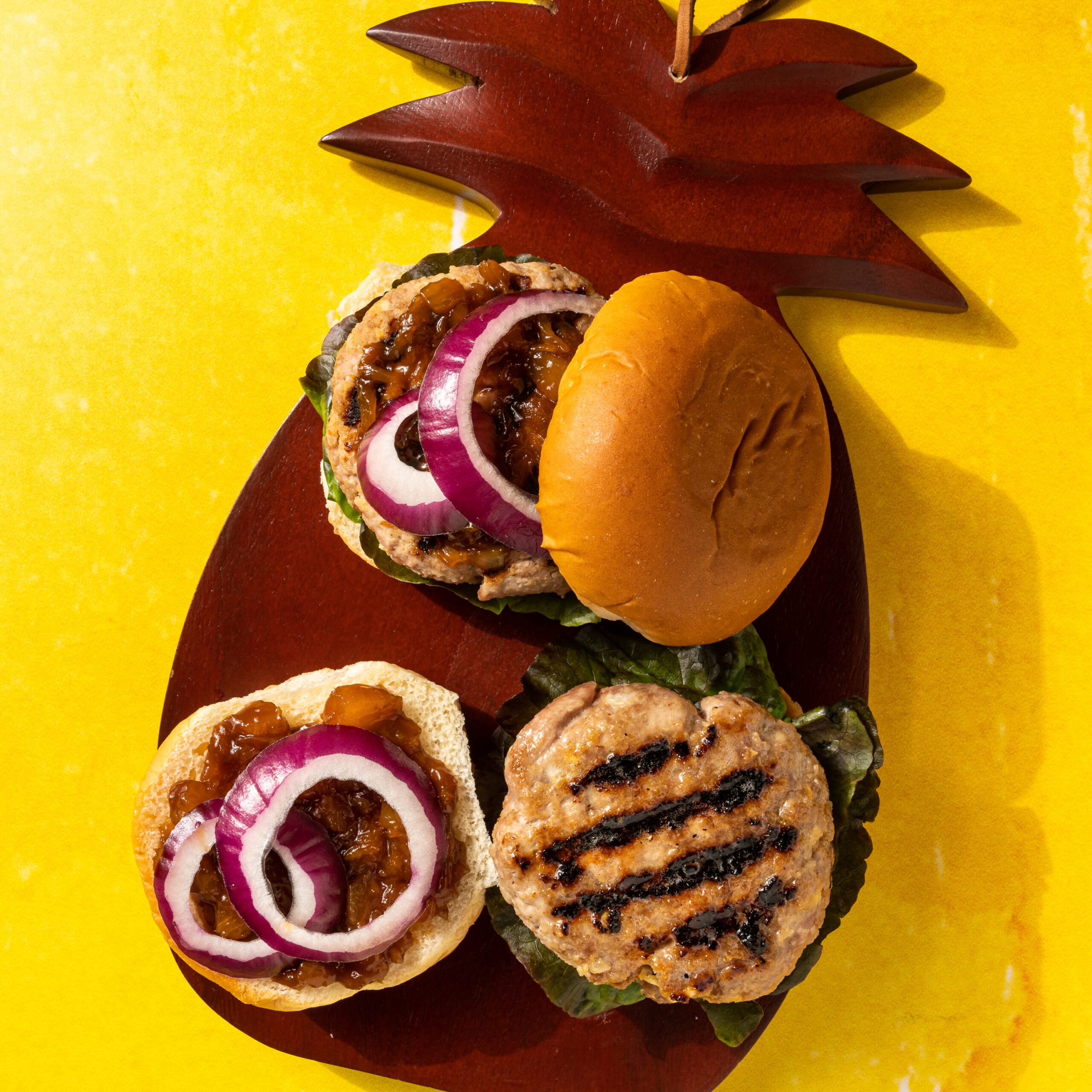 I had just thawed out a pound of ground pork and hadn't decided what to do with it, then I came across Dorothy's recipe.  Her recipe called for barbecue sauce but I had just run out, but I had hoisin sauce and thought it could be good since it was the same consistency as barbecue sauce and would blend well with the other ingredients.  I added a clove of garlic and some sesame oil to the pork mixture.  Instead of serving it on English muffins, I used King's Hawaiian hamburger buns, and had to use red leaf lettuce instead of fresh basil.  I am also a big fan of red onion on burgers and thought it added a nice color.
Thank you for the inspiration, Dorothy!  We loved it and thought it would be a different burger for a Memorial Day barbecue.

Pork Burgers with Pineapple-Hoisin Sauce
Author:
Adapted from a recipe from Dorothy Reinhold
Ingredients
1 can (8 ounces) crushed pineapple, well-drained
⅓ cup Hoisin sauce
1 Tablespoon soy sauce
1 pound ground pork
¼ cup plain dried bread crumbs
2 Tablespoons minced onion
1 clove garlic, minced
1 Tablespoon minced fresh ginger
1 Tablespoon packed light brown sugar
1 Tablespoon sesame oil
⅛ teaspoon cayenne pepper
⅛ teaspoon table salt
Red lettuce leaves
Sliced red onion
King's Hawaiian hamburger buns
Instructions
Prepare a grill for medium heat.
In a small bowl, stir together pineapple, hoisin sauce, and soy sauce; set aside.
In a medium mixing bowl, combine pork with bread crumbs, onion, garlic, ginger, brown sugar, sesame oil, cayenne, and salt. Shape mixture into 4 patties.
Grill patties, turning once, until charred and cooked for about 7 minutes total.
Place a lettuce leaf on bun bottom, then the hot grilled patty and rings of red onion. Spread a generous amount of the pineapple sauce on the bun top and place on onion rings.