Happy New Year!  It's been a busy week after saying goodbyes to one daughter and three granddaughters, and putting away all the Christmas decorations.  The house is much more quiet but memories were made and everyone is happy and grateful we were all together. I have some new cookbooks to go through and decide what I will make next and report to you.  But for now, I need to catch my breath after a wonderful and busy holiday and make a big pot of soup!
Since I live in cold and snowy Northern Illinois, soups are always on my menus all winter long.  This creamy one with potatoes, cabbage, bacon, and Swiss cheese can keep the kitchen warm and fill up your belly.  It's good served with crusty bread.  Enjoy it while looking out the window at the cold, and maybe some snow soon, and you'll feel nice and cozy!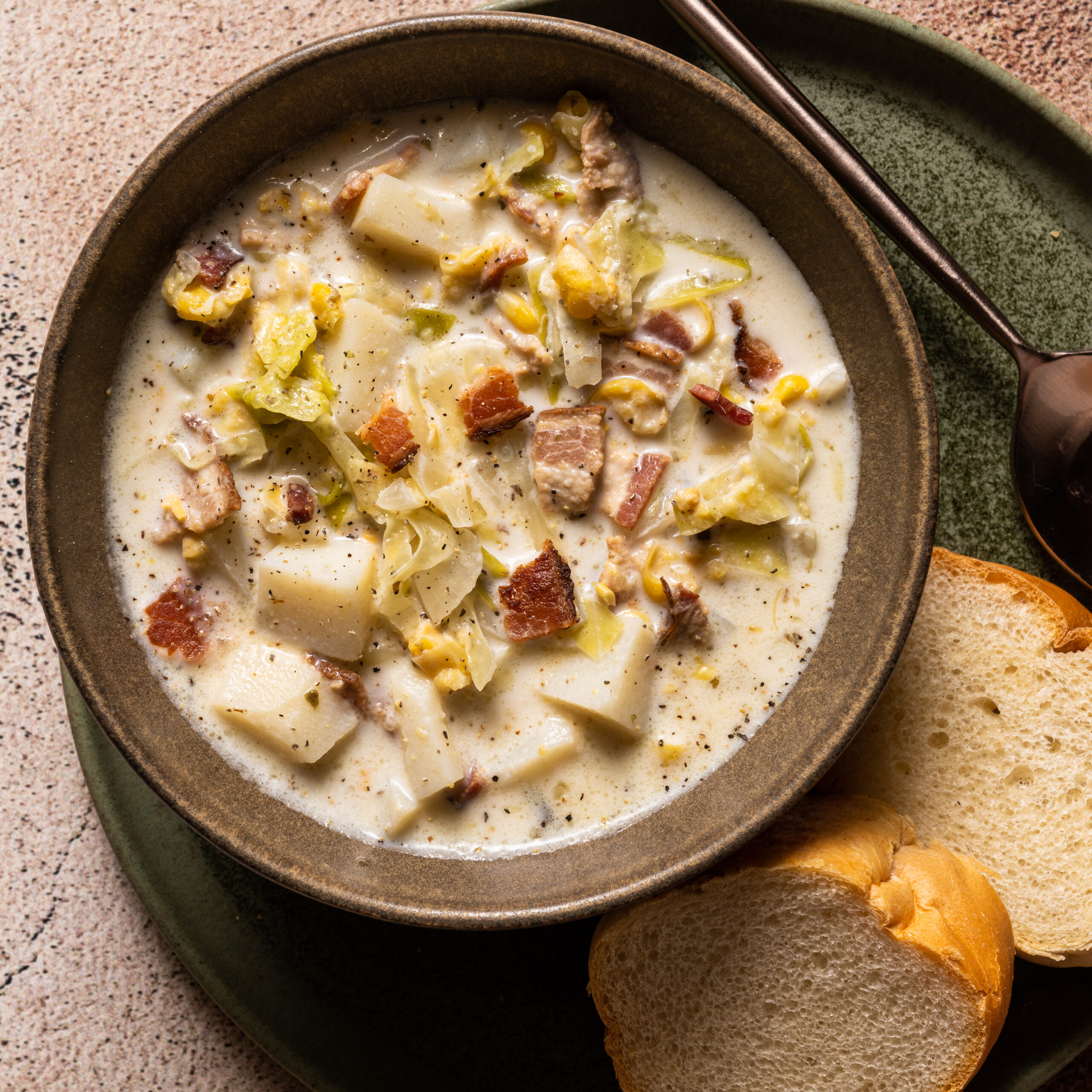 Potato Soup with Cabbage, Bacon, and Swiss Cheese
Ingredients
8 slices bacon, chopped
½ cup chopped onion
3 cups shredded or thinly sliced green cabbage
4-5 cups peeled and cubed russet potatoes
1 container (32 ounces) chicken broth
1 can (14.75 ounces) Cream-Style Corn
¾ teaspoon dried thyme or marjoram (either is good or a combo)
¾ teaspoon table salt, or to taste
½ teaspoon ground black pepper, or to taste
2 cups half-and-half
1 cup grated Swiss Cheese
Instructions
In a Dutch oven, cook the bacon until crispy. Remove with a slotted spoon to drain on paper towels. Remove all but 2 Tablespoons drippings in pan. Add onions and sauté until softened and golden. Add the cabbage, potatoes, broth, corn, thyme or marjoram, salt and pepper. Bring to a boil, reduce heat to simmer and cook uncovered, stirring occasionally, until potatoes and cabbage are tender, about 25 minutes.
Reserve about 2 Tablespoons of the cooked bacon to sprinkle on top of each serving, and stir the rest into the soup along with the half-and-half and Swiss cheese. Cook and stir until very hot and cheese is melted. Garnish each serving with some of the bacon.