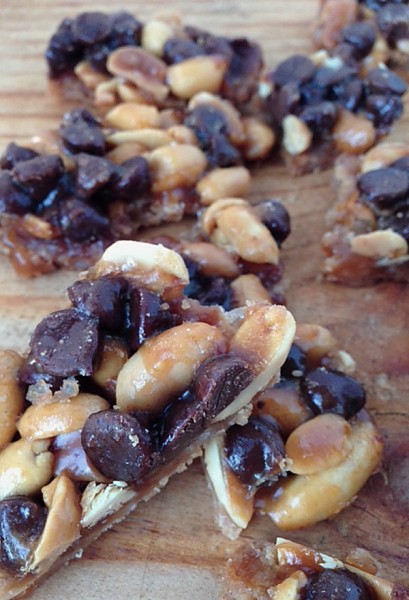 These addictive little morsels won a prize in a Betty Crocker Cookie Contest that I entered years ago.  It starts with a sugar cookie mix, which makes them easy to prepare.  The cookie base is semi-baked, then topped with cocktail peanuts, chocolate chips, caramel ice cream topping, a sprinkling of sea salt, and then returned to the oven to bake into ooey gooey bites of salty-sweet goodness.  The cookies can be cut into pieces or, how I like them, broken apart like peanut brittle.  The cookies are called Salty Caramel Peanut Brittle Bars.  They make a great gift for friends, a cookie exchange, or to share with your family.  Betcha' can't eat just one!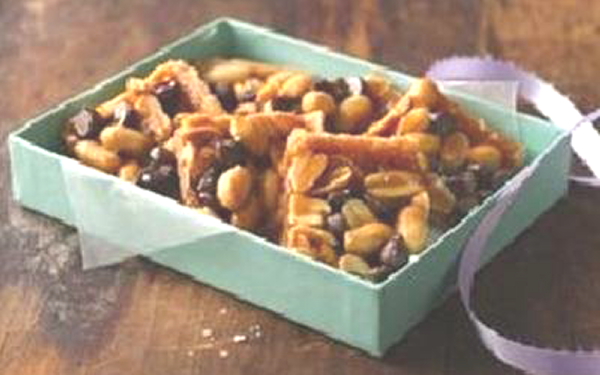 Salty Caramel Peanut Brittle Bars
1 pouch Betty Crocker Sugar Cookie Mix
1/4 cup packed brown sugar
3/4 cup cold unsalted butter, cut into small pieces
12 ounce tin lightly salted cocktail peanuts
1 cup semi-sweet or milk chocolate chips
1 jar (12.25 ounces) caramel ice cream topping
1/2 teaspoon coarse sea salt
Heat oven to 350 degrees.  Line a jelly roll pan (15-by-10-by-1-inch) with foil, extending the foil over edges of pan.  Lightly grease foil; set aside.  (note:  if you use the special non-stick kind of foil, you won't need to grease it).
Place cookie mix in a large mixing bowl.  Remove 3 Tablespoons of the mix to a small bowl and set aside.
To the cookie mix in the large mixing bowl, add the brown sugar and mix until blended.  Using a pastry blender or 2 knives, cut in the cold butter until mixture forms coarse crumbs.  Press mixture evenly into prepared baking pan.  Bake for 15 minutes.  Remove pan from oven and sprinkle evenly with peanuts and chocolate chips over the hot crust.  Stir the caramel ice cream topping into the reserved 3 Tablespoons of cookie mix.  Drizzle evenly over peanuts and chocolate chips.  Sprinkle evenly with the sea salt.
Return to oven and bake another 13-15 minutes or until nicely browned around the edges and caramel is bubbly.  Cool completely on a wire rack.  Use foil edges to lift baked mixture from the pan and set on a work surface.  Peel foil from the sides and cut into bars or break into pieces like peanut brittle.  Store cookies in an airtight container at room temperature or in the refrigerator.