I have never had such exhausting fun.  When my sister-in-law's husband, Larry, starting erecting my long-awaited shelves starting way back on a cold winter day, I stared at each of them completely new and empty wondering if  I could ever move all my books that were either in boxes or on flimsy, cheap metal free-standing shelves, not to mention they were also all over the house and garage.  It was a daunting task but one I couldn't wait to do.  But I could not have done it without my niece, Pesi, who has stayed with us all summer.  Pesi is tall, strong, and eager to help.  She knows my shelves now as well as I do.
Now I am not going to show you everything, because there has to be more surprises along the way, but let's start with the giveaway pile!  As Pesi and I sorted out the books, we found many duplicates and set them aside –  for you, my readers!  I won't let you see the titles, but I promise there are some good ones there!  Watch for these one-by-one on my Monday Giveaway Days.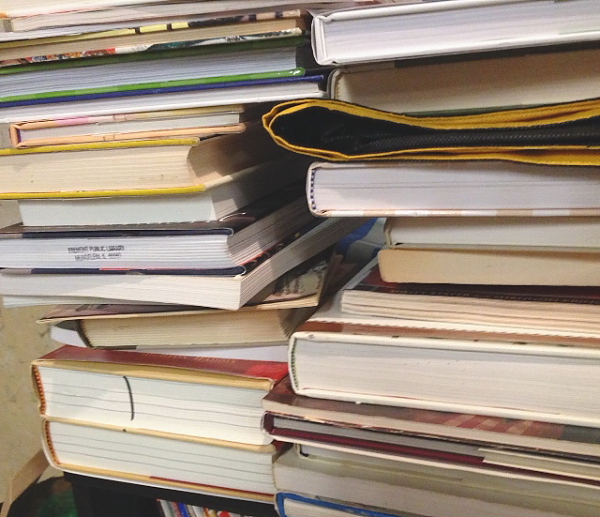 These are the shelves you will see first thing as you come down the cellar stairway.  It's close to being done.  I see a messy spot here and there, but it's almost completed.  This is the area where I have a couple rows of  my all-time favorites.  Can you guess which shelves they are on?  (I see some obvious ones!)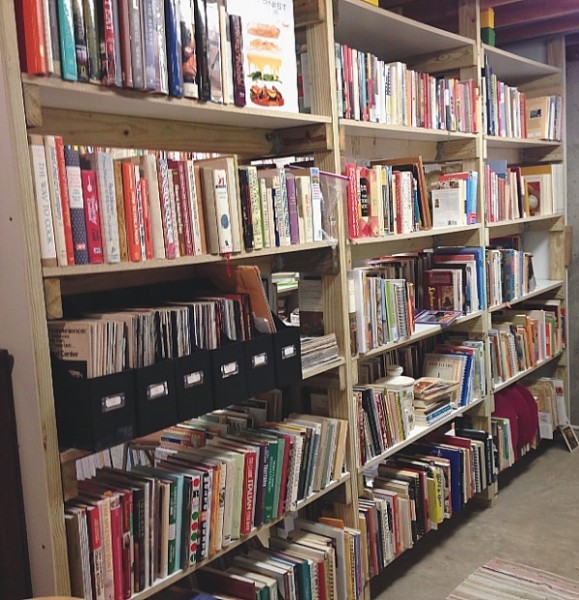 The black files you see are all my vintage Sphere magazines.  All but the August 1972 issue!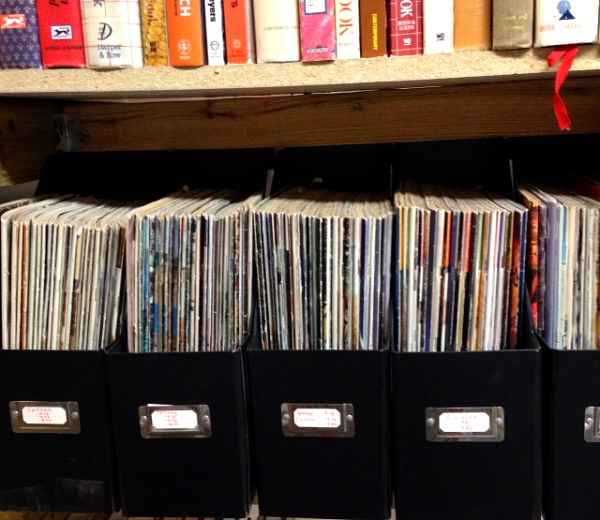 The middle area is still in need of work.
Of course, Julia is everywhere!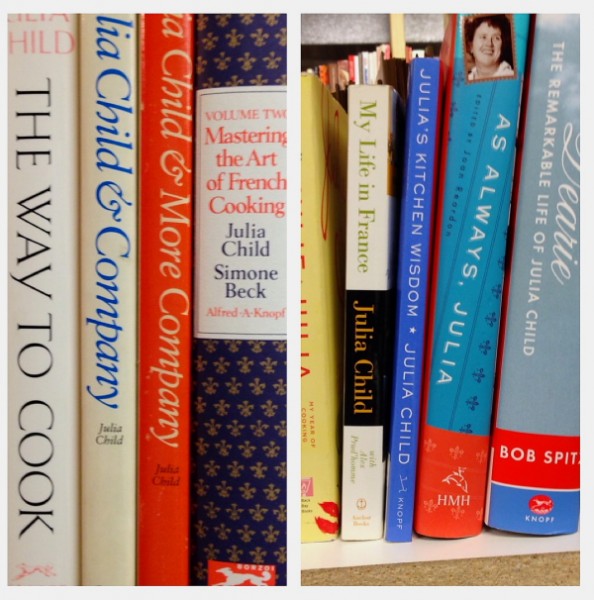 Here's some of the Scandinavian: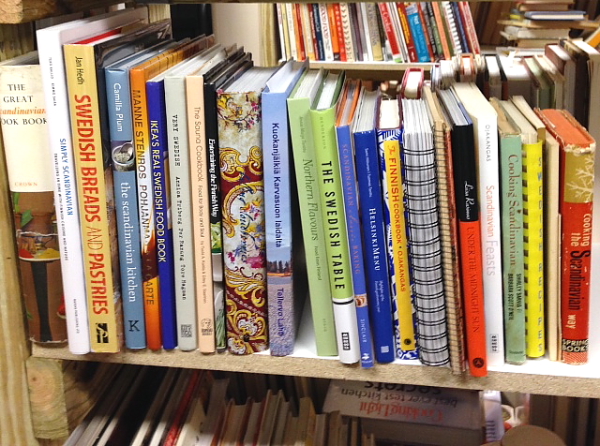 On most of the shelves, I am finding items to put between books.  I thought this old Mix Master from my husband's aunt would be perfect next to the cookies.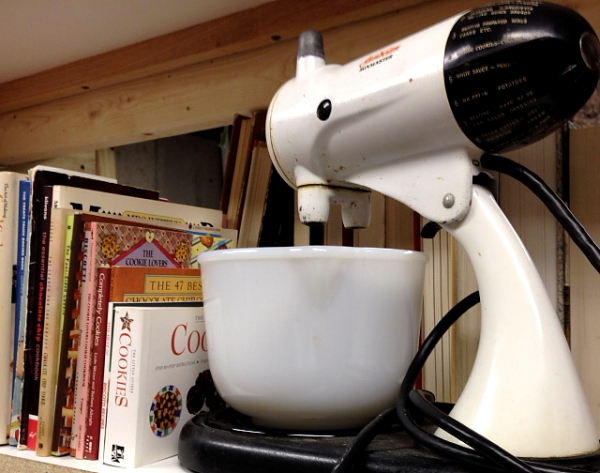 The chicken books needed a chicken!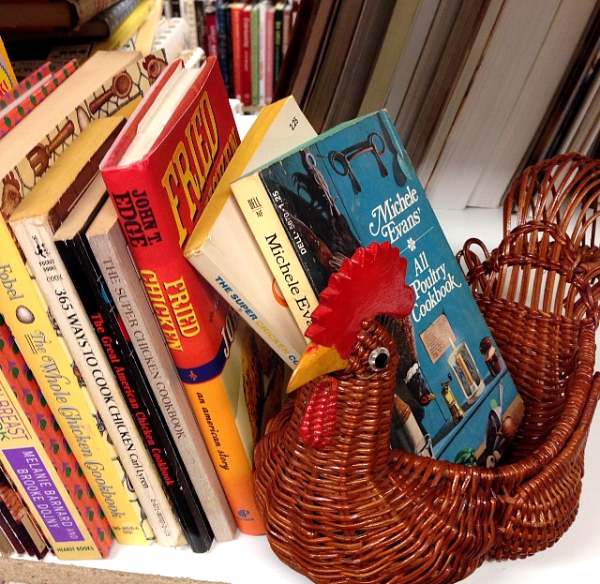 For the cake shelf, I used that darling vintage cake tin that I posted about earlier when Pesi and I invaded an antique mall in search of interesting culinary items.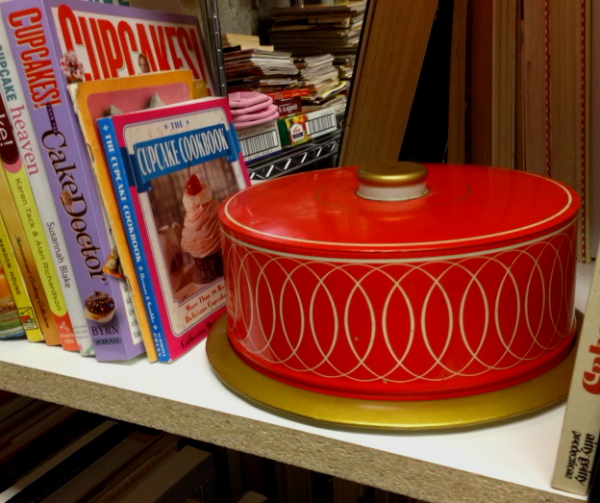 The baking books needed some bowls.  I won these at a raffle in a cookware store several years ago.  Aren't they adorable?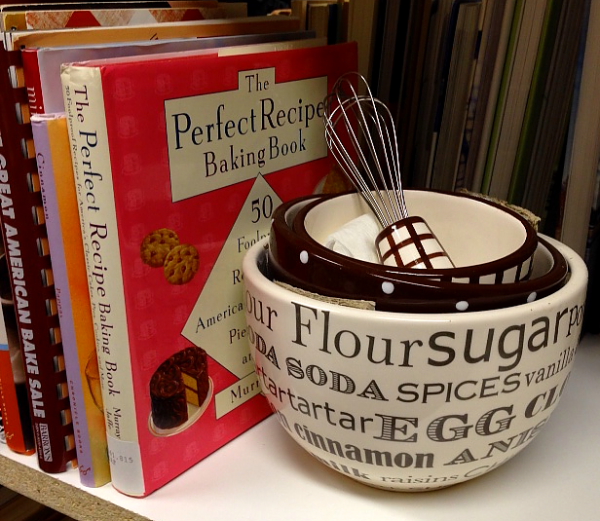 The Time-Life Series deserved a globe, don't you think?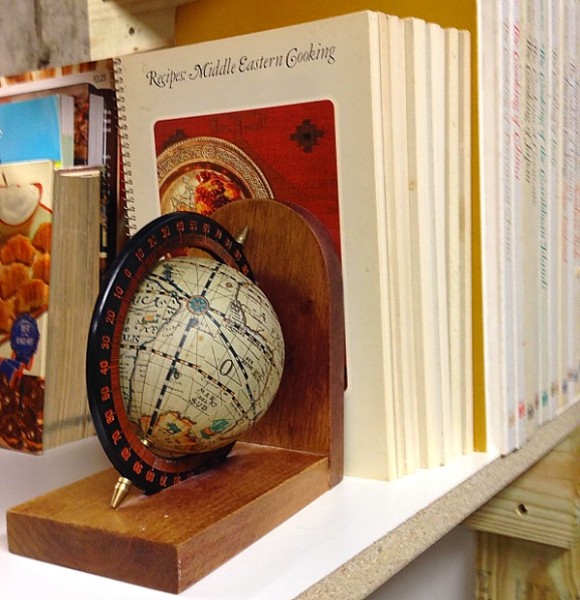 I keep adding to my Pillsbury Bake-Off shelf!  I think I am going to run out of room.  I have more.  Much more…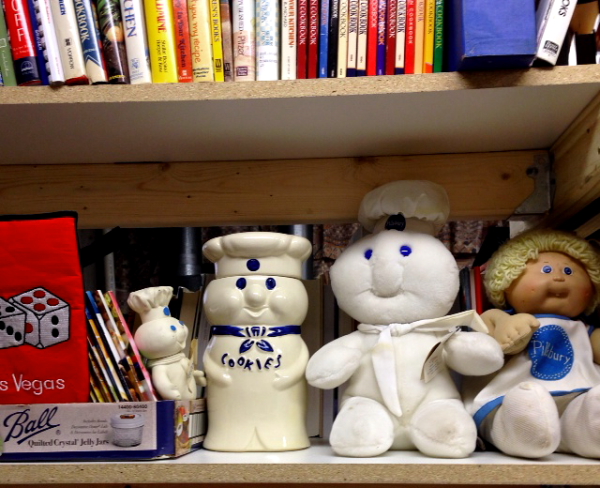 By the way, I have been asked numerous times about the heaviness of the books, the floor, and the strength of shelves.  It's nice to have a structural engineer for a husband because he knows the books are okay in the basement with the poured concrete slab.  If you look at the Pillsbury shelf, you will see an extra beam on each to hold the weight of the books.
I have many more fun items to arrange around the shelves, but they are scattered in other parts of the basement, in the garage, or I haven't found them yet!  This beautiful antique jar hasn't found a home yet, so it's sitting next to pizzas at the moment.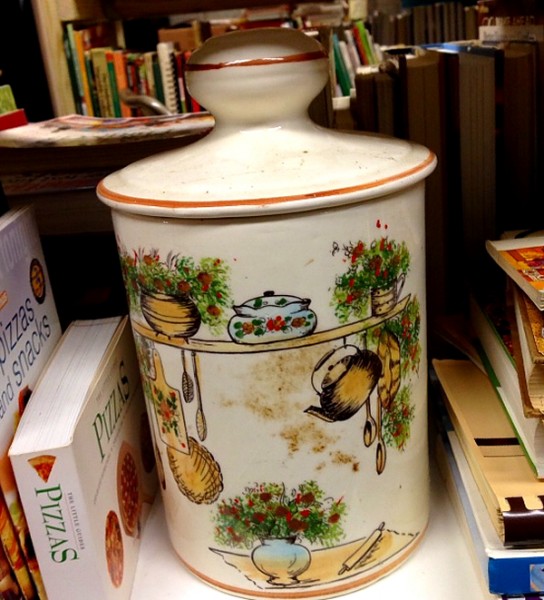 After all the books are shelved, the work isn't even close to being done.  I have bags of recipes and food magazines to sort through, boxes and boxes of miscellaneous kitchen items, canning jars, and many items that are not even food-related like all of my husband's engineering books and drawings.  And Halloween costumes from my girls, and Christmas stuff, etc.  It will be a while before the Culinary Cellar is ready for a grand opening party, but in the meantime, after Pesi leaves this weekend to go back home to California, I'll have my James Beard teddy to watch over the progress from now on.  Not that he can lift anything, but he will keep me company.