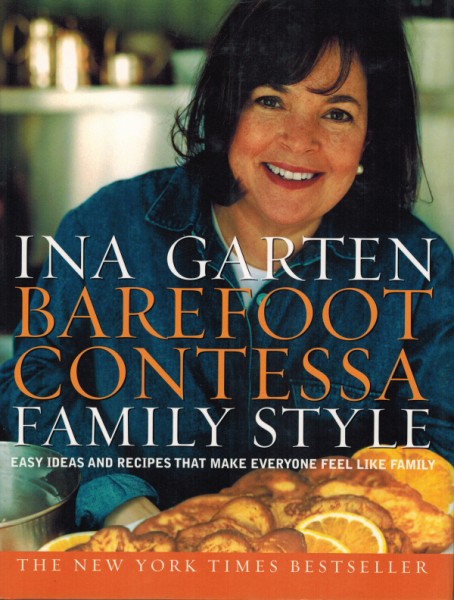 I've been getting emails lately asking when I will start giving away cookbooks again.  Well, the time is now!  My niece Pesi and I have been arranging and shelving cookbooks for weeks in The Culinary Cellar, and we are almost done.  I have found duplicates of many books and don't need two of each, right?  So they are all for my lucky readers!
I think you will love this cookbook.  The recipes are meant for cooking everyday dishes for your family including lunches, dinners, desserts, side dishes, breakfasts, and some just for the kids.  Beautiful photos and easy to follow recipes will make you want to make them all.
It won't cost you a thing to enter the drawings.  I'll pay for shipping; except I'm afraid I cannot mail books outside the Continental USA.  I have done so in past giveaways, but I'm afraid it got way too expensive.  Sorry.  Anyway, all you have to do is comment here on the blog and tell  me why you like the Barefoot Contessa, Ina Garten, or maybe tell us about a favorite recipe of hers that you loved.  That's it!  The winner is picked randomly using random.org.  Remember, you can't win unless you enter!
Look for a new giveaway every Monday and enter every week; you never know when you will get lucky.  And yes, you can win more than once if you are really lucky!  The entry period will always run Monday through Saturday of the same week with a deadline of 11:59 pm on Saturday night.  I will contact the winner on Sundays and post the new drawing and the winner of the previous week on Monday.
Good luck, everyone!