I have been meaning to make these cookies that my mom had clipped out of a magazine years ago.  At the top of the recipe she had written that they were "wonderful."  I don't know what magazine it was from, but there was a notation that it was originally printed in their 1985 issue.
I love cookies with almond extract and this cookie has it in the dough and the icing to drizzle on top.  The dough is formed into 12-inch long logs, pressed down to make it three inches wide, then brushed with milk and sprinkled with chopped sliced almonds.  While the logs are still warm on the cookie sheet after baking, they are sliced on a diagonal and then cooled.  An almond icing is drizzled over each cookie.  They are indeed "wonderful!" and very pretty.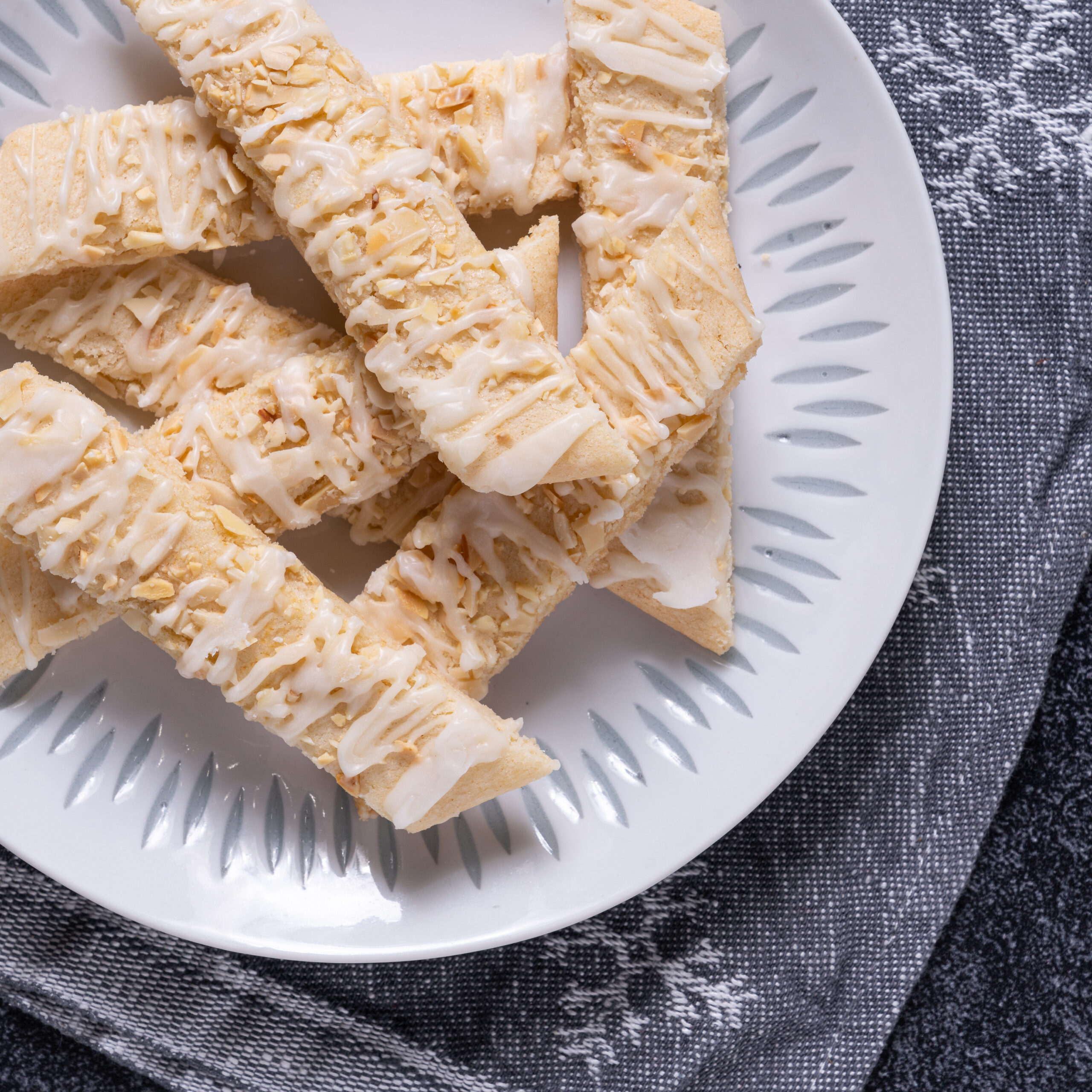 Scandinavian Almond Bars
Ingredients
Cookies:
1-3/4 cups all-purpose flour
2 teaspoons baking powder
¼ teaspoon table salt
½ cup unsalted butter, softened
1 cup granulated sugar
1 large egg
½ teaspoon almond extract
Milk, for brushing
½ cup sliced almonds, coarsely chopped
Almond Icing:
1 cup sifted powdered sugar
¼ teaspoon almond extract
4 teaspoons milk or as needed for a drizzling consistency
Instructions
Heat oven to 325 degrees F. Stir together flour, baking powder, and salt; set aside.
In bowl of electric mixer beat butter for 30 seconds. Add sugar and beat until well combined. Add egg and almond extract and beat well. Add flour mixture; beat until mixed.
Divide dough into four equal portions. Form each portion into a 12-inch long roll. Place two rolls 4 to 5 inches apart on an ungreased nonstick cookie sheet. Using your hands, flatten each until 3-inches wide. Repeat with remaining rolls on another cookie sheet.
Brush the flattened rolls with milk and sprinkle with the chopped almonds. Bake for about 12 minutes or until edges are lightly browned.
While cookies are still warm and soft on the cookie sheet, cut them crosswise at a diagonal into 1-inch wide strips. Transfer strips to wire racks; let cool.
For Icing: In a small mixing bowl stir together powdered sugar, almond extract, and milk until a drizzling consistency. Drizzle each cookie with icing and let set until firm. Makes approximately 48 cookies.