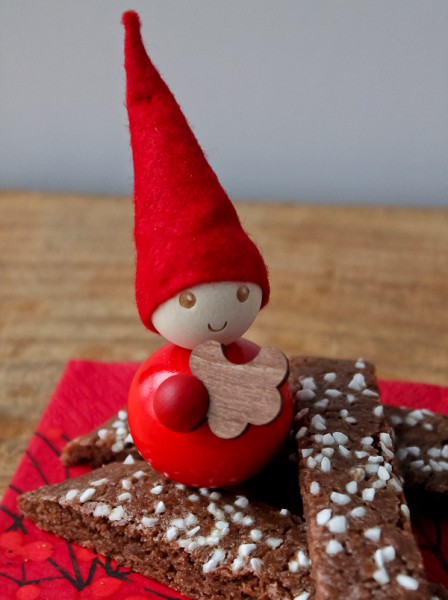 Pearl sugar always reminds me of little snowflakes.  I use it often on cookies and breads at Christmas.  It always looks so festive!  These chocolate slices are easy, so if you are making some last minute cookies these are a good choice. I think my little elf friend here agrees.

Snowflake Chocolate Slices
Ingredients
1 cup unsalted butter, softened
1-1/3 cups sugar
2 eggs
2 teaspoons vanilla extract
2 cups all-purpose flour
⅓ cup unsweetened cocoa powder
1 teaspoon baking powder
½ teaspoon salt
1 egg white, beaten, for brushing on cookies
Pearl sugar
Instructions
In large bowl of electric mixer, cream together butter and sugar until light and fluffy. Add eggs, one at a time, and beat well after each addition. Blend in vanilla.
In a separate bowl mix together flour, cocoa powder, baking powder, and salt. Add to butter mixture and mix until blended. Cover bowl and refrigerate until cold enough to roll into logs.
Heat oven to 375 degrees. Line 2 large baking sheets with parchment paper.
Divide the dough into 4 equal parts and roll each part into logs about 12 inches long and place 2 each on prepared baking sheets, leaving at least 3 inches between logs. Press down the logs and flatten to about 2 inches wide and about ½ inch thick.
Brush each log, one at a time, with beaten egg white and sprinkle with pearl sugar; press sugar lightly into dough so it adheres.
Bake about 12-15 minutes. Remove from oven and while still warm, cut each log diagonally into slices. Place slices on wire racks to cool completely. Store in airtight containers. Makes about 48 cookies.