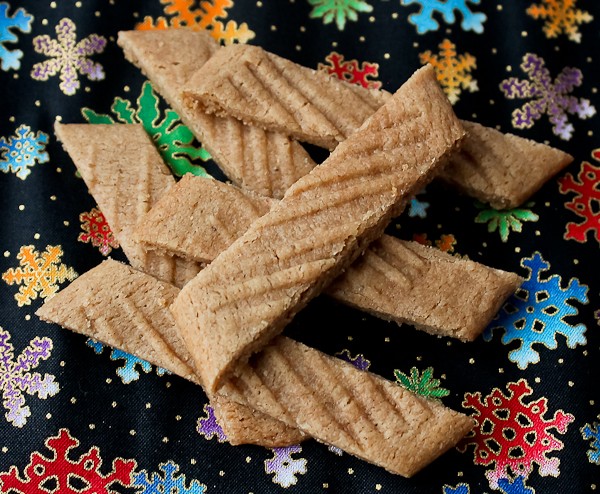 Bake and slice cookies are so easy and good.  Here is a spiced version with cinnamon, nutmeg, and ginger.  They just taste like Christmas!
After the dough is formed into logs, it is flattened out with the back of fork to make a design that bakes into the dough and gives them a beautiful look.  The logs are baked and sliced while warm.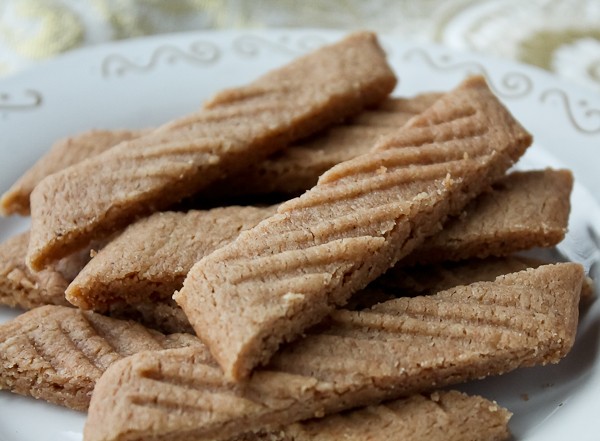 The cookies are nice and crispy and the flavor is heavenly!  These quickly became a favorite at our house.

Spiced Slice Cookies
Ingredients
⅔ cup packed light brown sugar
1 Tablespoon ground cinnamon
1 teaspoon ground ginger
1 teaspoon ground nutmeg
½ teaspoon salt
1 cup unsalted butter, room temperature
2 cups all-purpose flour
Instructions
In large bowl of electric mixer, mix together brown sugar, cinnamon, ginger, nutmeg, and salt.
Add butter and mix until well blended. Add flour and mix well until a firm dough forms. Divide dough into 4 equal parts. Wrap each in plastic wrap and refrigerate at least 30 minutes.
Heat oven to 350 degrees. Line 2 baking sheets with parchment paper.
Roll each part into a log about 13-14 inches long and place on 2 each on baking sheets, leaving at least 3 inches apart.
Flatten out slightly, then using a fork, lightly press into dough making a pattern going along the dough, making the dough about ¼ inch thick.
Bake the logs for about 13-15 minutes or until the edges are golden brown. Remove from oven and let cool a minute, then while still warm, cut into equally sized diagonal slices. Remove slices to wire rack to cool completely. Store in an airtight container or freeze. Makes about 40 cookies