Five years ago, almost to the day, I wrote about the incredible 150-year-old Graue Mill on my blog.  Click on the link to get all the fine details, but know that it is a fascinating piece of American history in addition to producing the best stone ground cornmeal and whole wheat flour.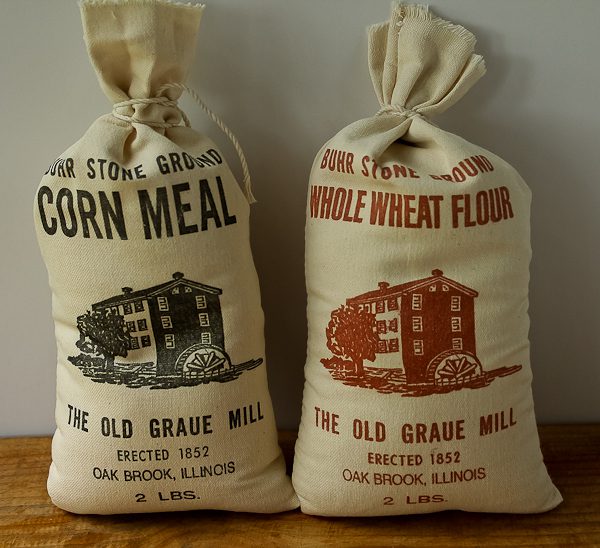 Graue Mill has been a destination of mine since grade school when our classes took field trips there in the fall.  I still go every year to pick up the cornmeal and whole wheat flour.  They both come in those lovely flour sacks tied with string and will keep indefinitely in the refrigerator or freezer.  I stock up once a year because they close in November for the winter, plus it's about an hour or so away and once the Chicago snow hits, it's not somewhere I want to drive anyway.  My husband Bill happened to be driving right past the mill on the way to a job site and I convinced him to run in and grab my supplies for the winter.  He also picked up the recipe booklets.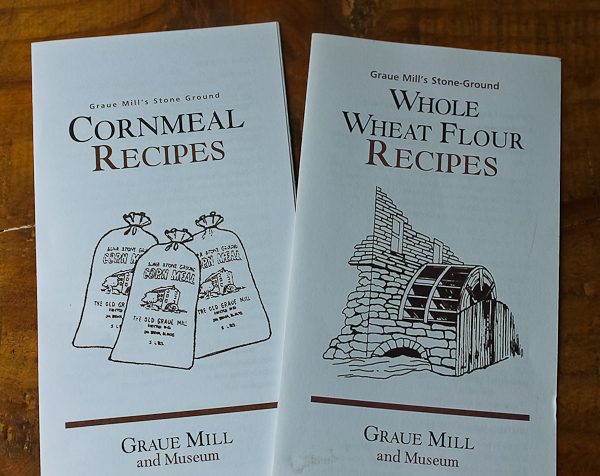 I called my mom and told her I had my supply of Graue Mill cornmeal, which she knows well.  I told her one of her favorites, cornmeal mush, was in the recipe booklet.  "Oh, I want some right now," she said.  I grew up eating cornmeal mush, and also fried cornmeal mush.  It was a staple at our house.  So you know what I had to make.  This one's for you, mom!  Actually,  both are for you.  How I wish you could taste it.
The process of making cornmeal mush has to begin the night before, or even days before if you prefer.  It keeps well.  Some of the cornmeal is mixed with cold water, salt, and a little flour.  Boiling water is stirred in and cooked quickly for about 10 minutes, then transferred to a double boiler where it will cook another 1-1/2 hours. When done and cooled slightly, line a loaf pan with non-stick foil and spoon in the mixture.  (Mom, do you recognize your old loaf pan?)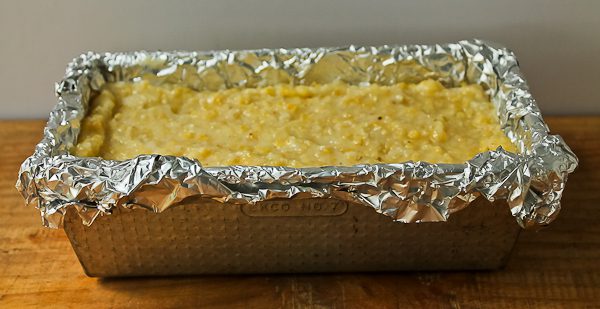 Cover and refrigerate overnight, then slice into pieces the next day and fry in some butter and serve with maple syrup.  It's good alongside link pork sausages too.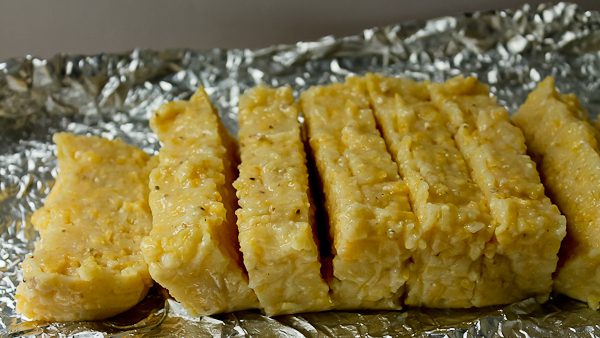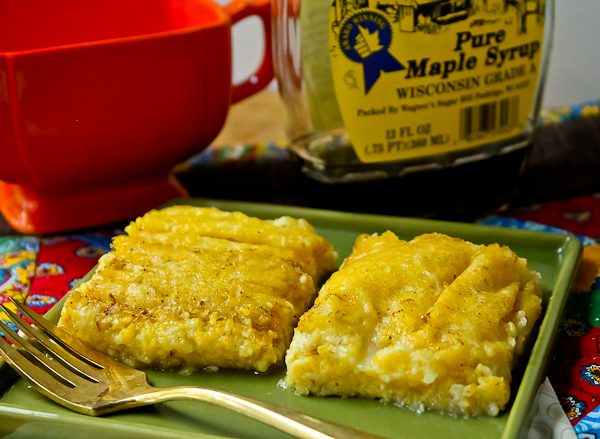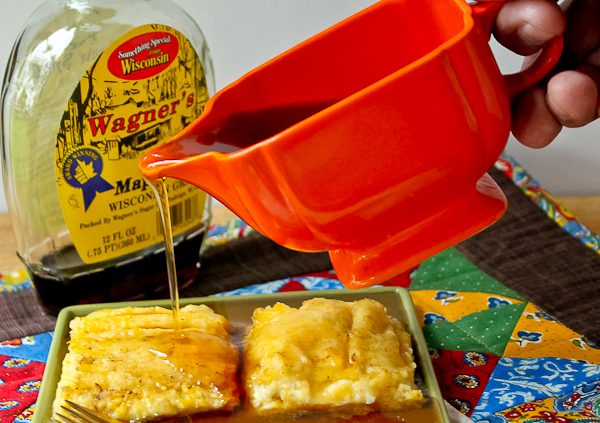 If you prefer not to fry pieces and just eat the mush as is, it's great that way too.  After the cooking period described above, you can eat it right away with some butter and cream or maple syrup, or chill it in a container and reheat in the morning, maybe adding some milk or water if you find it is too thick to your liking.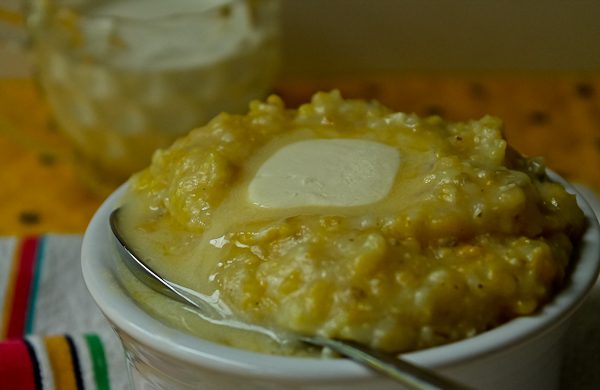 Either way, it's a healthy and wonderfully delicious way to begin a cool autumn morning, or a ferocious blizzard when winter hits.  Cornmeal mush is very filling and satisfying and will hold you for the day.
Sorry you can't have some of this, mom, but I can mail you a bag!

Fried Cornmeal Mush
Ingredients
1 cup stone ground cornmeal
1 cup cold water
1 teaspoon salt
¼ cup flour (I bet any flour of your choice would work. I have used both all-purpose and whole wheat)
3 cups boiling water (approximate, as it depends on how thick you prefer, plus the brand of cornmeal used. Not everyone is lucky enough to have Graue Mill, so you could go as high as 4 cups)
Instructions
In a saucepan, mix together the cornmeal, cold water, salt, and flour; mix thoroughly. Add 3 cups boiling water and cook over high heat, stirring constantly, for 10 minutes.
Transfer to the top of a double boiler set over simmering water and continue cooking, stirring occasionally, for 1-1/2 hours or until thickened, and checking water in pan to make sure it has not boiled away. Remove from heat and let cool slightly.
Line a loaf pan with non-stick foil, having foil hanging over sides so you can lift it up and out of the pan the next day for easier slicing and handling. Cover pan and refrigerate overnight or for several days.
To make fried mush slices, lift the cold cornmeal mixture up and out of the loaf pan. Lay on a flat surface and pull down foil. Slice into equal-sized pieces.
Heat some butter and oil in a skillet and add cornmeal slices. Cook over medium-high heat until browned and crispy on both sides. Remove to serving dishes and pass maple syrup.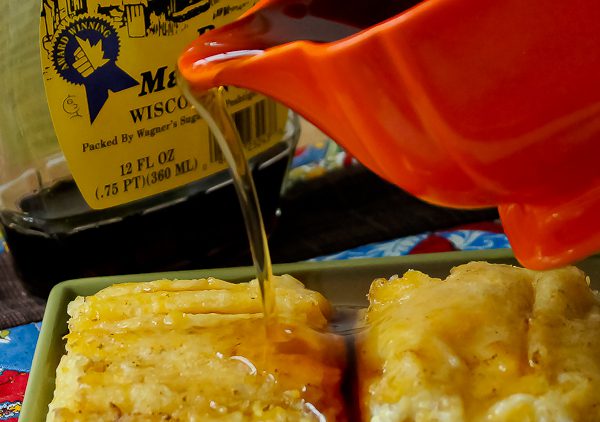 P.S.  The whole wheat flour booklet has recipes for cornmeal/whole wheat muffins, orange wheat quick bread (with orange juice wheat germ, and walnuts), whole wheat waffles, whole wheat yeast bread, and brown nut quick bread (with molasses, buttermilk, and brown sugar).  Which one should I make for another blog??