This book was one of my old favorites that thankfully was not soaked and unusable from the flood.  If it turned out that it had to be tossed, it's one I would have ordered again.  It has so many unusual and creative recipes.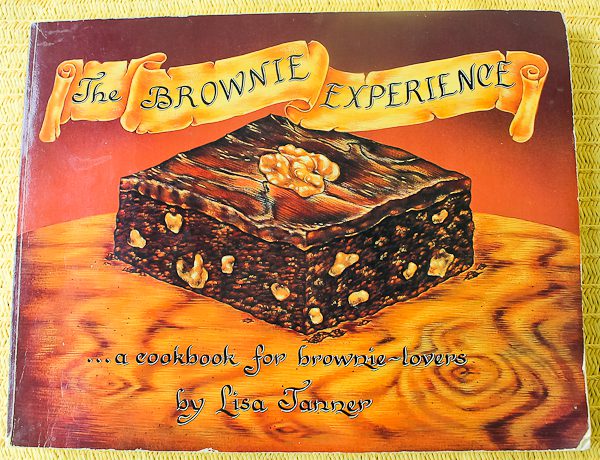 So how do you like a brownie- fudgy, cakey, frosted, unfrosted, nuts, no nuts, chocolate, or maybe something other than chocolate?  No matter.  Whatever your preference, you will probably find it in this delightful 1984 cookbook by Lisa Tanner, who had some of the best taste-testers, the firefighters at her husband's station. Of course there were also many others because most people would be willing to taste a brownie and give an opinion. Tough job, right?
In the book you will find chocolate-in-the-batter brownies, no-bake brownies, chocolate chip, no chocolate, health conscious, and even elegant and exotic brownies.  Some of these include Chocolate Amaretto Crunch, Mandarin Orange, Chocolate Mint, Yogurt Almond, Fudgy Macadamia Nut, Fudgy Raspberry, Butterscotch Swirl, Double Chocolate Malt, Irish Coffee, Papaya Paradise, Turkish Apricot, and Pralines 'n Cream Cheese. There are so many more.
The one I decided to make is very easy to make with few ingredients, but also because earlier this week (Wednesday) was National Peanut Day and I happened to have some peanuts.  The brownies are the fudgy type and topped with a mixture of chocolate chips and chopped roasted peanuts. Did you know peanuts provide over 30 essential nutrients and phytonutrients?  They are a good source of niacin, folate, fiber, Vitamin E, magnesium, and phosphorus.  Peanuts are also free of trans-fats and sodium.  Will that help you to feel a little less guilty eating this brownie ? Maybe a little?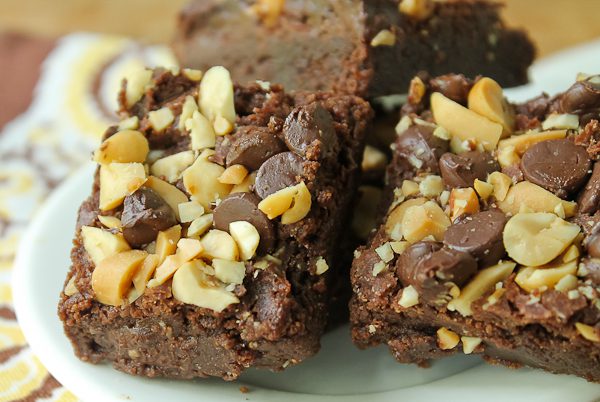 They go together in a snap.  The brownie base is made in a saucepan; no need to even soften butter.  Serve with a glass of cold milk.  Yummy.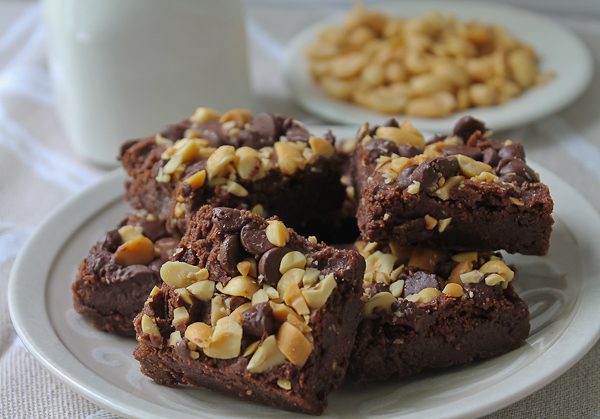 After all the brownie recipes, the back of the book tells how to make brownie parfaits, a brownie banana split, a brownie mud pie, and even what kind of ice cream would be best with various brownies in the book.  Or if you feel really ambitious at your next party or large family gathering, a brownie sundae buffet.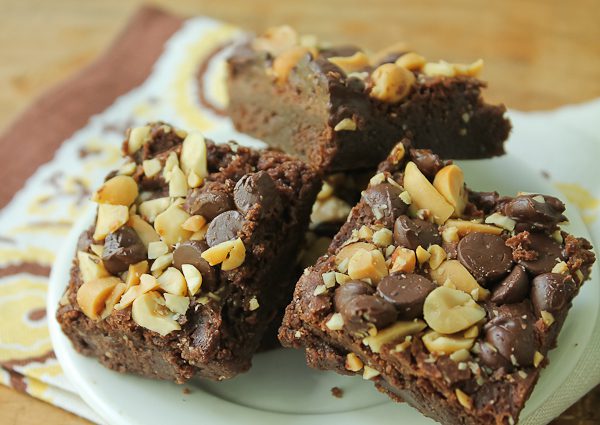 Now you know why the book is called The Brownie Experience.  There are so many things to do with a simple square of brownie.  But just biting into that fudgy piece of lusciousness all by itself is good too.  Make your own brownie experience.  I guarantee you will find great ideas in this book. And thank goodness it survived.

Double Chocolate Peanut Brownies
Author:
The Brownie Experience by Lisa Tanner
Ingredients
½ cup butter
2 ounces unsweetened chocolate
1 cup sugar
1 egg
½ teaspoon vanilla extract
½ cup all-purpose flour
⅓ cup chopped toasted peanuts
⅓ cup semisweet chocolate chips
Instructions
Preheat oven to 350 degrees F. Lightly butter an 8-inch square baking pan.
In a saucepan, melt butter and chocolate together over low heat until just melted.
Remove from heat and beat in sugar until well combined.
Beat in egg and vanilla.
Stir in flour until well combined.
Spread mixture evenly in prepared pan. Combine peanuts and chocolate chips in a small bowl, then sprinkle evenly over batter. Press down slightly.
Bake about 33-35 minutes or until top springs back when lightly pressed.
Cool in pan and cut into squares.