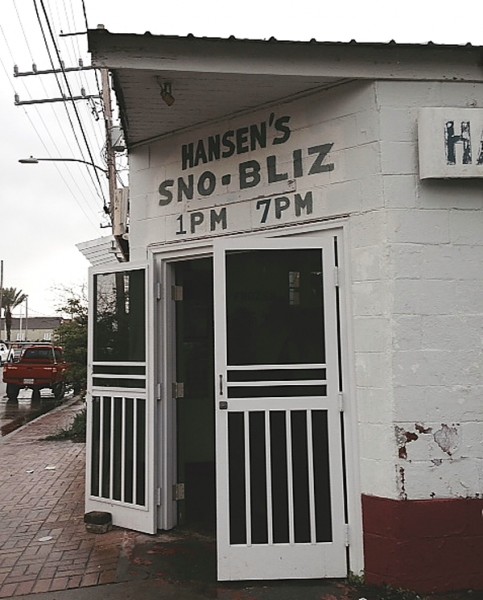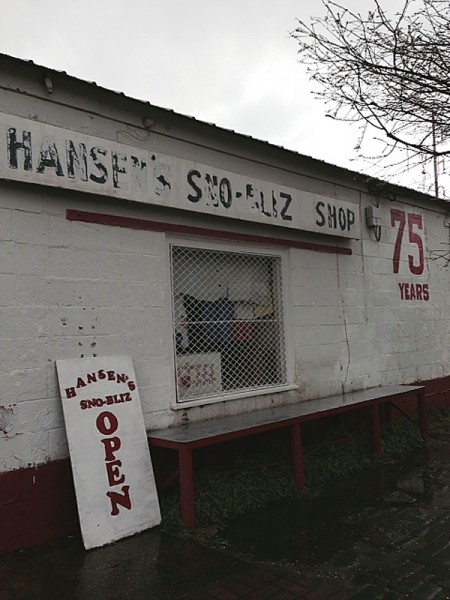 Snowballs in Louisiana are similar to what most people know as snow cones, but a sno-bliz is different.  A sno-bliz is made with  much finer shaved ice and uses a large variety of homemade syrups.   Come on in to Hansen's Sno-Bliz, step back in time and see how they are made.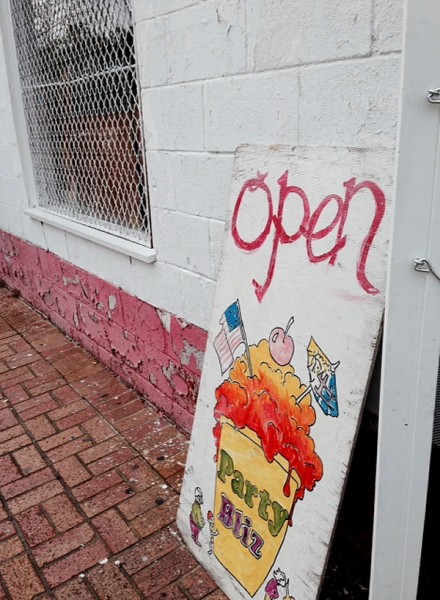 While in New Orleans for my daughter Kara's wedding, her soon-to-be husband Robert wanted to take us to one of his favorite places.  On this day, we walked right in and there were only a few people waiting in the tiny store on this overcast and drizzly day.  Robert told us that in the sweltering heat of summer, the line stretches as far as the eye can see, with the anticipation of having a refreshing sno-bliz to help cool down.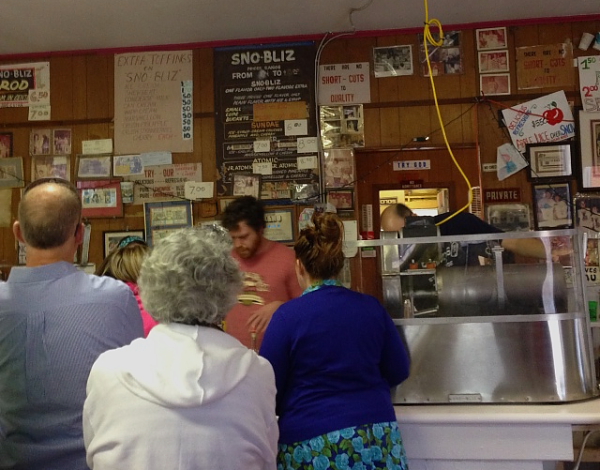 The walls are covered with yellowed newspaper clippings and photos of treasured customers from over the years. You might even be waited on by Ashley Hansen, whose grandparents, Ernest and Mary, lovingly operated the store using a machine invented by Ernest to make sno-bliz for his family.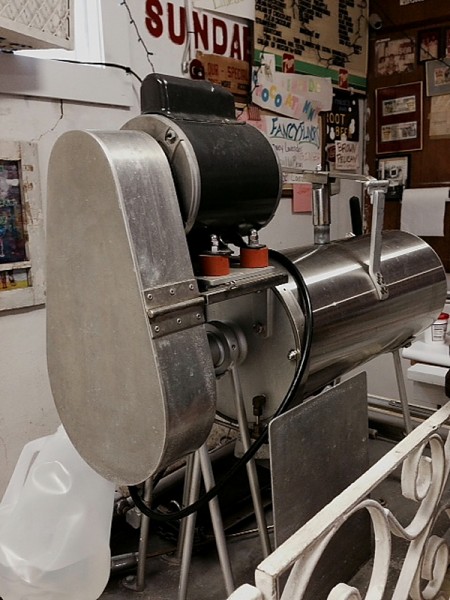 Ernest Hansen was a machinist by trade and tinkered with his idea until the machine worked to his satisfaction.  Mary decided to park the machine out on the sidewalk and began hawking the shaved ice that was drenched in the homemade syrups.  She charged two cents per cup.  The machine was the first ever block ice shaver.  After several moves over the years, Hansen's made the store at the corner of Tchoupitoulas Street and Bordeaux the permanent home.
Granddaughter Ashley Hansen says she tries to channel her grandparents every day as she walks into the store.  Ashley began working inside with the big machine when she was fifteen years old.  She knows every nook and cranny, every newspaper clipping, and every faded photograph.  Love definitely permeates the sno-bliz stand.  You can see it in the eyes of the customers.  This is a special place.
Customers have their favorite flavors but we had to carefully read the list before deciding.  They all sounded so intriguing.  On top of that, you must decide on having it icy or creamy.  I opted for creamy and selected a duo of cream of almond and cream of coconut.  There are actually more flavors than this.  My daughter Kristina couldn't wait to try the ginger-cardamom, two of her favorite flavors.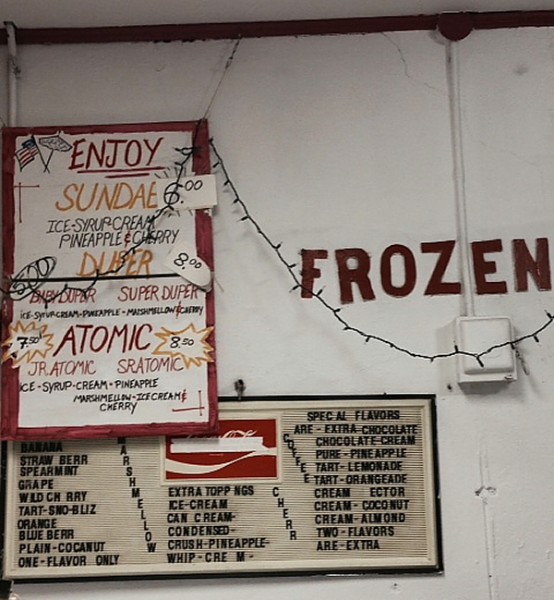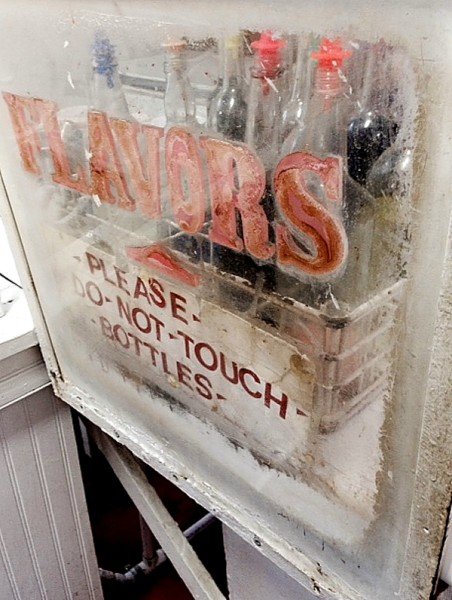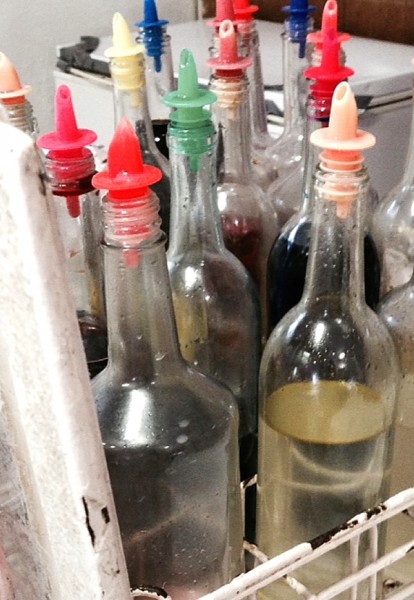 Next one must decide what size cup to order.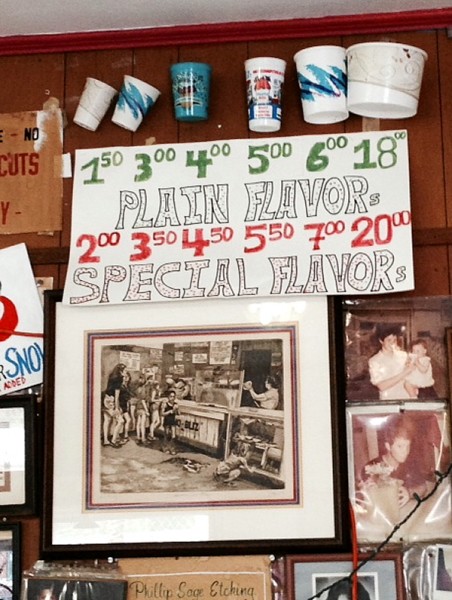 I ordered the smallest size which looked big to me.  The largest size is enough to feed a family.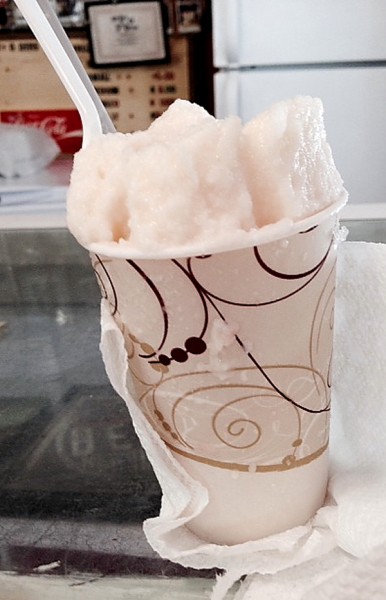 It looks like ice cream, but it's not.  You might think it's like a snow cone as we know it, but it's not.  A sno-bliz is in its own league.  It is described as "a finely shaved, almost hollow type of ice-shavings where the syrup does not go all the way through.  You actually put the syrup on in layers to get consistency throughout the body of the sno-bliz.  So therefore, the flavor stays with you throughout the process of eating it."  Ernest was a genius.  It was incredibly good.  And yes, I got brain freeze and throat freeze!  It was worth it.
Not only does the public love Hansen's, but the James Beard Foundation agrees.  On May 5th at an awards ceremony in New York City, Ashley Hansen will proudly accept a James Beard medal for her grandparents sno-bliz stand.  Each year, the culinary foundation honors five restaurants across the country as "American Classics."  These are beloved, long-running establishments like barbecue stands, diners, and burger joints.  They are almost always family operated and represent the best of American regional foods.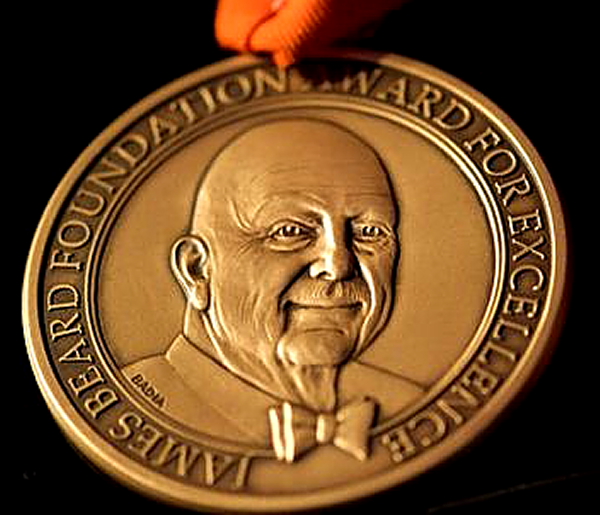 Ashley said her grandparents who died after 72 years of marriage, would have been thrilled by the honor of winning a coveted James Beard Award.  I think it will be right at home along with all the vintage photographs and clippings.  Ashley will carry on not only the recipes, but the loving care of the business and the warmth of her beloved grandparents.