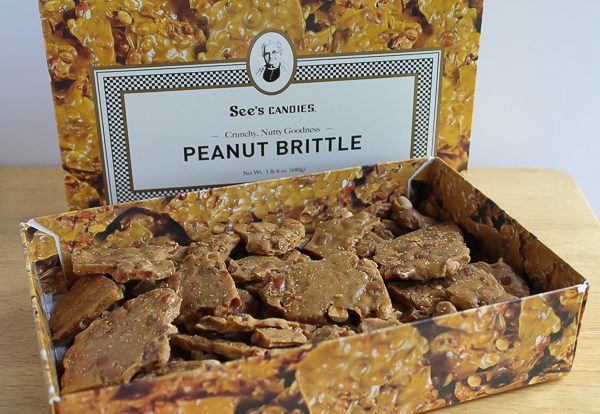 See's Peanut Brittle was my mom's favorite of the See's Candies.  I wish she could taste these now as I know she would love them.  My mom died last month and I have been making some of her favorites meals and treats simply to feel close to her.  She loved "crunchy and salty" food items as she used to say.  These thin and crispy cookies certainly fit the crunchy and would appeal to her sweet tooth.
The cookies are a triple delight with creamy peanut butter, chopped peanuts, and See's Peanut Brittle. They are wonderful with a glass of cold milk or served with ice cream.  I came up with another idea for their use which is sandwich cookies.  I happen to love sandwich-type cookies and love peanut butter, so I simply spread more creamy peanut butter on the flat side of one cookie then topped it with another cookie, top side up.  Easy and also so good!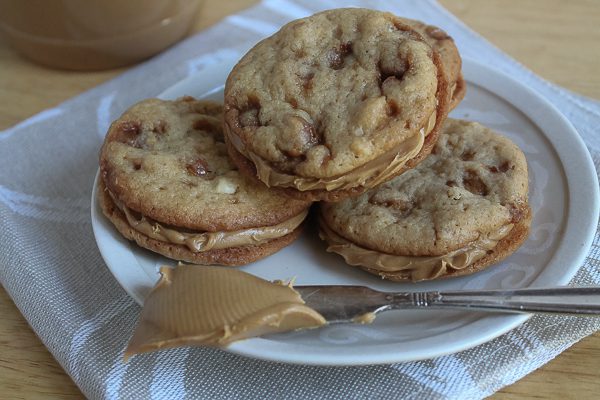 I also came up with another idea for an ice cream sandwich cookie, but didn't have any ice cream.  Next time I have some vanilla ice cream, I think I will spread a thin layer of peanut butter on two cookies (flat sides) and sandwich them together with the ice cream.  Wrap in plastic and freeze for another treat!  I actually think my mom would have loved this idea best because she loved crispy cookies and really loved ice cream.  Together, I think she would have satisfied her sweet tooth!  All of these are for you, mom.  I miss you every day.

Triple Peanut Cookies
Ingredients
¾ cup granulated white sugar
¾ cup firmly packed light brown sugar
1 cup unsalted butter, room temperature
2 large eggs
½ cup creamy-style peanut butter (not freshly ground or natural-type)
2 cups All-Purpose flour
1 Tablespoon baking powder
½ teaspoon table salt
1-1/4 cups chopped peanut brittle
¼ cup chopped roasted peanuts
Instructions
Heat oven to 350 degrees F. Line a baking sheet with parchment paper, or use an ungreased baking sheet.
In bowl of electric mixer, beat together both sugars and butter until creamy. Add eggs, one at a time, until combined. Mix in peanut butter.
Stir together flour, baking powder, and salt in another bowl. Add to peanut butter mixture and mix to blend. Mix in peanut brittle and peanuts.
Cover bowl with plastic wrap and chill at least 2 hours, or until the dough is firm enough to form into 1" balls. Place on baking sheets 2" apart.
Bake for about 12 minutes or until the edges are browned. Remove from oven and let sit on baking sheet for a few minutes before removing to wire rack; cool completely.
Note: Cookies are great as is, but they can also be made into sandwich cookies if desired. To make sandwich cookies, spread some creamy peanut butter on one cookie (flat side) and top with another cookie, top up. Another way is to make them into ice cream sandwiches. Spread 2 cookies on the flat side with a thin layer of peanut butter, then spread on some vanilla ice cream and sandwich together. Wrap tightly in plastic and freeze until ice cream is firm.