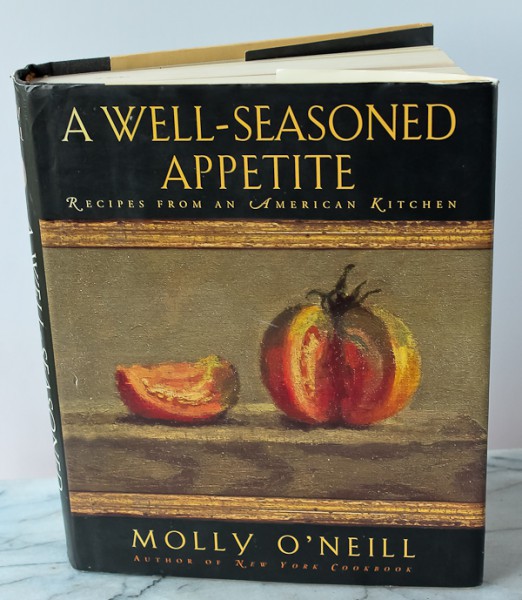 A week ago I didn't own any Molly O'Neill cookbooks.  This week I have four.  Why have I not bought these before?  Her recipes all sound wonderful and I have already made a few.  Molly O'Neill not only was the food writer for the New York Times Food Magazine, but a Julia Child/IACP and James Beard Award winner.  I found Molly and her incredible recipes from my now-famous pile of recipe clippings I bought at Bonnie Slotnick Cookbooks in New York City.  Inside this treasure pile was a stack of Molly's old NY Times recipes which I now keep clipped together separately.  Oh, yes.  Molly is my new kitchen buddy.
As I was searching through the cookbook, I came across a rack of lamb recipe that I could almost smell and taste through the page, plus I love having lamb in the Spring.  I also happened to have a rack of lamb in my freezer.  Done.  The lamb is first spread lightly with Dijon mustard and then coated with a mixture of minced garlic, parsley, bread crumbs, crumbled feta cheese, kosher salt, and freshly ground pepper.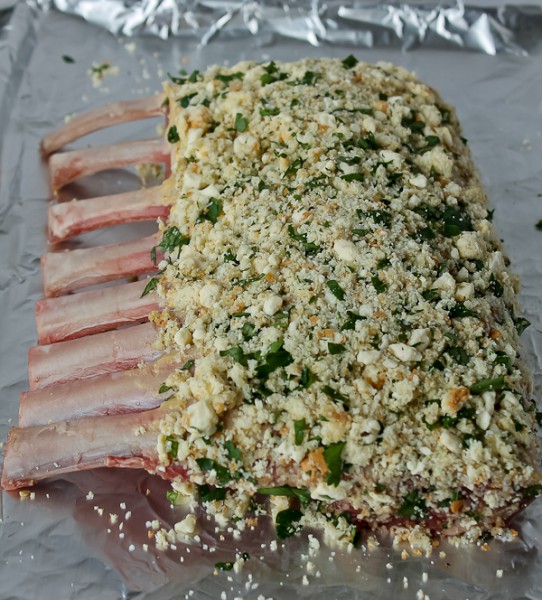 It already smelled good.  The lamb only has to bake for about 25 minutes and rests for ten.
And then it looks like this.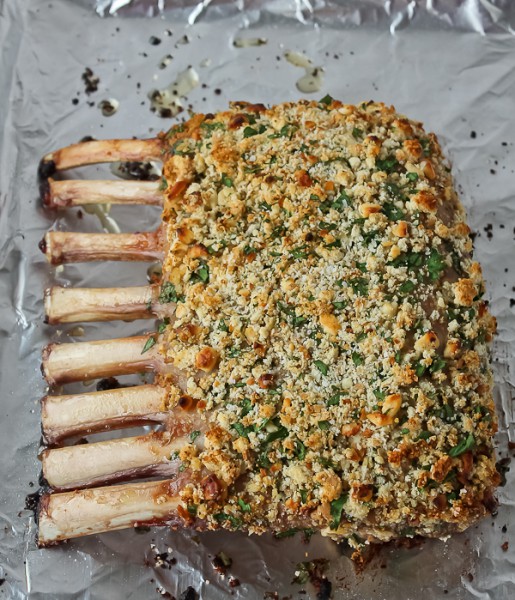 Oh. my. goodness.  This is so delicious.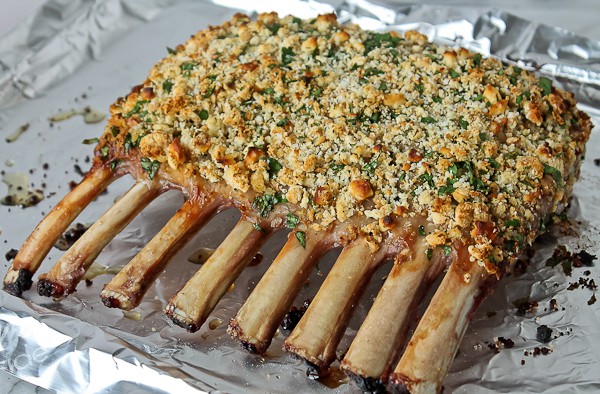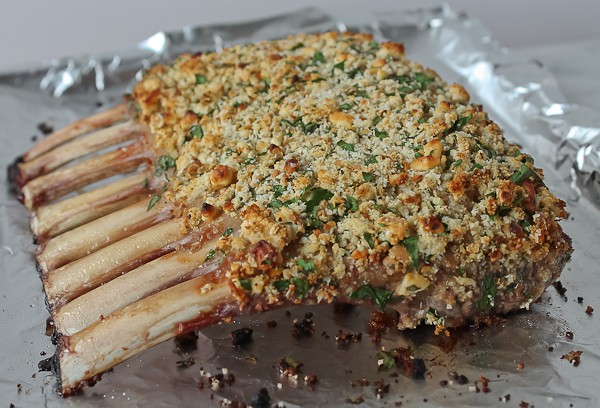 Think of all the great side dishes you could serve with this – a Greek salad with cucumbers and kalamata olives, lemon orzo with pine nuts, or lemon-steamed asparagus.
The lamb was perfect.  I will be making this again and again.  Thanks, Molly.  See you again soon.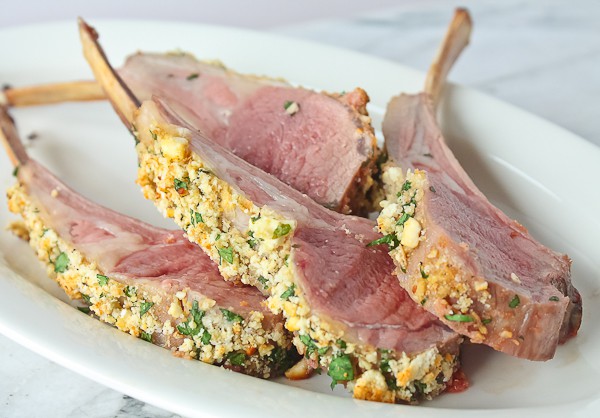 Rack of Lamb with Feta-Garlic Crust
Author:
A Well-Seasoned Appetite by Molly O'Neill
Ingredients
1 rack of lamb, at room temperature (about 1-1/2 pounds will have 8 ribs)
2 teaspoons Dijon mustard
½ cup fresh bread crumbs
2 large garlic cloves, minced
2 Tablespoons crumbled feta cheese
2 Tablespoons chopped Italian flat leaf parsley
½ teaspoon kosher salt
Freshly ground black pepper, to taste
Instructions
Preheat oven to 400 degrees. Line a baking sheet with nonstick foil.
Rub the fat-covered side of the lamb with the mustard.
Place the bread crumbs, garlic, feta, and parsley in a mixing bowl and rub mixture between your fingers until the cheese is mixed into the bread crumbs. Mix in the salt and pepper.
Pat the crumb mixture over the mustard and over the sides of the lamb. Place on the prepared baking sheet and roast about 25 to 28 minutes for medium rare. Let stand for 10 minutes before carving. Serves 4 at 2 ribs each.