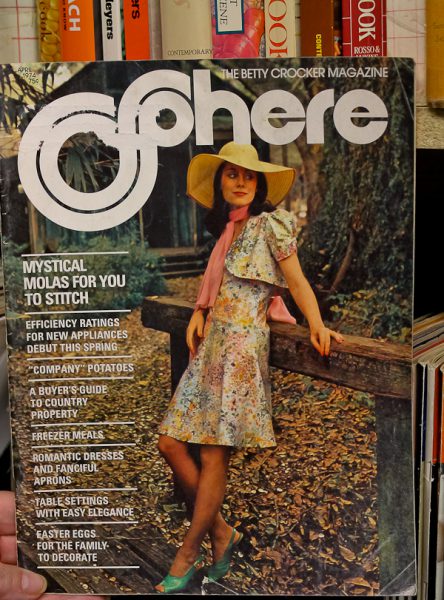 It appears that our weekly snow flurries have finally stopped around Chicago and Spring is finally here.  I can hear the birds chirping away as I write this, and in the early hours, the mourning doves are back.  Mourning doves always remind me of my childhood.
Since it is Spring, I was expecting recipes in this issue to be filled with dishes that would include asparagus, rhubarb, lamb, or other items that remind of us that winter is (usually) gone.  Instead, there were recipes that seemed more like fall or winter such as dunking potatoes in Swiss fondue, heavy meals like Shepherd's Pie, stuffed shells, and Salisbury steak.  Not that all those aren't wonderful, they just didn't speak Spring to me. There was one article about decorating Easter eggs and some cute Springtime clothing ideas, but that was almost it.
Only one article jumped out at me to write about and that was chocolate desserts.  The recipes included a red devil's food cake, chocolate party cupcakes, chocolate cream cheese pie, chocolate-strawberry parfaits, and a great-sounding chocolate sauce with a touch of liqueur to serve over ice cream.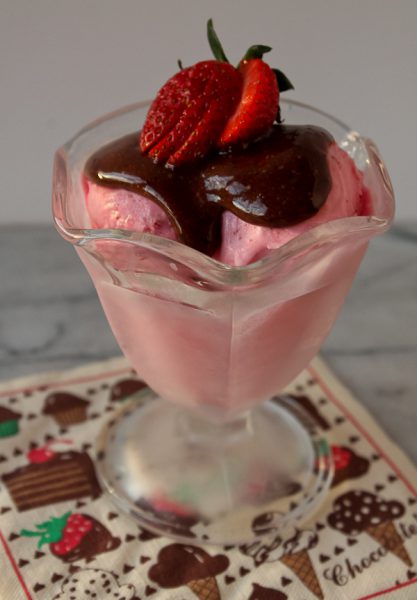 Chocolate sauce never goes out of style and looks really good on strawberry ice cream topped with a fresh strawberry for Spring.  Besides, I have always liked those dessert dishes and the cute napkins.
Enjoy Spring and this fast, easy, and great classic dessert.

Chocolate Sauce
Author:
Sphere Magazine, April 1974
Ingredients
12 ounces milk chocolate
¾ cup light cream
2 Tablespoons cherry liqueur, orange liqueur, or brandy (or if you like coffee flavor, 2 teaspoons powdered instant coffee)
Ice cream of choice
Instructions
Heat chocolate in cream over low heat, stirring constantly, until chocolate is melted. Remove from heat and stir in liqueur. Serve warm or cold over ice cream. Makes about 1-1/2 cups.