Here's hoping you all had a good Thanksgiving. What did you do with leftovers?
We had a small gathering but we still had a feast, and lots of leftovers which included turkey stock, turkey soup, turkey salad sandwiches, hot turkey sandwiches, turkey tetrazzini, my great-aunt Margie's famous homemade noodles and turkey, and one yet-to-be-made recipe for my mom's roulades using leftovers.  She would pound round steak thin, spread it with some leftover stuffing, roll up and secure with toothpicks, then brown it in a skillet.  She then added leftover gravy and some turkey broth and let it simmer until the meat was tender.  It was then sliced to show the spiral of the stuffing filling and served with some leftover mashed potatoes and whatever vegetables were left.  It was one of my childhood favorites that we looked forward to after so much turkey.
I didn't take photos of our food, but our daughter Kara sent some Thanksgiving Day photos.  This one is my favorite, of our granddaughter Helen gazing into the oven awaiting the pumpkin and pecan pies.  Helen has a great curiosity for food and will try anything.  She recently discovered her love of pomegranates.  She also loves mustard and eats it by the spoonful.  I look forward to her next food adventure.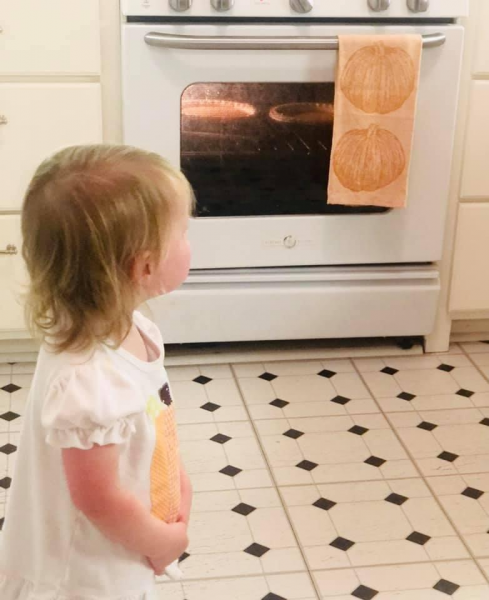 Now in our family, the Christmas cooking and baking begin.  It's supposed to be cold and maybe snowy this week which will inspire time in the kitchen.  I'll be posting some new and family favorites in December and I would love to share them with you.  And before I know it, my granddaughters will be helping me, and I'm sure Helen and her big sister will learn of new flavors to explore.