This past weekend I had the urge to bake some cookies.  I went to my pantry and found  some white chocolate chips plus a couple seven ounce bars of Ghirardelli White Chocolate.  And since I also had a package of macadamia nuts, my baking had been decided for the day.  I looked in my file of recipes that hadn't been tried yet and I found a piece of paper that looked like I scribbled on quickly, a recipe for White Chocolate-Macadamia Nut Cookies.  No note of where or when I wrote it down but I was definitely in a hurry by my handwriting.  Maybe I saw it on TV?  Who knows, but once I deciphered it, it turned out to be a great recipe.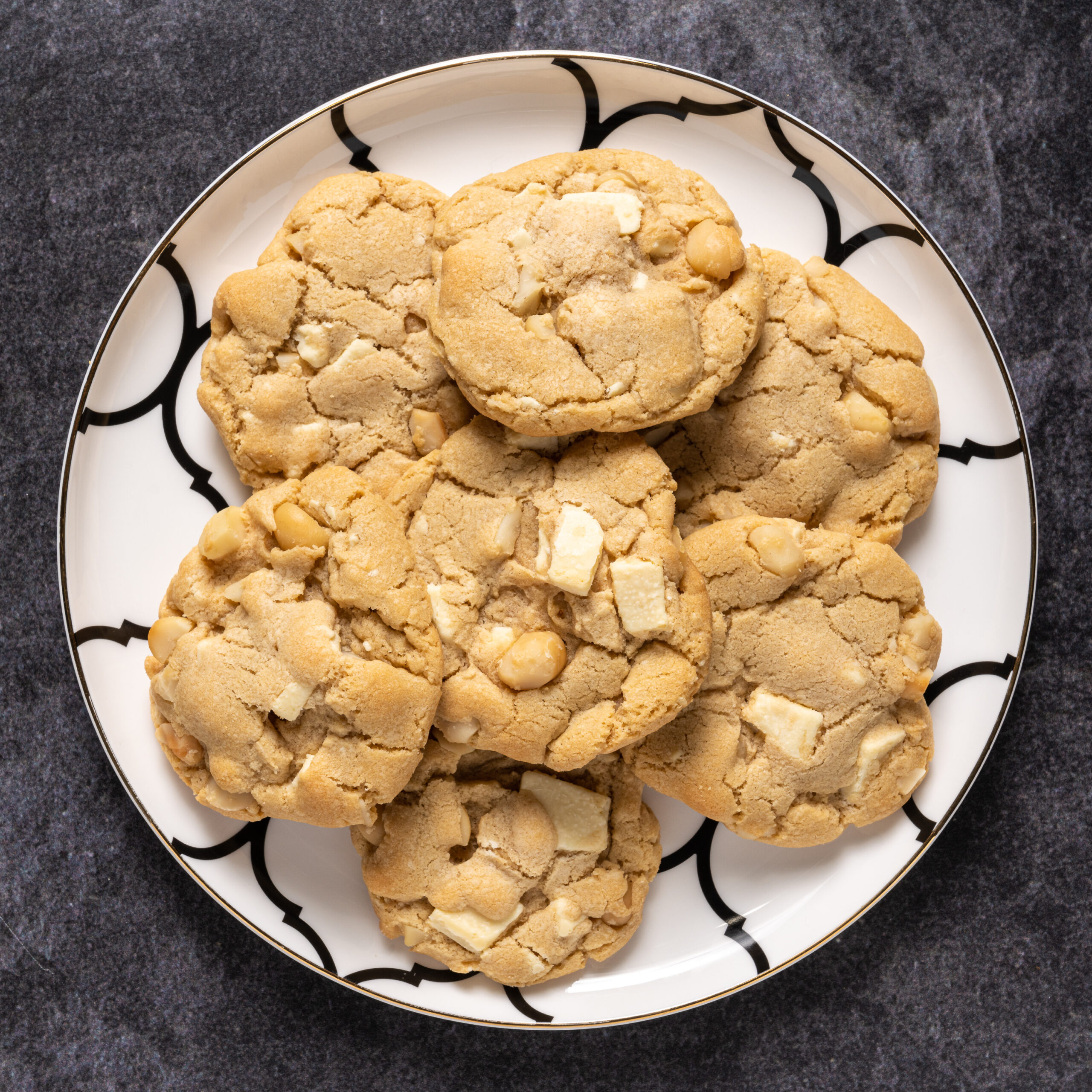 The recipe called for white chocolate chips but I have always loved chunks of white chocolate cut from bars.  Plus mine were about to expire so why not use them instead.  Use whichever you prefer.
Did you know macadamias contain about 22% of palmitoleic acid which is an omega-7 monounsaturated fatty acid. Macadamias also contain vitamins B6, C and E, calcium, iron, magnesium, phosphorus, zinc, potassium, sodium, selenium, niacin, thiamine, and riboflavin.  Does that mean these are healthy cookies?  Don't we wish; but they are so good.

White Chocolate-Macadamia Nut Cookies
Ingredients
2-1/8 cups all-purpose flour
1 teaspoon cornstarch
1 teaspoon baking soda
½ teaspoon table salt
¾ cup unsalted butter, melted and cooled slightly
¾ cup packed light brown sugar
¾ cup granulated sugar
1 egg
1 egg yolk
1-1/2 teaspoons vanilla extract
1-1/2 cups chopped chunk white chocolate (or 1-1/2 cups white chocolate chips)
1 cup coarsely chopped macadamia nuts
Instructions
Combine dry ingredients and set aside. When butter has cooled slightly, place it in bowl of electric mixer. Add sugars and mix to combine. Mix in egg, egg yolk, and vanilla. Gradually add dry ingredients and blend. Fold in chocolate and macadamias. Dough will feel heavy and a little sticky.
Using a 2-inch cookie scoop or your hands, form into 2 dozen balls. Place dough balls on a rimmed baking sheet lined with wax paper and refrigerate for 30-45 minutes until dough firms up.
Heat oven to 350 degrees. Place dough balls on 2 cookie sheets, 1 dozen on each. Bake for about 12 minutes or until golden brown. Remove from oven and let cookies stand on baking sheet for 5 minutes before removing to wire rack to cool.