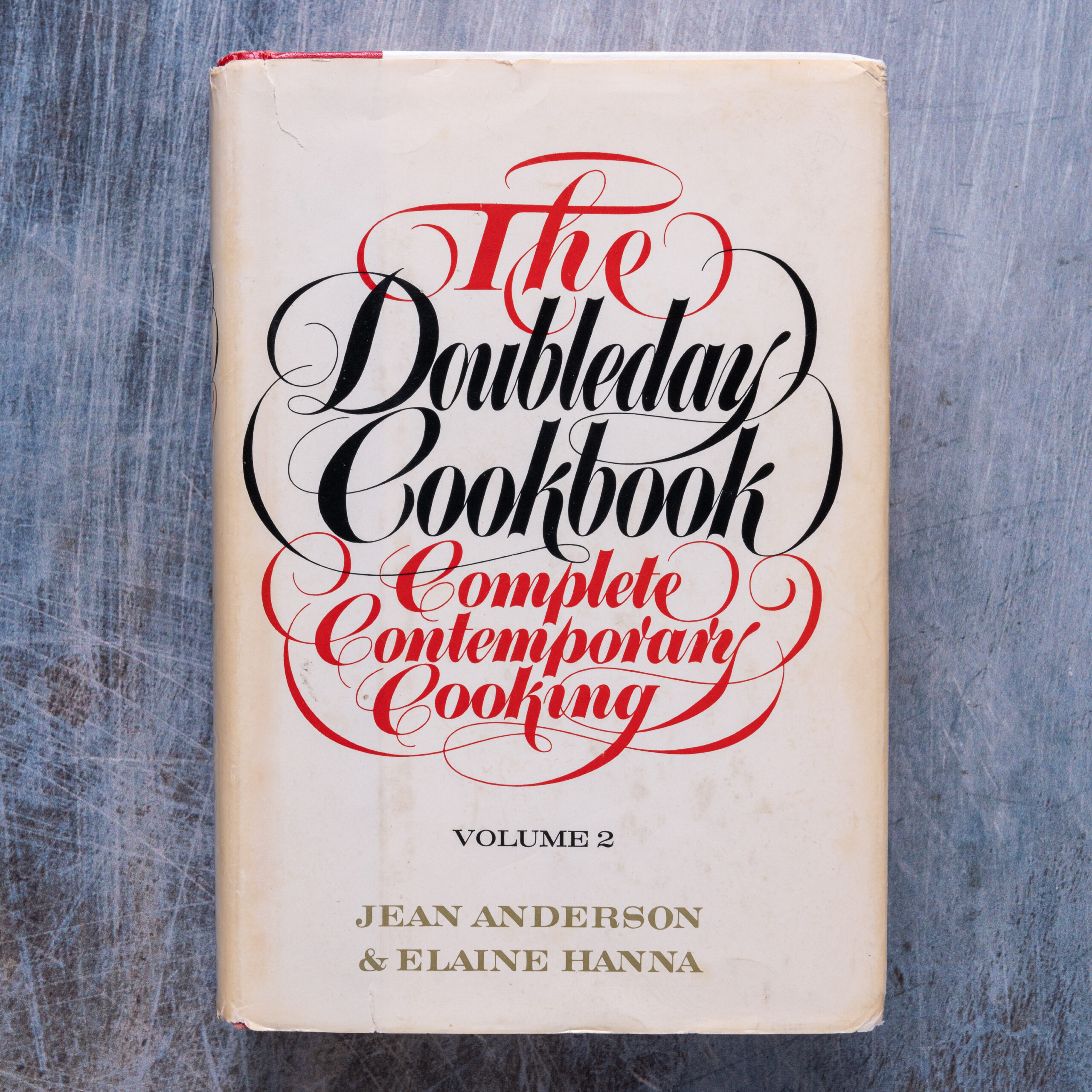 When I recently wrote about the great Jean Anderson, I remembered I had another one of her cookbooks.  The Doubleday Cookbook Volume 2 co-written with Elaine Hanna brings the expertise of these two women.  Since at one time they both worked for Ladies Home Journal magazine they knew how to test and retest recipes.  Published in 1975, the book claims to be the most up-to-date cookbook available as it teaches the hows of cooking, has calorie counts for each of over 4,000 recipes, features time-saving, budget friendly, recipes for busy families, but also occasional recipes for show-stopper entertaining.  It was a comprehensive cookbook not derived from any magazine or food company but was developed from the beginning as all-new recipes and material.
There are so many chapters!  Eggs and Cheese; Cereals, Rice and Pasta; Sauces, Gravies and Butters; Stuffings and Forcemeats; Vegetables; Salads and Salad Dressings; Breads; Sandwiches; Desserts and Dessert Sauces; Pies and Pastries; Cakes, Fillings and Frostings; Cookies; Candies and Nuts; Pickles, Preserves, Jams and Jellies; and Canning and Freezing.
With so many recipes in this very thick cookbook, how to choose what to make?  Since March 1st is National Peanut Butter Lover's Day, I searched for recipes using peanut butter.  I found one for "Uncooked Fudge" which I found interesting.  It gave variations for uncooked fudges of almond, cocoa, coconut, maple, or peanut butter.  The basic recipe uses cream cheese as the base, along with powdered sugar and some evaporated milk, then includes ingredients to add to the desired fudge.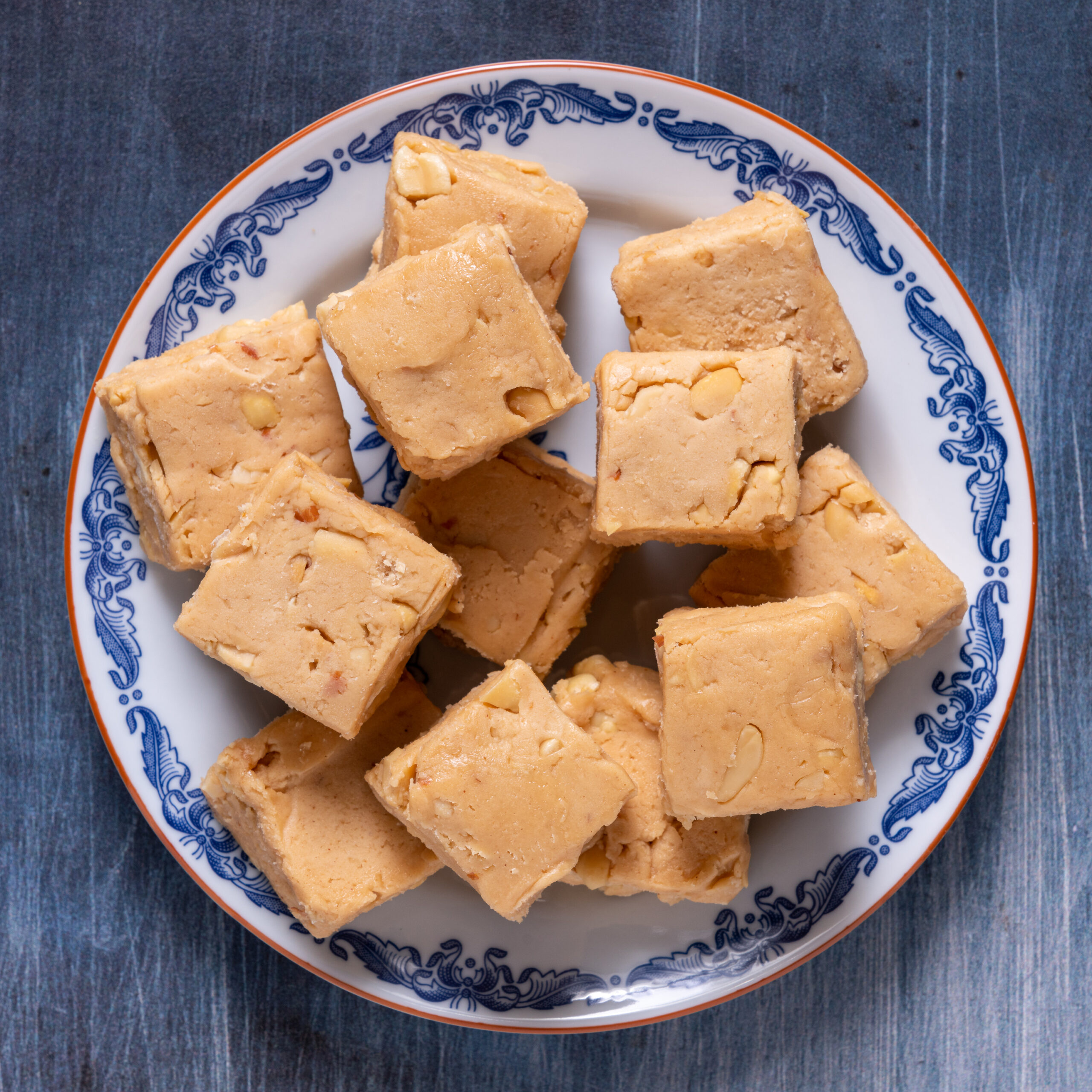 The trick to the fudge is that it must be kept refrigerated for 24 hours to set.  I found, at least with the peanut butter version, it's delicious but creamier than a cooked fudge.  I decided to cut the pieces and freeze some to see how it turned out.  It was perfect!  It had the consistency of a cooked fudge and not frozen at all.  While it is also good kept refrigerated, I decided to freeze all the remaining pieces.  It's so good!

Uncooked Peanut Butter Fudge
Author:
The Doubleday Cookbook
Ingredients
6 ounces block-style cream cheese (not low fat or fat free), room temperature
4 cups sifted confectioner's sugar
2 Tablespoons evaporated milk
1 cup creamy peanut butter like Jiff or Skippy (not natural peanut butter)
½ teaspoon vanilla extract
⅛ teaspoon salt
1 cup chopped roasted peanuts
Instructions
Line a 9-by-9-by 2-inch square pan with nonstick foil overhanging the edges so you can pick it up for easier cutting. Butter the foil. Set pan aside.
Beat cream cheese until smooth, slowly blend in sugar and evaporated milk, and beat until creamy. Add remaining ingredients and mix until smooth.
Press the mixture evenly into the prepared pan. Cover with more foil or plastic wrap and refrigerate at least 24 hours. Cut into 1 or 2-inch sized pieces. Keep stored in the refrigerator. Makes about 1-1/2 pounds.
Note: This is a creamy fudge which is good served right from the refrigerator, but I found that I liked it served from the freezer. You decide which way you prefer.