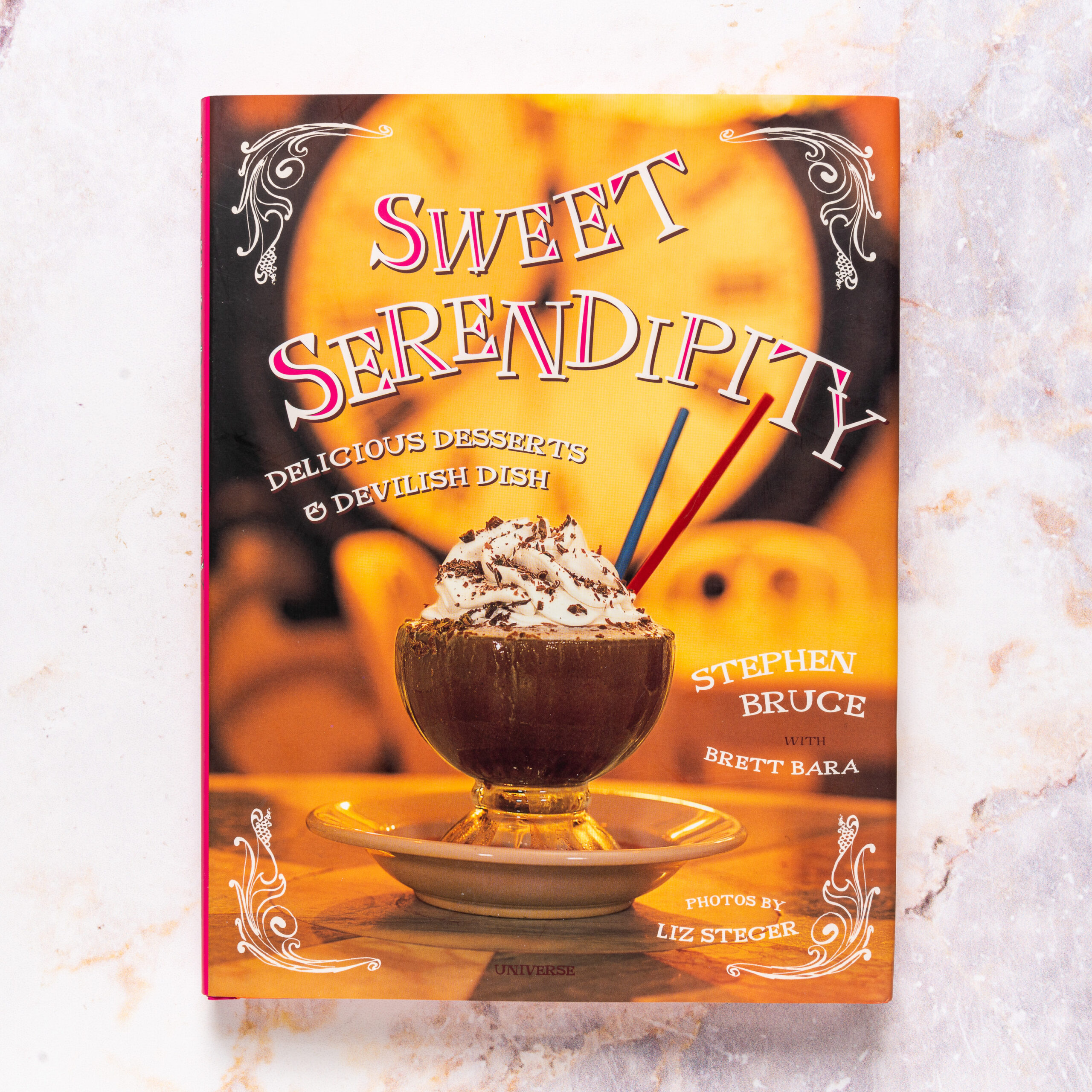 Serendipity is an iconic New York City restaurant with a history as rich as its desserts.  It's been a destination for tourists, locals, and celebrities for almost seventy years.  Celebrity customers go all the way back to Cary Grant, Grace Kelly, Marilyn Monroe,  Bette Davis, and John Lennon, to the more recent including George Clooney, Nicole Kidman, John Travolta, Steven Spielberg, and Ron Howard.
The restaurant started out with offering chocolate pecan pie, rum cake, sand tarts, and the still popular favorite, Frozen Hot Chocolate, all enjoyed in an eclectic decor that has been described as a stage set out of Alice in Wonderland along with Tiffany lamps, street signs, stained glass, and more.  In other words, a fantasy land that served delectable desserts.  The menu evolved to include cakes, cookies, more pies, puddings, a variety of beverages, and what they called New York's most outrageous sundaes.  Many of those recipes are included in this cookbook.
The recipe I decided to make has a special meaning.  Today is my granddaughter Lyda Belle's 2nd birthday.  And because she lives in Mississippi, I made the ever popular Mississippi Mud Cake.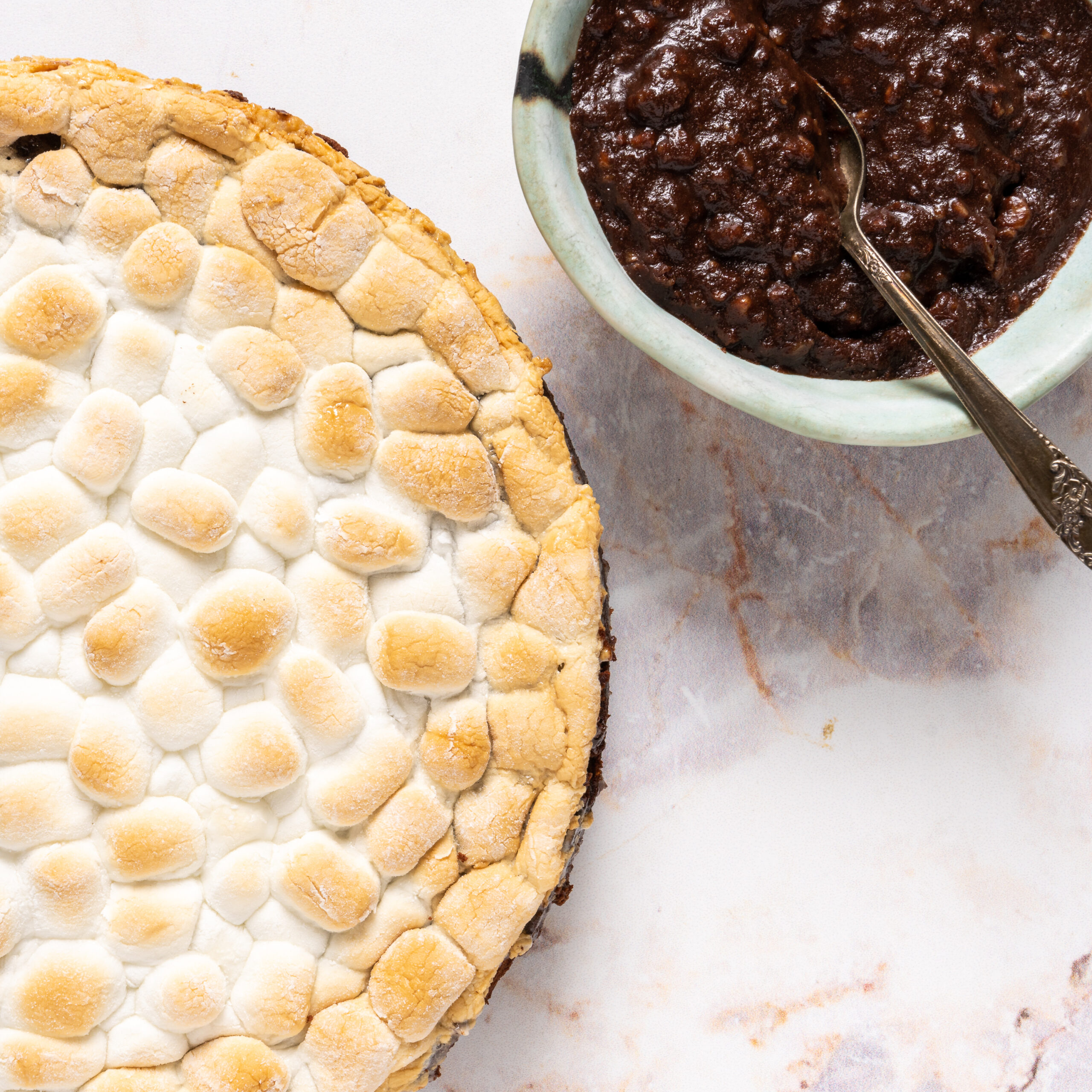 The cake is actually more like a giant thick ooey gooey brownie, topped with mini marshmallows, and drizzled with a rich chocolate topping.  Talk about decadent!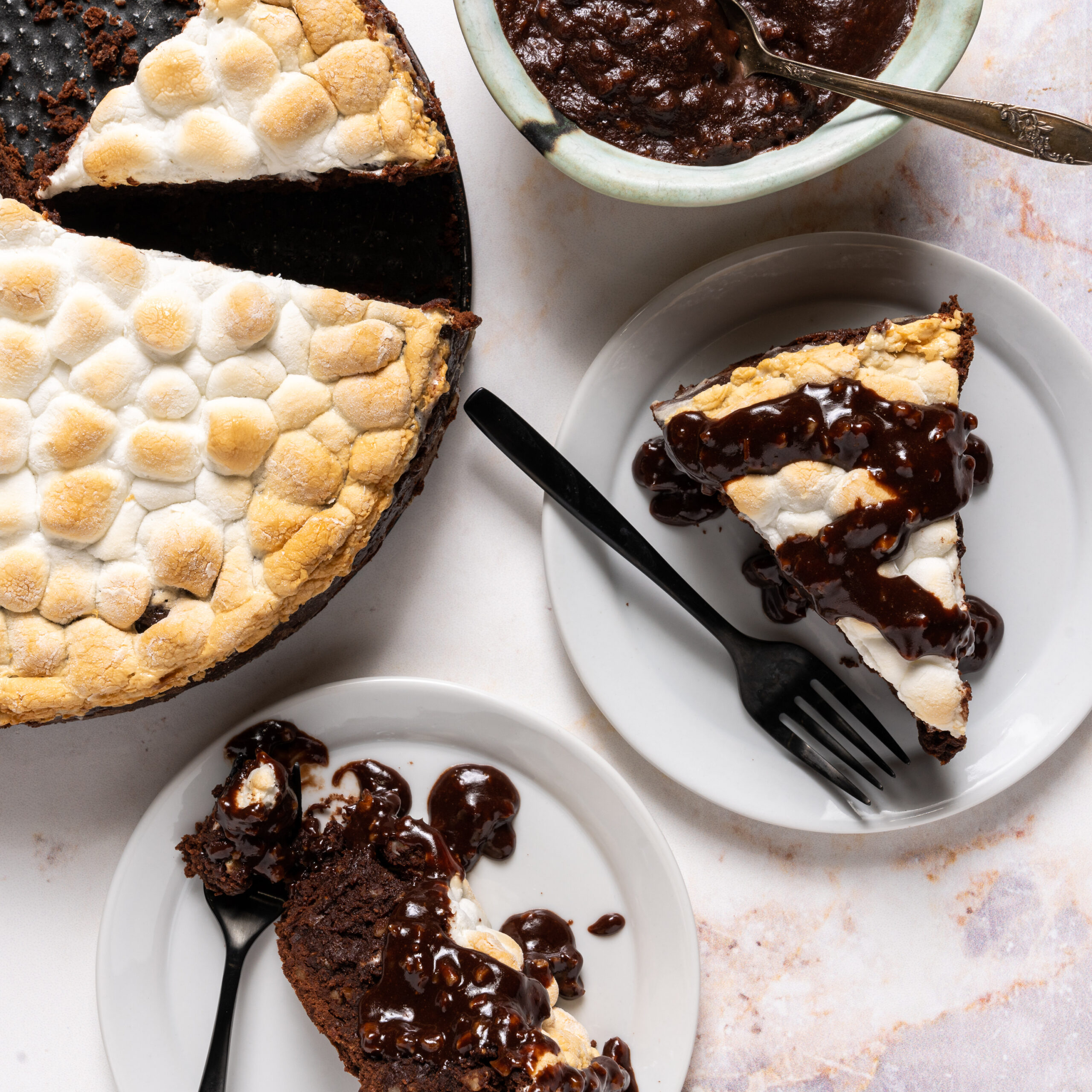 Want a bite?  Buy the book for this and more incredible desserts!
Now for some party pictures!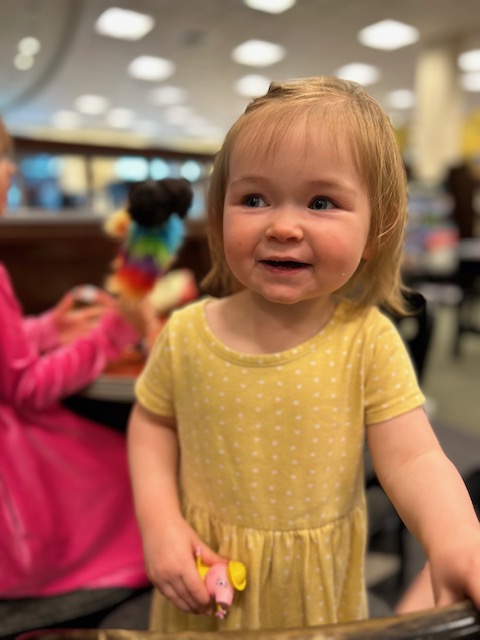 The birthday girl getting ready for her fun-filled day.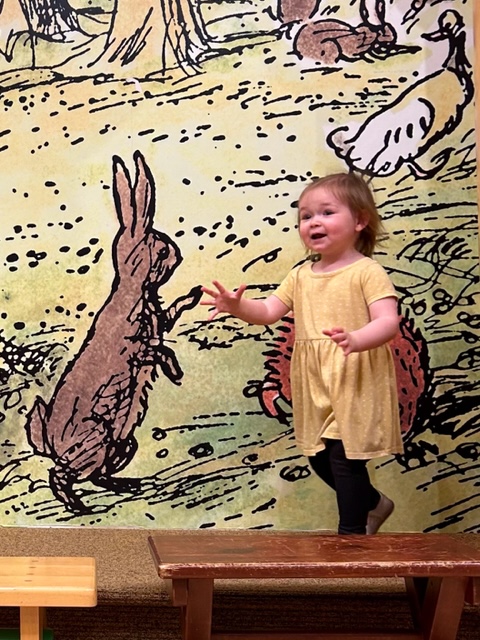 It started out with a trip to Barnes & Noble to pick out a book and toy.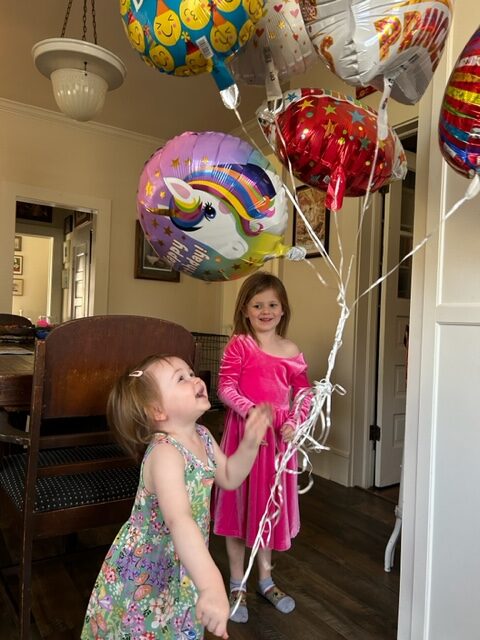 Gotta have balloons!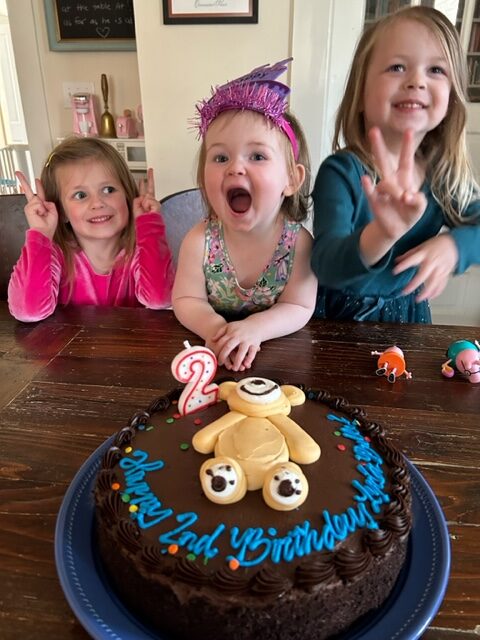 And of course, the cake!  Sharing the joy with her sisters.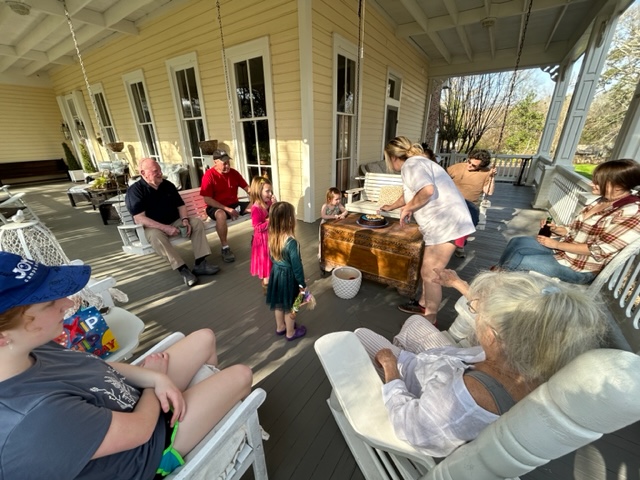 The party took place with friends and family on one of those great wrap-around Mississippi porches.  Porches that big are made for parties!
The cake was great!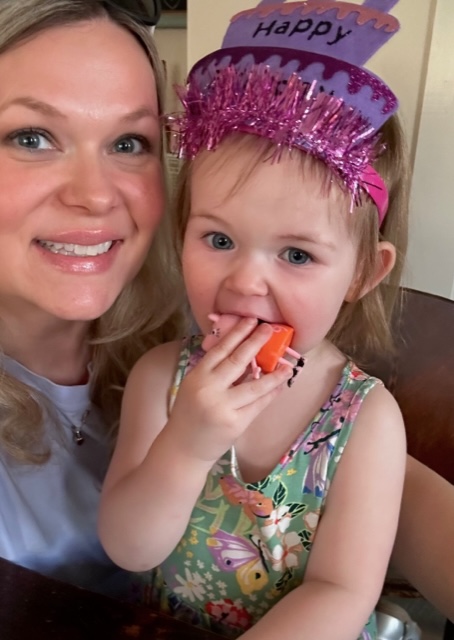 Nothing like a hug from mommy!
We may not get a piece of birthday cake, but here's the recipe to make the Mississippi Mud cake.  It's a winner!

Mississippi Mud Cake
Author:
Sweet Serendipity by Stephen Bruce
Ingredients
For the Cake:
1 cup unsalted butter, softened, plus extra for the pan
1-1/2 cups all-purpose flour, plus extra for dusting the pan
1-1/2 cups unsweetened cocoa powder
2 cups sugar
4 large eggs
1 cup coarsely chopped pecans
1 teaspoon vanilla extract
2-1/2 cups mini marshmallows
For the Chocolate Sauce:
1-1/2 cups confectioner's sugar
½ cup unsweetened cocoa powder
1 cup chopped pecans
½ cup evaporated milk
1 cup butter, melted and cooled
Instructions
For Cake: Preheat oven to 350 degrees F. Butter and flour the bottom and sides of a 9-inch springform pan; set aside. Sift together the flour and cocoa. Cream together the butter and sugar until fluffy. Add the eggs, one at a time, beating well after each addition. At low speed, mix the dry ingredients into the butter mixture. Add the pecans and vanilla and mix until combined. Scrape the mixture into the prepared pan and bake for 20 minutes. Remove from the oven and immediately sprinkle the top with the marshmallows. Return to the oven and continue baking for another 10 to 12 minutes until the marshmallows turn golden brown. Remove from the oven and let cool in the pan on a wire rack.
For the Chocolate Sauce: Sift together the confectioner's sugar and the cocoa in a medium bowl. Add the pecans, evaporated milk, and melted butter, and mix until combined.
To serve: Remove the spring from the cake pan. Slice the cake into wedges and drizzle sauce over each slice. Store cake at room temperature, loosely covered. Serves 8.