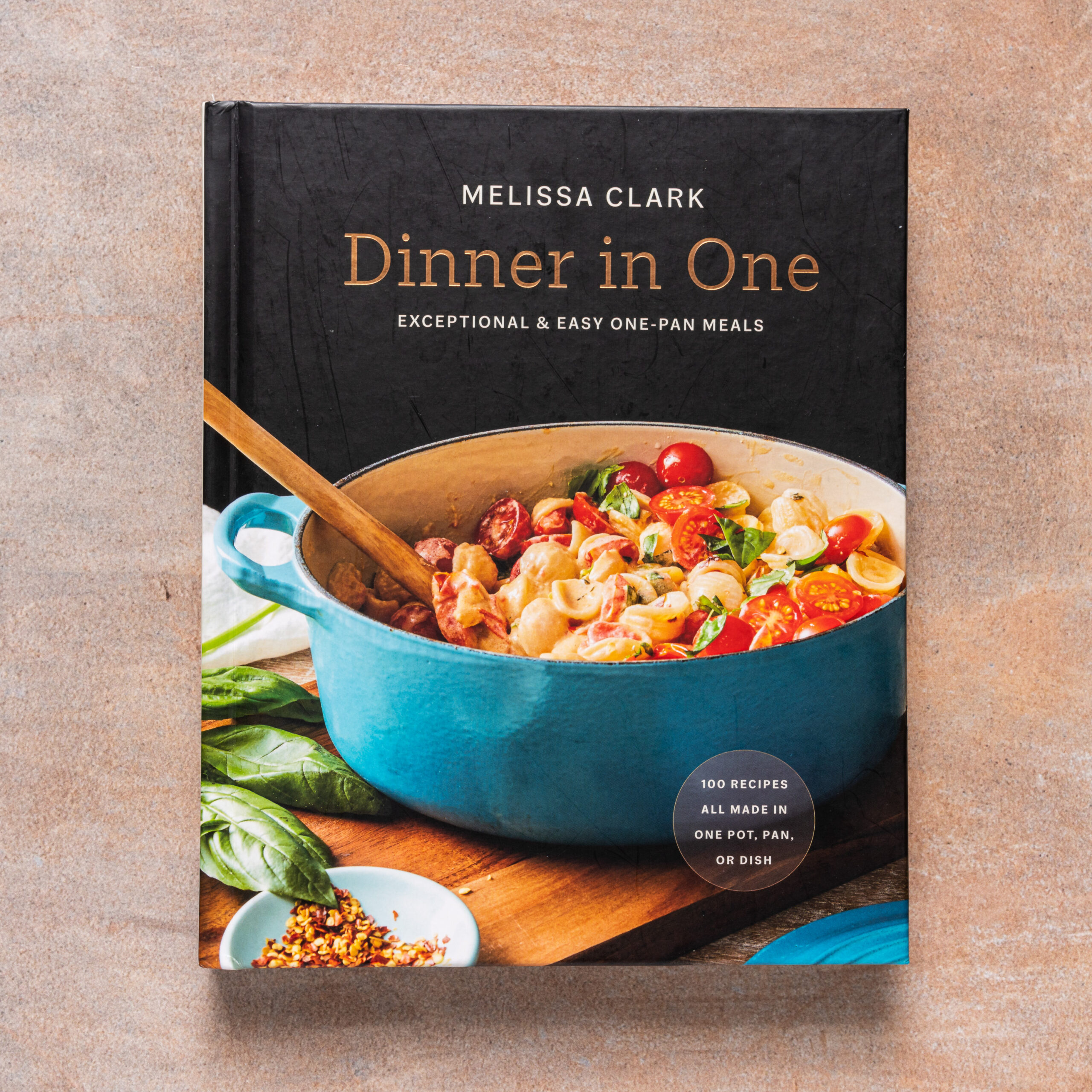 Melissa Clark has recipes you can trust.  I have never made any recipes of hers that didn't turn out wonderful.  It's no wonder since she has won James Beard Awards, IACP Awards, has an MFA in Columbia for writing, is a staff reporter for the New York Times Food section where she writes "A Good Appetite" column, and has written other best-selling cookbooks.  How's that for being convincing?
I love this cookbook!  I have made several of the recipes so far, all so wonderful, and I have many more ear-marked to try.  I have all the cooking equipment needed to make something from every chapter, which makes it easy to find recipes as they are divided into just that.  Sheet pan, skillets, one-pot pastas and noodles, Dutch ovens, casseroles, soup pots, instant pots, multicookers, and one bowl cakes.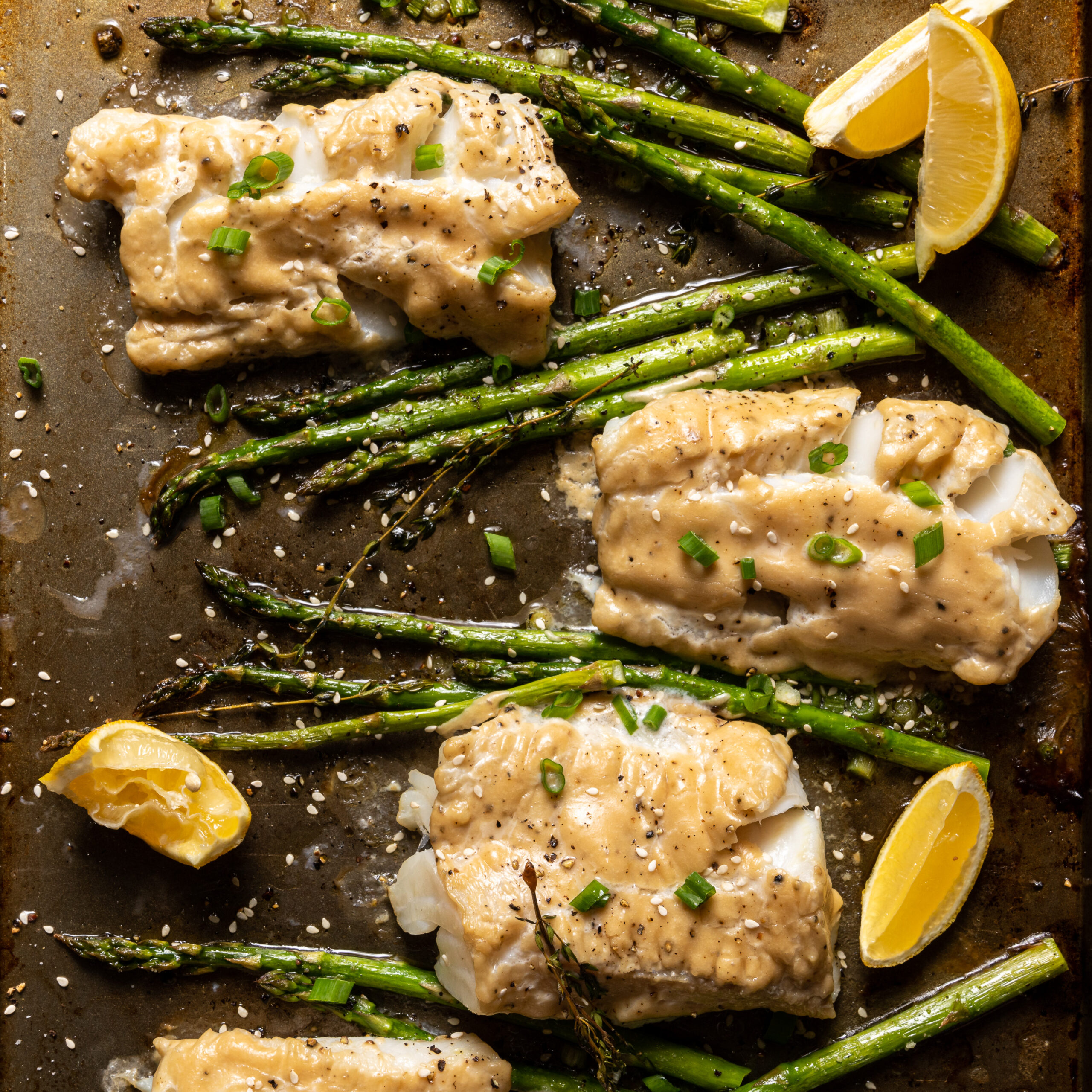 We love fish, and sheet pan dinners, so I searched for something different than just a roasted salmon.  I hit the jackpot with Tahini Roasted Cod with Asparagus and Thyme.  Definitely different, with flavors I love.  Isn't this gorgeous?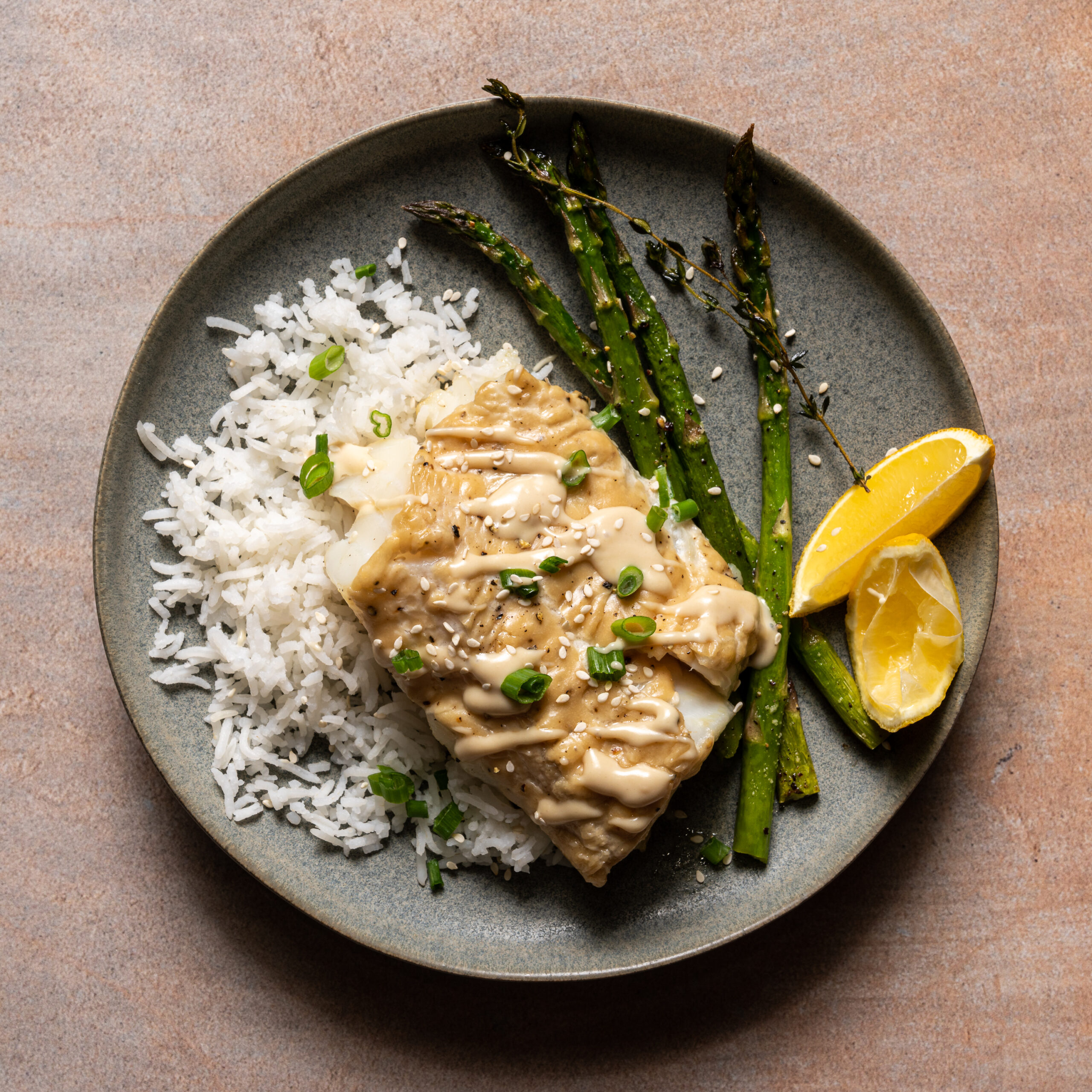 All you need to do is first make a very easy tahini sauce that takes less than five minutes. Then toss asparagus, fresh thyme sprigs, sliced green onion pieces (just the white part) and olive oil right on a sheet pan.  Nestle the cod pieces into the pan, brush with part of the tahini sauce and place in the oven.  It's ready in less than fifteen minutes!  Drizzle the remaining tahini sauce over the cod, sprinkle with sliced green onion tops, a little drizzle of olive oil, lemon juice, and sesame seeds.  I made some basmati rice, but it's not necessary.  Oh my, was this good!
Buy this book!

Tahini Roasted Cod with Asparagus and Thyme
Author:
Dinner in One by Melissa Clark
Ingredients
For the Tahini Sauce:
1 Tablespoon fresh lemon juice, plus more for serving
1 fat garlic clove, minced, pressed, or finely grated
½ teaspoon kosher salt
⅓ cup Tahini
3 to 5 Tablespoons ice water
For the Cod:
1 pound asparagus, trimmed*
6 green onions, thinly sliced (white and green parts separated)
3 fresh thyme sprigs
2 Tablespoons extra-virgin olive oil, plus more for serving
Kosher salt and freshly ground black pepper
4 (6 to 8 ounce) boneless, skinless cod fillets**
For garnish- sesame seeds (optional)
*If you don't like asparagus, broccolini is good too
**If you don't like or can't find cod, just about any fish fillet will work
Instructions
Heat oven to 425 degrees F.
Make the tahini sauce: In a small bowl, whisk together the lemon juice, garlic, and salt. Let sit for one minute to dissolve. Add the tahini. Whisk in the ice water, 1 Tablespoon at a time, until the sauce is smooth enough to drizzle.
Make the cod: On a rimmed baking sheet, toss the asparagus, sliced green onion whites, and thyme with the olive oil until well coated. Season with salt and pepper.
Lightly season the cod with salt and pepper and nestle the fish onto the pan. Using about ¼ cup of the tahini sauce, brush 1 Tablespoon of the sauce on top of each fillet. Reserve the rest of the sauce for serving. Roast until the cod is opaque in the center and the asparagus is tender, about 10 to 14 minutes.
To serve: Drizzle the reserved tahini sauce on top of the fish. Top with the sliced green onion tops, a drizzle of olive oil, a squeeze of lemon, and a sprinkling of sesame seeds, if you like. Serves four.