This recipe is from an old issue of Sunset Magazine.  I can't remember the year but the recipe has been a favorite in our house for over thirty-some years.  Even if you don't care for brown rice, this may make you a convert.  However, good brown rice must be used and it can't be instant.  I also remember making it one time with white rice when I ran out of brown and it was not the same.
I happened to taste the best organic brown rice years ago at the Embarcadero Farmer's Market in San Francisco.  The rice is from Massa Organics and I can't say enough good things about it.  I have tried many brands of brown rice over the years and this is by far the best.   It's available online, where you can also view several other products available.  I usually buy two or three 2-pound bags at a time and keep the bags refrigerated until ready to use, then keep it in a well-sealed container in my pantry after opening.  Go to their website and read all about this great company and organic products.  (No, they do not pay me, I just love their rice!)
The rice dish includes bacon, sliced or slivered almonds, green onion, celery, mushrooms, and soy sauce.  It's good with a pork roast, roast chicken, ham, or grilled steaks.  It's so flavorful, crunchy, and easy to make.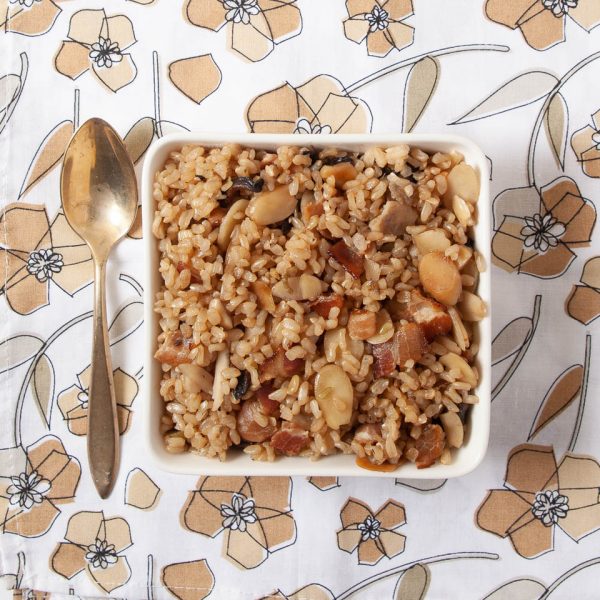 Almond Bacon Brown Rice
Ingredients
1 cup brown rice
Boiling water
6 slices bacon
¼ cup sliced or slivered almonds
½ cup sliced green onion, divided
¾ cup thinly sliced celery
1 cup sliced mushrooms
1 to 2 Tablespoons soy sauce
Instructions
Cook the rice in boiling water according to package directions.
Meanwhile, in a large frying pan, fry the bacon until crisp. Remove to paper towels, reserving all the drippings in pan, then crumble bacon and set aside.
Heat 2 Tablespoons of the drippings in the pan over medium-high heat. Add the almonds, half of the green onion, celery, and mushrooms. Cook, stirring, until almonds are toasted, about 5 minutes. Remove the mixture and set aside aside.
To the pan, add 2 more Tablespoons of the drippings (or butter if you don't have enough drippings) and stir in the cooked rice. Cook and stir until rice is lightly toasted, adding more drippings or butter to keep it from sticking.
Return the vegetables and half the bacon to the pan. Stir in soy sauce, starting with 1 Tablespoon, then taste. Add another Tablespoon if needed. It depends on the saltiness of the bacon and soy sauce.
Transfer rice mixture to a serving bowl, and sprinkle top with remaining bacon and green onion. Serve immediately. Serves 4 to 6.