Jane Michel from Texas is a Renaissance woman.  I first met Jane at a Pillsbury Bake-Off contest where she was competing, and also met her daughter and grandchild who was dressed in a little chef's hat and outfit looking like the cutest mini Pillsbury Doughboy.  Not only is Jane a mom, grandma, retired RN, prize-winning cook, and a talented quilter, but also one sweet, generous, and happy woman.
I received this book from Jane along with a long and lovely handwritten note.  In the note she explained how her parents loved everything about Taos and spent 40-plus years there enjoying the mountains, culture, people, and food.  Jane's mom was an avid cook and loved adding green chiles to just about everything.  Jane wanted to send the book  because of its reflection of the food and also because her mom loved it.
As it turned out, I also loved this book and used to enjoy the recipes very much, but it was destroyed in the flood where I lost all my cookbooks.  I was so thrilled when I opened Jane's package and there was one of my old favorites.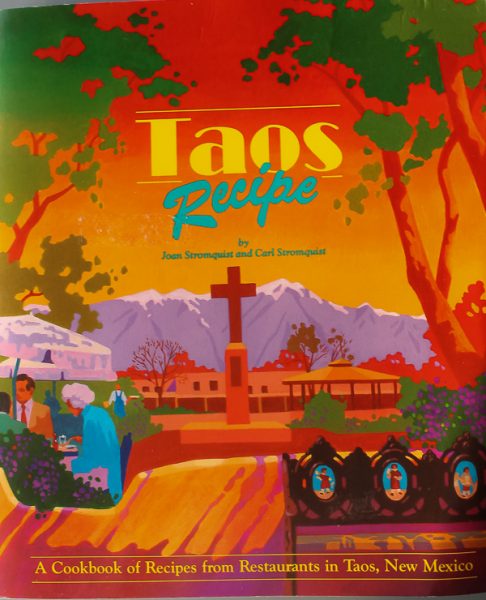 But even before Jane sent the book, she did something very special for me.  As I mentioned, Jane is a talented quilter and I asked if I could commission her to make a quilted table runner for our family in Finland.  Below is her masterpiece which depicts the Finnish farmhouse where cousins Jouko and Leena live along with little squares of Finnish trees, cookies, and even showing Leena's knitting hobby.  Leena can knit anything, and I have been the lucky recipient of many pairs of socks, and elegant gloves.  With Jane's quilting and Leena's knitting, they could open a boutique! (check out Jane's Instagram account- janemichelquilts – to see more of her work)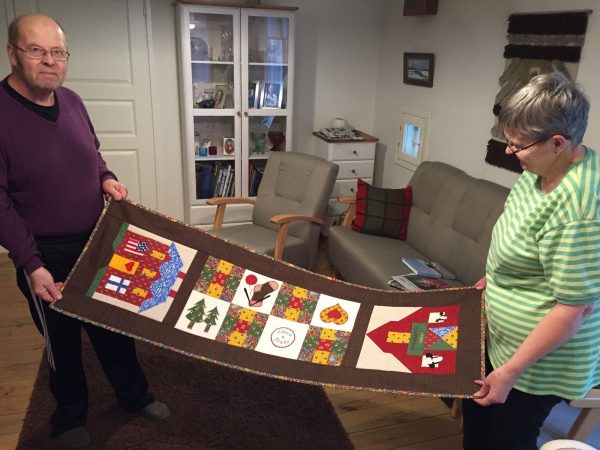 When I received the table runner for the Finns, I saw that Jane also sent one for me as a surprise which also showed the family Finnish farmhouse and the heart which reminded me of one of Leena's famous cookies.  (Leena is also a master baker!)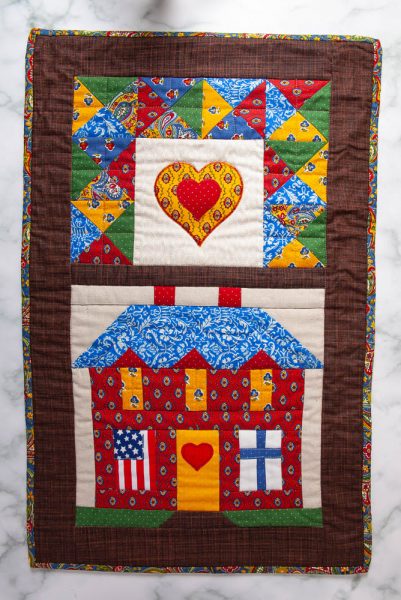 The runner was a heart-warming reminder of our family trip to Finland in 2015 and Jane wrote a dedication for the back of the runner.  It is one of my most treasured items.  Didn't I mention Jane has a generous heart of gold?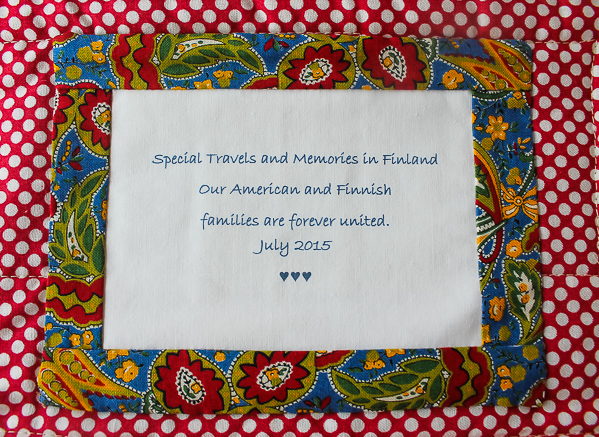 But back to the cookbook, I had the best time getting acquainted with my old favorite.  The recipes are all from the restaurants of Taos with appetizers, sauces, soups, salads, meat, fowl, fish, pasta, eggs, side dishes, and desserts, all with a delicious offering of Southwest cuisine.  I decided to start with the "Enchiladas Puerta Vallarta" with a green chile sauce.  The enchiladas have a delicious filling of crab, shrimp, Jack cheese, and a covering of the chile sauce.  They were fabulous!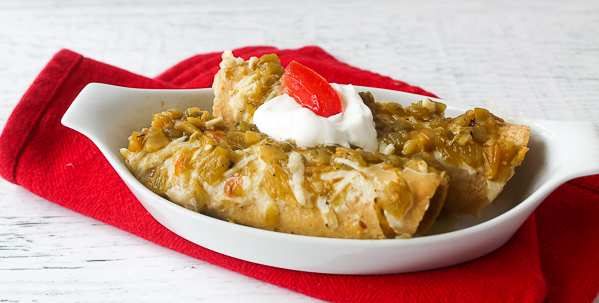 Thank you so much Jane, for giving me back a cookbook that I loved, and of course the table runner which I will treasure always, and I know the Finns feel the same way about their special one too.

Enchilada Puerta Vallarta
Author:
Taos Recipes by Joan and Carl Stromquist
Ingredients
Enchiladas:
3 Tablespoons butter
8 ounces crabmeat
8 ounces bay shrimp
¼ cup vegetable oil
8 corn tortillas
½ cup grated Monterey Jack cheese
½ cup green chile sauce, heated
⅓ cup grated Monterey Jack cheese
2 cups green chile sauce, heated
Green Chile sauce:
2 Tablespoons butter
1 small onion, chopped
1 cup mild green chile peppers, chopped
2 Tablespoons all-purpose flour
½ teaspoon garlic powder
½ teaspoon salt
¼ teaspoon pepper
1 teaspoon vegetable oil (or as needed)
1 cup beef stock, heated
Instructions
For enchiladas: In a large skillet over medium heat, add the butter until melted. Add the crab meat and shrimp and cook 3-4 minutes.
In a medium skillet over medium heat, add the oil until hot. One at a time, briefly dip the tortillas in the hot oil to soften.
In the center of each tortilla place some of the crab and shrimp filling. Sprinkle on 2 Tablespoons of the cheese. Ladle on 2 Tablespoons of the green chile sauce. Roll up the tortillas and place in a baking pan. Sprinkle the ½ cup cheese on top. Place in a preheated 400 degree and bake until the cheese melts. Remove and ladle on the 2 cups of hot green chile sauce and serve. Serves 4.
For Green Chile Sauce: In a medium skillet over medium heat, melt the butter. Add the onions and cook for 2 to 3 minutes. Add the green chile peppers and cook another 2 to 3 minutes.
In a small bowl mix together the flour, garlic powder, salt, and pepper. Mix in the oil, adding more if needed to that the mixture is not hard to stir, but not runny.
Add the flour mixture to the heated chile mixture and stir until hot, about 2 to 3 minutes. While stirring constantly, slowly add the hot beef stock. Bring to a boil and then reduce the heat. Simmer for 10 minutes, stirring occasionally. Add more stock if necessary.