Kindergarten teachers are in a group all their own.  For children, it is their introduction to the big school and so important to take that step in life.  I remember kindergarten very well and can still taste the Kool-Aid and Salerno Butter Cookies for a snack, and then taking a nap on our own bath towels brought from home.  How 1950's is that?
My youngest daughter Kara was lucky to have the most incredible Kindergarten teacher, the smart, beautiful, and energetic Miss Monica K.  Monica loved her class and it showed every day with her friendly smile and gentle voice.  Everyone loved her.  So it was very special to receive cookbooks from Monica and her stepmom, Gloria D., after the flood of The Culinary Cellar.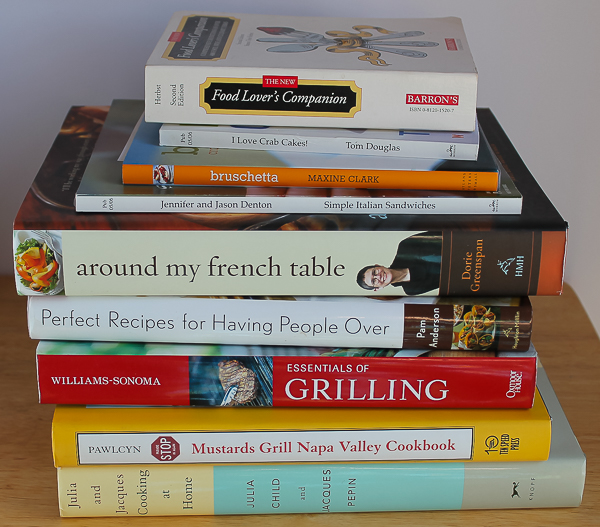 Look at these great cookbooks!  Not just Julia Child, but also Dorie Greenspan, Williams-Sonoma, Silver Palate, Joy of Cooking, and so many more.  I had a field day with these books.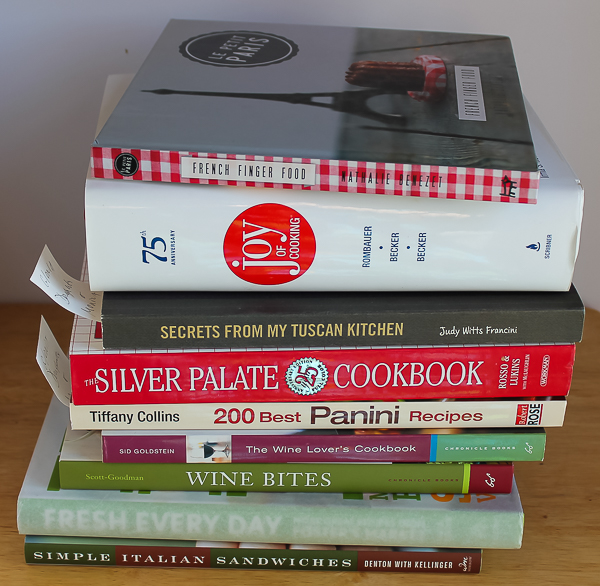 When my daughter Kristina was here recently, we decided to open a bottle of  Chardonnay before dinner and wanted an easy and delicious appetizer to pair with it.  I headed right to one of the books from Monica and Gloria with the perfect title of Wine Bites.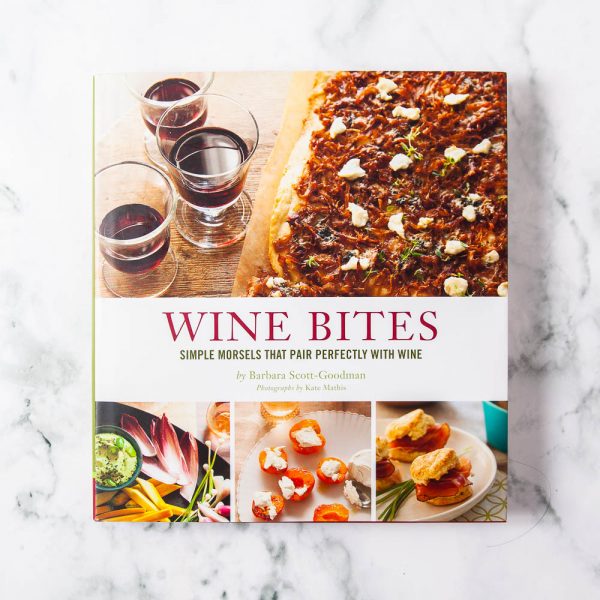 Having a good wine with delicious morsels of food can make a party of a just a few or a big bash seem special.  Being with family and friends with a glass of wine in hand can be relaxing after a long day and raise our spirits.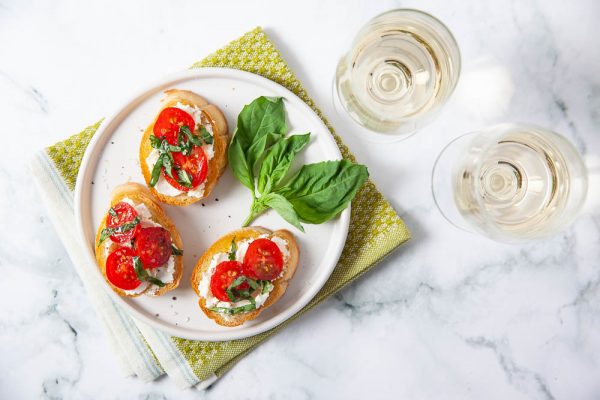 Kristina and I decided on the "Garlic Toasts with Cherry Tomatoes, Basil, and Goat Cheese."  We loved the combination of flavors with the crisp chilled Chardonnay.  This is perfect to serve on a summer night when fresh-picked tomatoes and basil are in every Farmer's Market or maybe your own garden.  It's easy to make and beautifully colorful and delicious.
The book has recipes for snacks and olives, dips and spreads, cheeses, small pizzas and tarts, bruschetta, sandwiches, seafood, meats, and small sweets. A wine is suggested for each recipe.  You will love this cookbook to have on hand especially if you are like me and need help with which wine goes with what.

Garlic Toasts with Cherry Tomatoes, Basil, and Goat Cheese
Author:
Wine Bites by Barbara Scott-Goodman
Ingredients
2 cups cherry tomatoes, preferably a mix of red and yellow, stemmed and halved
2 Tablespoons thinly sliced fresh basil
1 Tablespoon extra virgin olive oil
About half a baguette, cut into 16 slices, about ½-inch thick
3 large garlic cloves, peeled and cut in half lengthwise
About ½ cup more olive oil, for brushing on bread
3 ounces mild goat cheese, at room temperature
Instructions
In a bowl, combine tomatoes, basil, and the 1 Tablespoon of olive oil, Toss well to mix.. Let stand at room temperature for at least 10 minutes or up to an hour.
Preheat the oven to 400 degrees F.
Arrange the bread slices in a single layer on a baking sheet. Rub the garlic halves over one side of the bread and brush lightly with about ½ cup of the olive oil. Bake until golden brown and crispy, about 5 minutes.
Spread each toast with goat cheese, top with a spoonful of the tomato mixture, and serve at once. Serves 6 to 8.